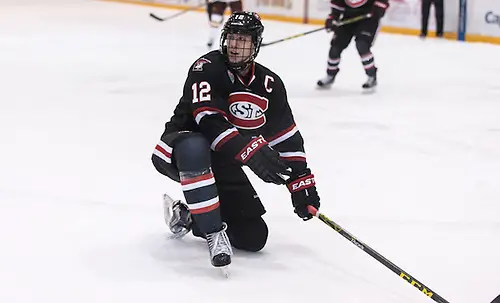 On the eve of the NCHC Frozen Faceoff, the annual NCHC Awards Celebration took place Thursday night at the Muse Event Center in Minneapolis.
A total of 12 awards were presented, three of which were won by St. Cloud State senior defenseman Ethan Prow, including NCHC Player of the Year, while North Dakota's Brad Berry took home the Coach of the Year award.
In addition to his top honor, Prow also took home NCHC Defenseman of the Year and NCHC Offensive Defenseman of the Year. The Huskies captain led the conference in scoring by a defenseman with six goals and 18 assists in 22 NCHC games. Prow also led all defensemen nationally with 34 points in regular-season play.
Berry is the second straight UND coach to claim the Coach of the Year award after Dave Hakstol was selected for the honor last season. In his first season as the North Dakota bench boss, Berry led his team to its second consecutive Penrose Cup as NCHC regular-season champions. With a 19-4-1 mark, the Fighting Hawks broke the conference record for wins and points in a season.
Garnering top honors among freshmen was UND forward Brock Boeser. The Vancouver Canucks first-round draft pick is the first freshman to win the NCHC scoring title, finishing with a NCHC-best 20 goals and conference-record 35 points in league play. He was also named First-Team All-Conference and to the NCHC All-Rookie Team, as well as the first-ever NCHC Three Stars Award winner.
Earning NCHC Forward of the Year was Denver sophomore Danton Heinen, joining his "Pacific Rim" linemate Trevor Moore, who took home the same award last year also as a sophomore. Heinen tied for third in conference scoring with 11 goals and 19 assists. The Boston Bruins prospect finished the regular season on a 12-game point streak where he racked up nine goals and 14 assists, including six straight multi-point games.
Another Husky to take home hardware was SCSU junior Charlie Lindgren, who was selected the NCHC Goaltender of the Year. He helped back the Huskies to a second-place finish in the NCHC with a 17-6-1 record as his 17 wins led all NCHC goaltenders. Lindgren was the lone goalie to start all 24 conference games and had one shutout in NCHC play to go with his four nonconference shutouts. The First-Team All-Conference selection finished third in conference play with a 2.11 GAA and had a .927 save percentage.
One day after being selected as the inaugural recipient of the NCHC's Post-Graduate Scholarship, Denver senior forward Gabe Levin also claimed the NCHC Scholar-Athlete of the Year accolade. Levin is a two-time member of the NCHC Scholar Athlete Team and received Academic All-Conference honors in each of the NCHC's first three seasons. Levin compiled a 3.96 GPA while majoring in finance and minoring in legal studies. He missed one game this season, at North Dakota in early December to take the LSAT, snapping a streak of 129 straight games played. He also chipped in eight points in NCHC play and 13 points overall.
The lone award winner Thursday not from a Frozen Faceoff team was Miami senior forward Sean Kuraly, who captured NCHC Defensive Forward of the Year. The Bruins prospect was named to the Honorable Mention All-Conference Team this season and finished the regular season with a faceoff winning percentage north of 55 percent, while he blocked 20 shots in conference action. The team captain also paced the team in scoring with 18 points on five goals and 13 assists in NCHC play.
Minnesota-Duluth senior forward Cal Decowski was selected the NCHC's Sportsmanship Award winner for this season after picking up zero penalties this season. Decowski has only spent 16 minutes in the penalty box in his four-year career as a Bulldog with only eight penalties. He was the least penalized Bulldog all four seasons in his career while playing in 123 games.