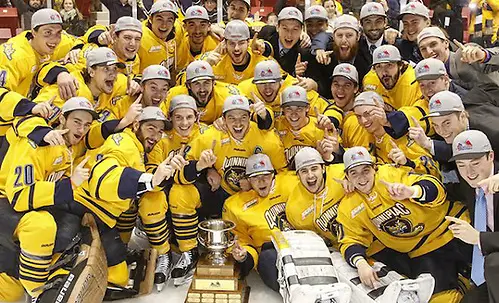 Quinnipiac, St. Cloud State, North Dakota and defending champion Providence are the No. 1 seeds for the 2016 Division I men's NCAA tournament in brackets unveiled on Sunday.
The ECAC Hockey champion Bobcats are the top overall seed and were sent to the East Regional in Albany, N.Y., where they'll play on Saturday.
St. Cloud State will play in St. Paul, Minn.; North Dakota in Cincinnati; and Providence in Worcester, Mass.
Here are the first-round games (all times Eastern):
East Regional (Albany, N.Y.)
• Quinnipiac vs. Rochester Institute of Technology, 4 p.m. Saturday
• UMass-Lowell vs. Yale, 7:30 p.m. Saturday
West Regional (St. Paul, Minn.)
• St. Cloud State vs. Ferris State, 3 p.m. Saturday
• Denver vs. Boston University, 6:30 p.m. Saturday
Midwest Regional (Cincinnati)
• North Dakota vs. Northeastern, 2 p.m. Friday
• Michigan vs. Notre Dame, 5:30 p.m. Friday
Northeast Regional (Worcester, Mass.)
• Providence vs. Minnesota-Duluth, 4:30 p.m. Friday
• Boston College vs. Harvard, 8 p.m. Friday
Hockey East put six teams in the field of 16.
"It speaks to the depth of our league and the difficulty of our league," UMass-Lowell coach Norm Bazin said. "It's ruthless. It's such a grind."
The Denver-Boston University game is a rematch of a 5-4 Terriers overtime win in October.
"Familiar in name in the fact that we played them earlier in the year, but they're a lot different team than when we played them back in October," Terriers coach David Quinn said. "You're talking about one of the best teams in the country right now, one of the hottest teams in the country. They're probably as good a team as we've faced this year: Their transition game is outstanding; they have a lot of talented forwards; they have a legitimate first line, good puck-moving defensemen, good goalies, and they're extremely well coached. When you play in the national tournament, you're going to play quality opponents, and this is as good a team as you're going to see."
Michigan tied Minnesota for the record with 36 NCAA tournament appearances, and it's the Wolverines' first time in the field of 16 since their record string of 22 straight appearances ended after the 2012 tournament.
North Dakota extended the longest active streak of tournament appearances to 14, while Denver made its ninth straight and Boston College its seventh.
Five of the seven programs with five or more NCAA championships are in the field: Michigan (9), Denver (7), North Dakota (7), Boston College (5) and Boston University (5).
Michigan's Red Berenson and Boston College's Jerry York are making their 23rd NCAA tournament appearance, one behind the leader, former Boston University coach Jack Parker.
Northeastern's Jim Madigan, meanwhile, is the only coach in this year's field making his first NCAA appearance. The Huskies are in their first tournament since 2009.