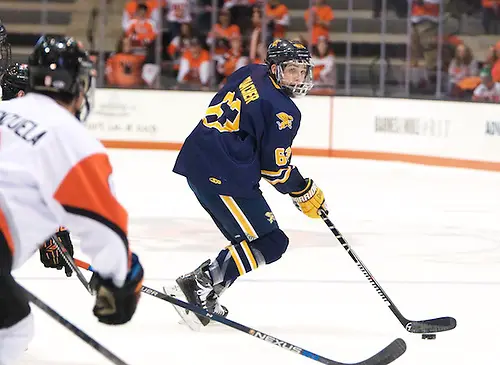 Shane Conacher has given up his final year of eligibility at Canisius to sign a contract with the Toronto Marlies of the AHL.
Conacher had 20 goals and 46 points in 39 games this season. He's expected to play for the Marlies against St. John's on Saturday.
"We are extremely happy for Shane as he continues his career at the next level," Canisius coach Dave Smith said in a news release. "He has helped elevate our program during his three years here and I'm excited to see him continue that success as a pro.
"We have accomplished a lot with the Conacher family at Canisius and it will be fun to see if Shane can reach the level his brother did after a successful collegiate career with the Griffs."
Shane and Cory Conacher are the only Canisius players to reach 100 collegiate points by their junior season. Shane finished with 106 points in three seasons, while Cory finished a four-year career in 2011 with 147 points.
Cory Conacher played 141 NHL games and played this season in the Swiss league.
Shane Conacher was a first-team all-Atlantic Hockey selection this season.