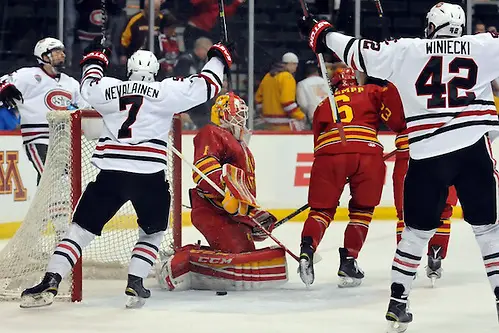 ST. PAUL, Minn. — St. Cloud State came into the NCAA tournament with its power play on fire, according to coach Bob Motzko.
The Huskies had gone 39-for-135, 28.9 percent, and went 2-for-4 against Ferris State on Saturday. The two power-play goals from Mikey Eyssimont were crucial for a team that struggled five-on-five against the Bulldogs.
NCAA West Regional
See complete coverage at Regional Central.
"We were hoping to hold it to three or less power-play opportunities," Ferris State coach Bob Daniels said after the Bulldogs escaped with a 5-4 overtime victory in a Midwest Regional semifinal.
"They got four [opportunities] and you can see they were 2-for-4, and even the ones they didn't score on they looked good."
Eyssimont got his 13th goal of the season on a third-period power play, scoring on the rush by cutting to the middle off of a Kalle Kossila pass.
Eyssimont then got his 14th after Joey Benik's shot came off the back boards right to his stick and he had nothing but net to shoot at to make the game 4-3.
The Huskies finished the season at 29.5 percent on the power play, trailing only Michigan in the nation.
Huskies travel well
When a host team fails to make the NCAA tournament, there are always concerns about attendance, and for at least the first game of the weekend there was a good atmosphere.
"It was awesome to see," Benik said. "It's something that obviously got us through the game because we came out slow. And for the fans to show their support and pretty much have every person in building be a St. Cloud hockey fan was awesome to see and fun to play in front of."
The 2017 Frozen Four is set for United Center in Chicago with Regionals in Manchester, N.H., Cincinnati, Providence, R.I., and Fargo, N.D. The 2018 Frozen Four comes to the Xcel Energy Center in St. Paul, Minn., but the sites for regional play have not been selected yet and it's well known that many options are being discussed like super regionals or a return to campus sites.
"I felt our St. Cloud State crowd was awesome today," said Motzko. "I think that's a little bit of a story of how many people showed up on our side. I think we were expecting a smaller number and they came through."
Another No. 1 seed falls fast
The East Regional top seed Providence was knocked off in overtime by Minnesota-Duluth on Friday, and St. Cloud State became the 17th No. 1 seed to lose in the opening round since the tournament expanded to 16 teams in 2003.
"We did some uncharacteristic things with the puck, but give them credit and the style that they play, they make it hard on you. They're going to be a tough out," said Motzko. "Ferris plays a very distinct style to try to limit you. Mankato got one shot last weekend in the third period; they can smother you. I thought we were busting through, the problem is we turned the puck over."
The Huskies committed four turnovers during regulation that led to goals for the Bulldogs.
"They got some bounces and they ended up playing around for a lot of that first period. Then, just pucks at the net for the entire game, keeping us on our heels with that," said St. Cloud State's Nathan Widman. "That's pretty much what we expected them to do, but they executed very well."