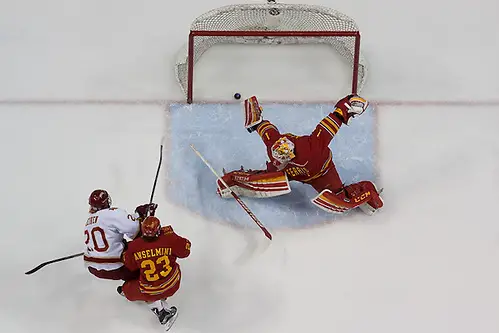 ST. PAUL, Minn. — Try as they might, the Denver Pioneers just couldn't put the Ferris State Bulldogs away until late.
Sunday's West Regional final between Ferris State and Denver saw the Pioneers leading in shots and possession almost all game, but the Bulldogs found a way to keep that from translating into too large a deficit on the scoreboard, until DU scored three times in the final six minutes of the game.
NCAA West Regional
See complete coverage at Regional Central.
While it was a 6-3 final for Denver, it was never more than a one-goal game until 15 minutes, 53 seconds into the third period.
Denver finally broke through in the final minutes of the third, but despite a dominant first period, the game was tied 2-2 after one.
"After the first, I felt really good," Ferris State coach Bob Daniels said. "I felt like, jeez, we didn't play well — it wasn't nerves, it's just, we didn't come out very good. But I felt like, OK, it's 2-2, we took their best punch."
Ferris State didn't get its first shot on net until there was 9:15 left in the first. Denver already had 10 shots on goal at that point.
Down 1-0, the Bulldogs' second shot on goal went in, with Gerald Mayhew converting a breakaway after Tyler Dorantes found him in transition off a faceoff win.
When Denver responded to go up 2-1, Ferris State came back with a little luck on the power play. Corey Mackin had the puck at the bottom of the right circle and fired a puck across the crease that went off Tariq Hammond's stick and in to tie the game with 20 seconds remaining in the first.
"They outshot us by a ton there, they outplayed us and they were stronger than us there in the first," Ferris State's Kyle Schempp said. "But going into the second 2-2, we had the right mindset. Hey, we got lucky that period, we still had plenty of time to show who we are and keep working hard."
The Pioneers have talked about sticking to their process, and managed not to play frustrated in a game that didn't seem like it should have been as close as it was.
"It was frustrating after the first, but at Denver and with coach [Jim] Montgomery, we preach the process, and that's all that matters to this team," Denver's Grant Arnold said. "It's not about the scoreboard, it's about our process. If we execute on our process, we're going to come out victorious, and that's what happened tonight."
Denver went up 3-2 in the second and led in shots on goal 28-14 after two periods. But Ferris State showed some resiliency the night before and managed to find some more Sunday.
"Then I felt really good after the second, even though we were down 3-2," Daniels said. "I felt like, OK, I thought we had stabilized. And realistically, I felt good right up to the last five minutes. I was always pretty confident we'd get that next goal, I really did feel good. Then when we got to 3-3, OK, five minutes to go, game on, this is perfect; this is what we need."
Ferris State didn't get its first shot on goal in the third until the 12:43 mark, but what mattered is that it went in, with Schempp tying the game 3-3.
Instead of another overtime game, however, Denver got two goals in a span of 25 seconds late in the third, with Blake Hillman and Nolan Zajac scoring to make it 5-3 Pioneers.
"After we got that tying goal, I feel like we kind of let up a little bit," Bulldogs senior Simon Denis said. "Gave them chances in the offensive zone again, got caught running around."
Daniels said the Bulldogs spent too much time chasing the puck after losing faceoffs, and that made it tough to sustain much offensive possession.
While it felt like a matter of time before Denver broke through, the results on the scoreboard didn't show until there was less than five minutes to play.
Denver doubled Ferris State in shots on goal for the game, 42-21, including 15-3 in the first and 14-7 in the second. But the Pioneers never let the disparity between offensive chances and goals scored get them down.
"People, when you worry about results, you play nervous and you make mistakes, because you're so worried about [the end], and you're looking at the clock," Montgomery said. "If you're staying in the moment, you're just worried about your process and what you're supposed to do in your role to help your team have success."