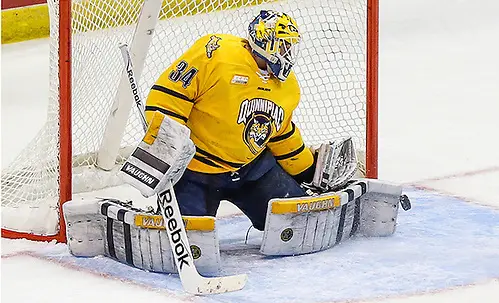 It was an offhand comment, buried in a column about Connecticut's then-potential move to Hockey East in the spring of 2012. But it's interesting to look back on, if only to see how much has changed over the last four years."They've done a good job. The facility is great," Avon Old Farms prep school hockey coach John Gardener told the Hartford Courant about Quinnipiac's hockey program.
2016 Frozen Four
Follow all of USCHO's coverage at Frozen Four Central.
"But they'll be the Forever .500s in my mind. It's a very stable path. But they don't take chances to be great. Will they win a national championship? I don't think so," Gardner added.That might have been applicable at the time, as the Bobcats were coming off another season that saw them finish above .500, but out of the NCAA tournament.But Quinnipiac has been on one of the most dominant runs in Division I hockey since then, starting with the program's first national championship game appearance in 2013. The Bobcats were shut out by Yale in that game, but have posted a 108-33-22 record and four NCAA tournament appearances, two regular season ECAC Hockey titles, a league playoff championship and two times atop the PairWise Rankings.Quinnipiac set a program record with its 31st win of the season in the Northeast Regional final over UMass-Lowell. With a 31-3-7 record, the Bobcats are the first team since Michigan in 1997 to have just three losses entering the Frozen Four.With that resume, Quinnipiac isn't the outlier it once would have been compared to the rest of the Frozen Four field. Boston College, Denver and North Dakota have been among the best teams in college hockey not only this season, but historically as well.
About the Bobcats
Coach: Rand Pecknold, 22nd season overall and at Quinnipiac.Record: 31-3-7 (16-1-5 ECAC Hockey, first)How they got to the Frozen Four: Defeated Rochester Institute of Technology 4-0 and UMass-Lowell 4-1 to win the East Regional.Regional seed: FirstLast Frozen Four appearance: 2013Best NCAA finish: Runner-up, 2013Why they'll win the national championship: Quinnipiac is one of the deepest teams in the country and plays a 200-foot game, smothering its opponents. Boston College is fifth in the country in penalty minutes, which could prove advantageous for Quinnipiac's deadly power play.Why they won't win the national championship: The semifinal brings a matchup of two of the best special teams in the country. Like the Eagles, Quinnipiac has a penchant for taking penalties. As good as goalie Michael Garteig and the Bobcats penalty kill have been, Quinnipiac can't afford to lose the special teams matchup. Also, will leading scorer Sam Anas be at full strength? The junior scored the game-winning goal against the River Hawks despite being limited in both of Quinnipiac's regional games.
— Nate Owen
"It's been great for college hockey," Boston College coach Jerry York said of Quinnipiac's rise to a national contender. "Ten years ago, who would have thought that [former Quinnipiac athletic director] Jack McDonald was trying to sell a brand in Quinnipiac and getting it to this level? Joining the ECAC has helped, and their success recently has been hard to ignore."With the Bobcats have become national contenders the last several seasons, it's easy to forget that the program has been in Division I for only 17 years."Our run in 2013 to the No. 1 ranking for a chunk of the season and the Frozen Four, I think it galvanized our school," Bobcats coach Rand Pecknold said. "We realize that we are a young program, and we're in there with the big boys. It's unusual that we're the No. 1 seed in the tournament and we're sort of the underdog, but we're going to embrace that challenge."The rise to prominence has helped Quinnipiac with recruiting, as defensemen Devon Toews and Connor Clifton are NHL draft picks. Forwards Tanner MacMaster (Boston College) and Landon Smith (Denver) had originally committed to national power schools before coming to Quinnipiac.Still, Pecknold recognizes that the Bobcats won't always win over the big-name recruits from college hockey's traditional powers. Quinnipiac looks for more than skill, as character and shot blocking rank high on its checklist for the ideal player."Without question, within the last five years we've moved up the chart on the recruiting trail, but it's still hard," Pecknold said. "There are still the few big programs that get all the first-round draft picks. We've been able to move up the ladder and close more deals than we would have seven or eight years ago, but we've still got a ways to go."Thursday's game against Boston College represents another step for the Bobcats, as it's the first time Quinnipiac and the Eagles have played each other.A win against Boston College would give the Bobcats a chance to complete its ascension to a national power with the program's first championship."We need to stay the course that we've done all year," Pecknold said. "There's no question it's a big stage. Our guys have been really good all year about how they've handled adversity and the pressure of being the No. 1 team in the country most of the season."