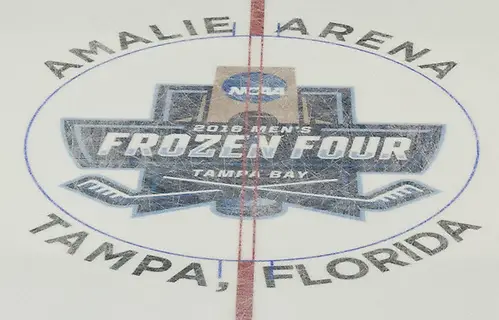 TAMPA, Fla. — Private planes roll up one by one under the beating sun and flowing palm trees. A live band plays on the tarmac as well-dressed young men in suits venture out and stroll down a red carpet to adorning fans, snapping photos.
This is not a Hollywood movie premiere, it's just a day in the life of a college hockey player — one that's about to fight for a national title in the 2016 Frozen Four, that is.
2016 Frozen Four
Follow all of USCHO's coverage at Frozen Four Central.
Tampa and the NCAA put on an extravagant welcoming display to help the final four teams — Boston College, North Dakota, Denver and Quinnipiac — feel at home … or rather, feel like celebrities upon arrival to help celebrate the hard work it took each team to get to the top.
"It's been a phenomenal experience so far," said Quinnipiac coach Rand Pecknold. "Got off the plane, had red carpet treatment there, and the hotel's been great, the town's been great. So, we're looking forward to playing some hockey tomorrow."
The experience doesn't get old for Jerry York and his Eagles, who were in Tampa four years ago when they brought home all the hardware as national champs.
"We were here in 2012, and we were treated outstanding by everybody associated with the tournament, from the NCAA down to the Tampa Sports Commission, hotels — everything. So last time when we were on a flight coming down, we weren't quite sure how it would go in Tampa, but I thought, thinking back, it's probably one of the best Frozen Fours I've attended. Not just because we won that event, but just the way we were treated and the locale, the closeness of the hotels to the rink, the Lightning to go out of their way to make it special for the four colleges."
Quinnipiac vs. Boston College, 5 p.m. EDT Thursday, ESPN2: Matchup analysis
Added BC captain Teddy Doherty: "It's been really exciting. You get down here, there's a big ceremony off the plane, and you get to the hotel, and they've got the fight song playing. Then you drop off your gear and you see the locker rooms. Just the whole stage is really cool."
North Dakota is making its third straight Frozen Four appearance and eighth in the last 12 years, so while the Fighting Hawks appreciate the festivities and warm welcome from locals, they're ready to get down to business.
After checking into the hotel and having a team meal, North Dakota players went for a walk by the water and got a stretch in, but senior Bryn Chyzyk said they "for the most part [are] not trying to be tourists here."
North Dakota vs. Denver, 8:30 p.m. EDT Thursday, ESPN2: Matchup analysis
"I think we'll come back here and be tourists one day," Chyzyk said, "but I think it's a business trip for us, and we're trying to dial in for that game. We're just kind of hanging around the hotel, focusing on Thursday at this point."
This is Denver's first Frozen Four appearance since 2005, and senior Grant Arnold is soaking it all in and not taking any moment for granted. Like other players, however, his focus is on the ice.
"It's been an awesome experience so far," Arnold said. "When we landed they had the band going, we were taking pictures, you know, the sun is shining, the ocean is right there, so it's extremely special to be here. Practice went great, but now like Monty [coach Jim Montgomery] said, it's time to get down to business. It's time to play some hockey."
Hockey is a tight-knit, passionate community — from the hardworking, humble players and coaches all the way down to the supportive families, friends and fans. But just because everyone's eye is on the ultimate prize doesn't mean they don't deserve some recognition. They don't have a choice, really — the red carpets will roll out once again Thursday as the teams enter Amalie Arena, cheering fans and all.