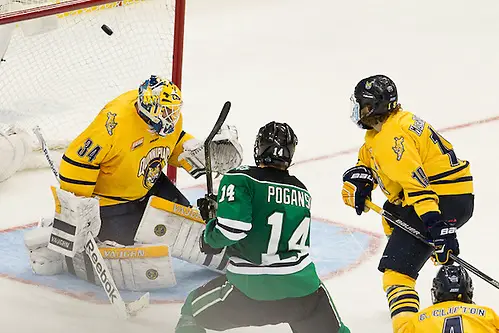 TAMPA, Fla. — At 2-1 after two periods Saturday night, North Dakota began the third period of the national championship game with a mission.
Drake Caggiula scored two goals 2:20 apart before the period was five minutes old, and from that moment forward, there was little room for Quinnipiac to move back into the game and little doubt of the eventual outcome. Even though shots were even in the last period, North Dakota outscored Quinnipiac 3-0 in the final 20 minutes.
2016 Frozen Four
Follow all of USCHO's coverage at Frozen Four Central.
That the Fighting Hawks can capture a third period should surprise no one by now. North Dakota finished the season 27-0-2 when leading after two periods, and that streak of holding onto a lead after 40 minutes is 71-0-5, dating to November 2013.
In Saturday's game, however, the Fighting Hawks needed more than history and statistics to maintain their lead over the Bobcats. What North Dakota really needed to do, said coach Brad Berry, is get out of their own way.
"Our play got disrupted by taking a few undisciplined penalties," he said. "We addressed that — no more penalties. If we did that, we'd be OK rolling four lines back into our play."
North Dakota had to contend with three consecutive Quinnipiac power plays from just after the midway point of the first through the early going in the second, including a five-on-three advantage that led to the Bobcats' only goal late in the first.
Even though Brock Boeser scored short-handed on Quinnipiac's first power play of the game, the Fighting Hawks weren't able to play the game they wanted until they began to play smarter hockey near the midway point of the game.
"We got rolling," said Berry, "and started protecting pucks down low, making them defend a little bit, and we got some opportunities in their end of the rink. I think we caught fire. We knew that was the recipe for success: Stay out of the penalty box and make sure we play a 200-foot game and grind them down a little bit."
After figuring out how to stay out of the penalty box, it was a matter of sticking to what the Fighting Hawks knew they could do especially well.
"In the [second] intermission, we talked about keeping the foot on the gas, and we came out and put the gas full-throttle there," said Caggiula. "We wanted to get the next goal, we wanted to push back and make it as hard for them as possible. We got two early goals there and from there we just kept rolling and rolling. We had the momentum all in our favor. We executed our game plan to perfection there.
"Our line always said that the third period has got to be our best period, whether we're up or whether we're down. We need to keep pushing and pushing."
"It's a mindset in the locker room, when you come in after the second period," said North Dakota captain Gage Ausmus.
"That's been a huge goal for our team, to have a good third period and close out games like that. We weren't going to let that one slip by us tonight."