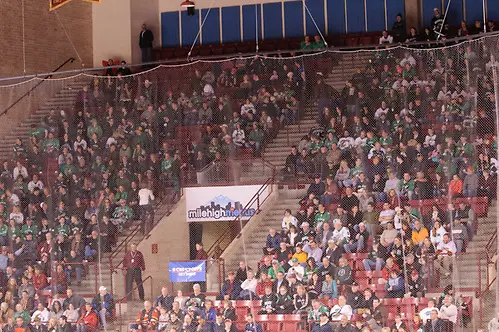 The Denver Post reported Tuesday that Denver's Magness Arena will be renovated and expanded over the next year, with initial work starting next spring.
The Post article states that through private fundraising, the school intends to renovate and expand its off-ice space at the arena and will spend up to $2 million by the beginning of the 2017-18 season to include a new locker room, new lounge for the players with a full kitchen, a dressing room and coaches room.
"I love where the program is headed, and this is the last step to put the icing on the cake," said DU coach Jim Montgomery in the report. "We still get a lot of great recruits, but we've lost on some recruits because we don't have that wow factor when they walk into our locker room like they do at North Dakota, Miami or (Omaha).
"It's going on 17 years since this building has been here and nothing has been done to the locker room. We need to give it the pop it needs of an elite-level program. I think if there's any part of our program that can prevent us from sustaining being a top-five program — which I think we are — would be the dressing room and lounge area."
The report added that "DU has designs for the renovation, but is not ready to make them public."