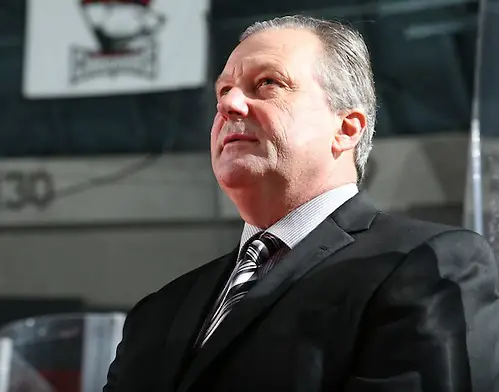 St. Lawrence announced Tuesday that Mark Morris has been named the Saints' new head coach, effective immediately.
Currently, Morris serves as head coach for the American Hockey League's Charlotte Checkers.
Morris was selected for the position with the assistance of a 13-person search committee that included three current students on the men's hockey team, members of the athletics department, four professors, a university trustee, a vice president of the university and alumni hockey representation.
"The success of our men's hockey program both on the ice and in the classroom attracted a very strong applicant pool," said director of intercollegiate sports and recreation Bob Durocher in a statement. "The committee was very diligent in its efforts to recommend the right coach for our program. The program has a solid history of playing strong in the very competitive ECAC. This year's team of student-athletes worked hard athletically and academically, with 15 of the 27 players on this year's roster achieving overall GPAs of 3.0 or higher. We are confident these achievements will continue under the leadership of Coach Morris."
Morris takes over from Greg Carvel, who left for the same position with Massachusetts in March.
In addition to the AHL, Morris' experience includes coaching positions for teams in the NHL and NCAA Division I. He holds the unique distinction of being the only coach to have won 300 college games and over 300 professional games. He is the seventh all-time winningest coach in the AHL and has the third highest win total among active AHL coaches.
In the NHL, Morris earned two Stanley Cup rings while developing players for the Los Angeles Kings and also served as an assistant coach for the Florida Panthers.
While coaching in the ECAC with Clarkson from 1988 to 2002, Morris won five regular-season championships and three tournament championships. Morris' teams had appeared in nine NCAA tournaments, including three quarterfinals and one Frozen Four.
"Coaching at St. Lawrence alongside assistant coach Don Vaughan and under head coach Joe Marsh from 1985-88 resulted in unforgettable memories for me, culminating with the 1988 NCAA Frozen Four title game in Lake Placid," Morris added. "St. Lawrence University hockey has produced legends in the game, and getting to know the storied tradition started during those years.
"As a student-athlete at Colgate University, I had the honor of playing for the late Terry Slater (also a St. Lawrence alumnus), who remained a friend and mentor to me until his untimely passing. He was instrumental in my decision to pursue coaching as a profession. My experience here at St. Lawrence and my roots in the North Country have drawn me back to Saints hockey, college hockey, and the ECAC. I am deeply honored to be selected as the next coach for Saints men's hockey."