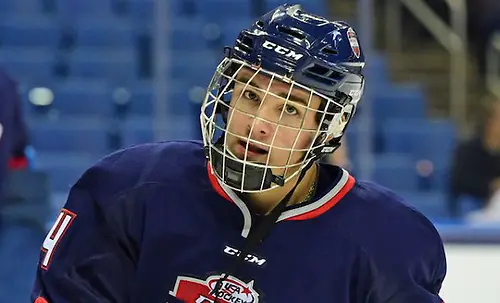 BUFFALO, N.Y. — Just weeks after college hockey left its mark on the Stanley Cup playoffs, the college game put another feather in its cap at the NHL Draft.
Eleven current or incoming college players were selected among the first 30 picks Friday at the First Niagara Center.
That tied the mark for the most first-round selections, set in 2007. Of the 30 first-round picks, 12 were Americans, including the first overall selection Auston Matthews, who skipped both college and major junior to play professionally last season in Switzerland.
Selections: College players and recruits picked in the 2016 NHL Draft
Boston University led all colleges with four current or future first-round selections, including the top overall college player picked, forward Clayton Keller.
Keller was tabbed seventh overall by Arizona despite finishing the season ranked ninth among North American forwards and defensemen.
Now the question becomes whether Keller will choose to head to Boston University in the fall or head to Windsor in the Ontario Hockey League, the major junior club that holds his draft rights.
The consensus among insiders on Friday is that Keller will head to Boston University to develop — he stands just 5-foot-10 and is underweight for the prototypical NHL player. That's something Keller himself can't deny.
"Right now BU is my top choice," said Keller. "I don't see that changing.
"[Adding weight is] the biggest thing for me. Getting stronger and putting on a couple of pounds. I think that's what can make me a dominant player in the NHL some day."
Three selections after Keller was Tyson Jost, a Canadian-born player headed to defending national champion North Dakota in the fall. Jost was selected by Colorado and joined BU freshman-to-be Dante Fabbro (17th, Nashville) and St. Cloud State incoming freshman Dennis Cholowski (20th, Detroit) as the three Canadian-born players with college ties selected on Friday.
The trio tied the mark for most Canadian-born college players selected in the first round (2007).
Jost and Fabbro, in fact, were teammates last season in Penticton of the BCHL, and sat together during Friday's draft.
"It's special because we've created a brothership," Jost said of Fabbro. "It was great to be able to hug him [when my name was called]."
Three players who have already played one year of college were also selected on Friday. BU defenseman Charlie McAvoy was tabbed 14th overall by the Boston Bruins, and a pick later Minnesota selected current Wisconsin forward Luke Kunin with the 15th pick. Connecticut's Tage Thompson became his school's first-ever first-round selection when St. Louis picked him at No. 26.
Boston University's Kieffer Bellows, son of 18-year NHL veteran Brian Bellows, was picked 19th by the New York Islanders, giving BU four current or incoming players picked in the top 19.
Finnish-born Henrik Borgstrom, who will head to Denver in the fall, was the 23rd overall selection by Florida.
Minnesota's Mr. Hockey Riley Tufte (25th, Dallas), who will head to Minnesota-Duluth in the fall, and Wisconsin freshman-to-be Trent Frederic (29th, Boston) rounded out the picks with college connections.
"It's not a surprise," Boston University coach David Quinn said of the 11 college players selected in Friday's first round. "To be successful in the NHL, you have to work hard consistently, you need to be a good teammate, you need to be a good person, you need to learn how to train, you have to learn how to eat right. All those things factor into it.
"There are a lot of guys who have never made it in the NHL who have NHL ability but come up short in those characteristics. I think [teaching those characteristics], that's one thing college hockey has done for a long time."