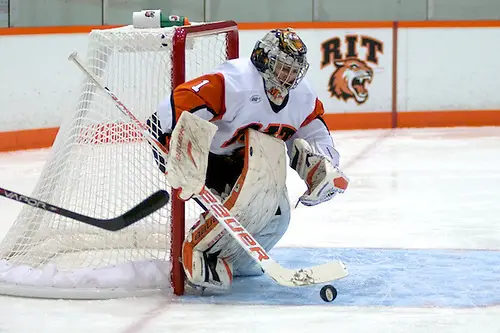 RIT announced Friday that former Tigers' men's hockey standout goaltender Shane Madolora will join the RIT women's staff as an assistant coach for the 2016-17 season.
Madolora will work with the RIT goaltenders, alongside fellow assistant Matt Woodard, assisting head coach Scott McDonald in all aspects of the program. Madolora replaces Lisa Marshall, who is now an assistant coach at Penn State.
"We are proud to welcome Shane back to Rochester and the RIT community," said McDonald in a news release. "His knowledge and experience of being a former RIT and professional hockey player will be invaluable to our current student-athletes and will certainly help while he is recruiting prospective student-athletes."
Madolora played three seasons for the Tigers from 2009 to 2012, setting RIT records with a 1.98 GAA, a .932 save percentage and 13 shutouts. He is second among all goaltenders in RIT's Division I era with 1,727 saves and recorded a microscopic 1.57 GAA and .945 save percentage in the postseason. In his two seasons as the starting goaltender, Madolora was 35-12-12. Overall, he was 36-14-12 with his 36 career wins third most by a RIT netminder at the Division I level.
"I would like to thank (executive athletic director) Lou Spiotti and Scott McDonald for welcoming me back to the RIT family," added Madolora. "Rochester and RIT have always been a special place for me ever since my first day on campus as a student athlete on the men's hockey team. I am extremely fortunate for the opportunity to transition from playing professionally in the United States and Europe to coaching at the highest level of NCAA Women's Ice Hockey."
Madolora received his bachelor's degree in business management from RIT in 2012 and also served as a student worker in the athletics office and equipment cage.
After leaving RIT, Madolora played professionally for three seasons in North America with the Stockton Thunder and Las Vegas Wranglers of the ECHL, Fayetteville FireAntz of the Southern Professional Hockey League and Tulsa Oilers of the Central Hockey League. He played the 2014-15 season with Briancon in France and most recently with the Nottingham Panthers of the Elite Ice Hockey League in England and HC Valpellice of Italy in 2015-16.