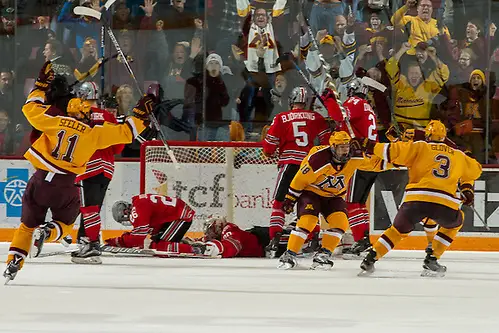 Six weeks after recommending four-on-four overtime for next season, the NCAA Men's and Women's Ice Hockey Rules Committee pulled the proposal before it was set for a final vote.
The NCAA announced that the committee tabled the measure before the Playing Rules Oversight Panel was due to discuss it Wednesday.
The move to five minutes of four-on-four overtime that the hockey rules committee advanced in June was advertised as a way of countering a trend of decreased scoring.
But the idea didn't sit well around college hockey.
"As part of the rules process, the committee has been gathering input from our membership on all of our proposals, including this issue," Tom Anastos, the committee chair and coach at Michigan State, said in a news release. "While there remains support for some change to our current system, the committee believes that the best course of action at this time is to pause for at least another season to allow for more dialogue, examination and consideration to occur."
An experimental rule passed by the Playing Rules Oversight Panel will allow for continued use of a three-on-three overtime in regular season games that end in a tie after a five-minute, five-on-five overtime.
It'll be up to conferences to decide whether to use the experimental format, after which a sudden-death shootout can take place if required. The NCHC elected to use the system last season, and only one of the six games that went to three-on-three overtimes needed a shootout.
As has been the case previously, a game will be considered a tie for the purposes of the Ratings Percentage Index and PairWise Rankings if it remains tied after the initial five-minute, five-on-five overtime. Any decision in a three-on-three overtime or shootout would impact only the conference standings or determine which team advances in an in-season tournament.
Last season, the NHL started using a three-on-three overtime format immediately after ties in regulation.
Also Wednesday, the Playing Rules Oversight Panel approved a measure to require a coach's challenge for regular season goal reviews related to offsides and too-many-man calls, except during the final two minutes of regulation and in overtime.
Officials are allowed to review offsides at their discretion in the final two minutes and overtime, as well as during postseason tournament games.
A proposal to require officials and players to wear helmets at all times when they're on the ice (except during the national anthem) also passed. In March, WCHA referee Butch Mousseau died after suffering a head injury when he fell during warmups before a Final Five game. He was not wearing a helmet.