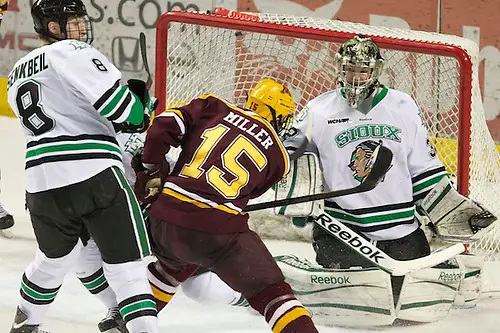 North Dakota will play host to the 2018 U.S. Hockey Hall of Fame Game against Minnesota at the Orleans Arena in Las Vegas on Saturday, Oct. 27, 2018.
The announcement was made on Wednesday in Las Vegas by officials representing UND, the Orleans Arena and a special appearance by the Lieutenant Governor for the State of Nevada, Mark Hutchison.
"It doesn't get much better than this – a classic college hockey matchup between North Dakota and Minnesota in Las Vegas. What a great destination for our alumni and fans," said UND athletics director Brian Faison in a news release. "And thank you to the Ralph Engelstad Arena and the Orleans Arena for their partnership with UND in bringing the 2018 Hall of Fame Game to Las Vegas. We couldn't do it without their support."
"We are extremely excited to be a part of a great college hockey marquee event," added UND coach Brad Berry. "This showcase game will give our players and our loyal fans an unforgettable experience and will hopefully continue to grow Division I hockey in the western United States, growth we've most recently seen with the NHL's expansion into the great city of Las Vegas."
With 291 all-time meetings in a series that dates back to 1930, the Minnesota-North Dakota rivalry is one of the most prolific in college hockey. The Gophers boast a 146-130-15 all-time record against the Fighting Hawks, including the most recent meeting – a 2-1 victory in the 2014 Frozen Four semifinal at the Wells Fargo Center in Philadelphia.
Also announced Wednesday was a four-year scheduling agreement between the two programs in which the two schools will host alternating nonconference series beginning in 2019-20.
Minnesota will host series at Mariucci Arena in both 2019-20 and 2021-22 and North Dakota will host two-game nonconference series at Ralph Engelstad Arena in 2020-21 and 2022-23.
"We are always interested in providing new and exciting experiences for our student-athletes and fans, and bringing one of college hockey's best rivalries to Las Vegas certainly fits the bill," said Minnesota AD Mark Coyle in a statement. "With these two programs facing off, you know you're going to get a great game, and the University of Minnesota is excited to participate in a memorable event at Orleans Arena."
"This is both a great experience for our student-athletes and an opportunity to grow the game in a non-traditional college hockey market," added Minnesota coach Don Lucia. "Taking our rivalry with North Dakota to Las Vegas will be great for both programs, our fans and college hockey, and we are certainly looking forward to it."
All tickets for the game are $79, plus applicable ticketing charges.
Tickets will go on sale to the general public on Feb. 10, 2017 at 2 p.m. CDT. A pre-sale will be available to North Dakota Champions Club members beginning at 10 a.m. CDT on Jan. 9, 2017 through Feb. 9, 2017. Minnesota will also be provided with a limited number of tickets to sell exclusively to their fans.
Orleans Arena, located just west of the Las Vegas Strip and part of The Orleans Hotel and Casino, seats more than 7,400 for hockey.
"This is another example of how college hockey continues to grow in our country, especially in the southwest," said College Hockey, Inc. executive director Mike Snee in a statement. "From Arizona State adding NCAA D-I men's hockey, the talented college players the southwestern states are now producing, and now Las Vegas hosting one of the most historic rivalries in the game, it's exciting to think what might be next."