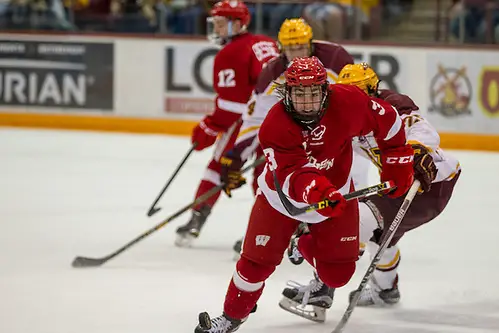 It was a good opening week for Big Ten Hockey.
It could have been better.
Minnesota swept, Ohio State won and tied, and three other teams split their series in the first weekend of Division I play, giving the Big Ten a 6-3-1 first-weekend, nonconference record and the highest win percentage (.650) in nonconference play among all conferences – for this brief, shining moment.
We have to go back to the first weekend that these six B1G teams played together in one league to see an opening weekend as successful, when the league went 6-3-0 (.667) in the first full weekend of play in 2013-2014. By mid-October of that season, the league had a nonconference record of 11-8-0 (.579), and B1G Hockey ended 2013-14 with the best nonconference win percentage among all the leagues (50-32-8, .600). Things looked promising for the fledgling enterprise.
That promise went unfulfilled, though, during the last two seasons. To open 2014-2015, Big Ten teams went 4-4-1 to start, were 5-11-2 by mid-October (.333), and ended the season with a record of 37-43-7 (.466) in nonconference play.
The opening of last season was worse, but the net was slightly better. In the first weekend of play, B1G teams went 2-3-3, then were 5-12-3 at mid-October (.325), and ended 2015-2016 40-40-11 (.500) in nonconference play.
As every fan of any B1G team has quickly learned, the first half of the season for these six teams is more than just a warmup for the full league play of the second half. The nature of the league's early nonconference schedule is something that can have an enormous impact on a given team's chances for NCAA tournament play at the end of the season. Early season stumbles lead to greater chances that B1G teams on the NCAA tournament bubble will be sitting out that postseason. The variety and number of nonconference opponents that Big Ten teams face early on can nearly guarantee this, especially since the six teams in this league have struggled to find any kind of consistency in their play in the early part of the past two seasons – down to a team, down to a program.
I am in no way criticizing the way in which B1G hockey schedules its season. In fact, I thoroughly enjoy the variety of opponents I'm able to see Big Ten teams play. Living about an hour or so away from both East Lansing and Ann Arbor, I can say that it is a genuine treat to see in person teams from several other leagues during October and November, something I usually didn't get to experience until the NCAA tournament before B1G Hockey came into being.
Consistently good play against nonconference opponents is essential for any league's chances of having multiples representatives in the NCAA tournament. Hockey East handles this well, as does the other league that formed the same year as B1G Hockey, the NCHC. I know that every coaching staff in the Big Ten is well aware of how the league's long nonconference schedule can impact their own programs and the league overall.
As I've said before, this is a league with every possible resource available to it. It's a league of the "haves." B1G Hockey has no excuse to underperform the way it did in its previous two seasons. One single weekend is not enough to give fans of the league and its teams much hope, but starting 2016-2017 on a far brighter note than the way the two previous seasons began can engender a little cautious optimism.
Rebounding
One of the most cautiously optimistic things about last weekend's play was the way in which several teams rebounded.
After dropping games on their first nights out, both Michigan and Wisconsin registered second-night wins to split their weekends.
The Wolverines watched leads disappear twice in Friday's 4-3 loss to visiting Union. Midway through the first, Michigan led 2-0 but gave up two late-period goals. After taking a 3-2 lead into the third, the Wolverines gave up two goals in the final five minutes of that game.
Saturday, though, was another story. In a 4-0 win over Union, the Wolverines led 2-0 after the first on goals by junior defensemen Niko Porikos and Sam Piazza, freshman James Sanchez netted his first two collegiate goals – one in the second, one in the third – and freshman goaltender Hayden Lavigne made 31 saves in his debut, becoming the first Michigan netminder to record a shutout in his first game since Al Montoya did so Oct. 11, 2002.
"I thought they had a step on us last night, we had a step on them tonight," said coach Red Berenson. "I thought we were a completely different team tonight. We played with more conviction, we played stronger, we played harder, and we played with a little desperation. We played better defensively. Our goalie gave us a great game, and the puck went in for us at important times.
"It was a good game for Michigan tonight. Not a good weekend, necessarily, but a good game tonight."
The argument may be made that it was a great weekend for Wisconsin. Yes, the Badgers dropped a 3-2 decision to Northern Michigan in Green Bay Friday, but Wisconsin scored the final goal in that game.
Then in Saturday's 6-5 win, when the Wildcats scored at 2:21 in the third to take the 5-4 lead, the Badgers answered 59 seconds later when Corbin McGuire scored the tying goal – his second game-tying goal of the night. At 11:36 in the third, freshman Trent Frederic scored his first collegiate goal on the UW power play, and the Badgers went on to win the game.
"This was a position these guys were in a lot last year, and it didn't go well for them," said first-year coach Tony Granato. "We talked about being confident, wanting to be on the ice, wanting to help us win, and we went out there and made some big plays."
Wisconsin didn't pick up its first win of the 2015-2016 season until its seventh game. The year before that, it took 10 games to get a win. Again, it's early. Again, perhaps cautious optimism is okay.
"It's the second game of the year, so we're not in midseason form," said Granato. "What I did like was our poise with the puck – maybe too much sometimes, but our poise and composure was really good tonight."
Then there was Ohio State, a team that was picked second in the preseason Big Ten coaches poll. After defeating host Denver, 3-2, in their opening match of the IceBreaker Tournament, the Buckeyes came from behind to tie Air Force. The Falcons went on to win the shootout and, therefore, the tournament title, but after the game, Ohio State coach Steve Rohlik was happy with his team's performance.
"I like the way we battled back from down 3-1, especially after getting a goal disallowed early in the third and still coming back to tie it," Rohlik said. "We have a long way to go ad have to correct some of our mistakes, but we will get to work."
Both of Ohio State's third-period goals were scored by guys who know how to score. Sophomore John Wiitala had the tying goal at 2:44; Wiitala had 11 goals in his rookie season. Senior Nick Schilkey – who had 19 goals last year – was set up by fellow seniors David Gust ad Matt Joyaux for the game winner at 14:43.
Combine all of that with the dozen goals that Minnesota scored in Alaska, and there is room for a wee bit of faith in the weeks ahead. Four Golden Gophers netted two or more goals as Minnesota beat Alaska-Anchorage, 6-0, Friday and Alaska, 6-3, Sunday.
For the weekend, said coach Don Lucia: "The goal was obviously to win two games. It would have been disappointing to come up and not win two. We thought a lot of our players had good weekends. Maybe a couple of guys struggled. This is as much finding out about your team as anything else."
Good news for Gophers fans: Lucia said that junior defenseman Jack Glover will be "back in the mix on defense next weekend" when Minnesota plays the U.S. Under-18 team Friday night. Glover had shoulder surgery in the offseason.
Three stars of the week
Three teams, three different positions, two newcomers to the weekly awards.
First star – Minnesota sophomore forward Tyler Sheehy
Sheehy (Burnsville, Minn.) had three assists in Friday's 6-0 win over Alaska-Anchorage and two goals in Sunday's 6-3 win over Alaska, leading all conference players with five points. Friday's game matched a career-high for Sheehy in points, and one of his goals Sunday his first career shorthanded goal. Sheehy, who had 12 goals in 37 games last season, receives his second weekly Big Ten award.
Second star – Michigan goaltender Hayden Lavigne
Lavigne (Brampton, Ont.) stopped all 31 shots in the 4-0 win over visiting Union, his first collegiate game. Lavigne faced 13 third-period shots and five power plays. Obviously, this is his first weekly Big Ten award.
Third star – Wisconsin senior defenseman Corbin McGuire
McGuire (Ridgefield, Conn.) led all Badgers with three goals – one Friday and two Saturday – in Wisconsin's split with Northern Michigan. McGuire's three goals in this single weekend equal his career-high three goals for a season in 32 games last year. This is his first weekly Big Ten award.
My ballot
For what it's worth. It's so early.
1. North Dakota
2. Quinnipiac
3. Minnesota
4. Boston University
5. Notre Dame
6. Minnesota-Duluth
7. Mass-Lowell
8. Ohio State
9. Michigan
10. Boston College
11. Denver
12. St. Cloud
13. Miami
14. Providence
15. Air Force
16. Minnesota State
17. St. Lawrence
18. Northeastern
19. Bemidji State
20. Clarkson