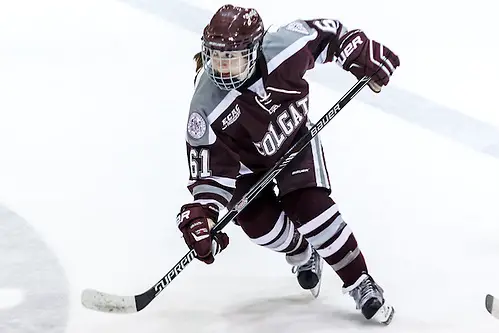 Candace: Well Nicole, the more things change, the more they stay the same, at least with the top Western teams. Wisconsin got challenged by Clarkson on Friday. The Badgers fired 41 shots, but Shea Tiley played exceptionally well. A third period power-play goal by Sam Cogan at 9:34 sent the game to OT, and then Emily Clark won it for the Badgers in OT. Wisconsin didn't fire as many shots on Saturday, only 28, but Presley Norby got the game-winner to break a 1-1 tie midway through the third period.
The other big ranked battle saw Minnesota take on Minnesota-Duluth. The series was much closer than recent games between the two, but Minnesota won both, each by a goal, and Saturday's contest went to OT before Sarah Potomak struck. I think it speaks to how much improved Duluth is.
I think you could say that about the entire WCHA though, especially after the split between Ohio State and Bemidji. I actually put six WCHA teams in my poll this week, giving Ohio State a nod after another strong outing.
What is your take on the WCHA right now? Certainly I think Ohio State has been a surprise, but the depth among the teams is outstanding top to bottom. Minnesota State, which hasn't won a conference game since Feb. 2, 2015, almost two seasons ago, took North Dakota to OT on Saturday, and St. Cloud beat North Dakota the previous weekend and also gave Wisconsin fits on opening weekend.
Nicole: Last week Arlan and I were lamenting the small sample size on which we had to build our opinions, but an additional week's worth of games really only made the picture more cloudy for me. I'm pretty happy not to have a poll ballot, because I'd have no idea what to do with it this week.
I think that Wisconsin and Minnesota are still atop the league, but the gap between them and everyone else has certainly got smaller. You probably could have argued for three tiers in the WCHA in the past, with UW and UM at the top, followed by North Dakota and Minnesota-Duluth, and then another gap before the rest of the conference. I don't think that third tier exists anymore. Any of those teams can beat each other on any given day and they can all give Minnesota and Wisconsin a run for their money.
You could definitely argue that it seems to be a bit of a down year in Minneapolis, but even if that trend continues, we'd expect them to recover in short order. There are programs across the country that would love to have a "down year" like the one the Gophers may or may not be having. It's only their own standard and precedent that makes any small stumbles look amplified.
Ohio State has always shown that they were a threat to garner an upset, but in years past, they'd also stumble against teams that they should have beaten. The lack of consistency always made it difficult to figure out if they were just playing above themselves when they gave Minnesota and Wisconsin scares. Thus far, the Buckeyes haven't shown that to be the case.
I give a lot of credit to the new coaches that have joined the league in that past two seasons in Columbus, Duluth, Bemidji, Mankato, and St. Cloud. They've instilled a lot of confidence in their players and caused a bit of a shakeup. Teams don't seem content to fulfill the roles they have in the past.
If we're talking conferences in chaos, though, let's talk Hockey East. Vermont is the only team who's played a conference game so far that doesn't have a loss. They've beaten Boston University. Maine upset Boston College this weekend. And those are just the conference match-ups that raised eyebrows. It certainly seems like the conference is as wide open as we've seen in in years.
Candace: You knew Hockey East would probably be more volatile this season, as Northeastern star Kendall Coyne, who accounted for approximately 50 percent of her team's points, graduated, while Boston College lost two all-world scorers in Alex Carpenter and Haley Skarupa. Coyne and Carpenter won the last two Patty Kazmaier Awards, and at least with the Eagles in recent years, if any team got close, you could expect Carpenter and Skarupa to work their magic at will.
Boston University makes up the third team of the Boston triumvirate that has dominated Hockey East. The Terriers lost Marie-Philip Poulin to graduation two seasons ago, and lost Sarah Lefort, Rebecca Russo, and Kayla Tutino from last year's team, who were the 3-5 scorers on the team last year.
I guess this is my long-winded way of stating that those three teams had players who could pick their team up and put them on their backs in tight games, and they don't have them anymore. So yes, Hockey East is more chaotic. Maine, as you mentioned, beat BC, and that, combined with a one-goal loss earlier in the year to Quinnipiac and a one-goal loss to the Eagles, would make me think the Black Bears are closing the gap, but they also seem to suffer from the aforementioned Ohio State syndrome, as evidenced by a disappointing 5-1 loss to Merrimack on Friday at home. Those aren't the types of losses a team that could be in the home ice hunt can afford.
Having said all that, it still seems that the Boston triumvirate will battle for the top spot in Hockey East. The Eagles are sitting atop Hockey East right now with six points, and the Terriers are in second with four. Northeastern hadn't played a Hockey East game until Tuesday, where they started their conference schedule with a 6-2 shellacking of Boston University, serving notice. Even before that, the Huskies seemed to have shown signs of a rebound after the sweep by St. Lawrence, which, given how the Saints have performed since, probably shouldn't be looked at as a surprise anymore.
Speaking of Quinnipiac, the Bobcats went on the road to face Mercyhurst, a team that used to be an NCAA tournament staple and boasted of all-world players like Meghan Agosta and Vicki Bendus. The Lakers seemed to drop off in recent years, needing to capture the CHA autobid to make the tournament, and no longer getting the at-large, as they did for years before the CHA even got an autobid for its tournament winner. Last weekend, Mercyhurst split with Quinnipiac, playing impressive defense, winning 3-2 Friday and then falling in OT Saturday 1-0. Do you think the Lakers might get back into at-large contention this year, in which case the CHA could send two teams to the NCAA tournament?
Nicole: Whew, that's a tough question. Not to move the conversation backwards, but I think Mercyhurst's fate will depend not only on its own schedule, but how the WCHA plays out and how the committee chooses to hand out those at-large bids. The Lakers have just six games left on their schedule against teams that are currently ranked. Those quality win bonus points that WCHA teams are getting just by playing each other in conference while five of the eight teams are ranked are going to be difficult to overcome, I'd think.
Despite not having any of the more recognizable names in the game right now, Mercyhurst does have coach Michael Sisti, who's been with its program since its inception. The way they went defense-first against Quinnipiac this weekend was a pretty inspired bit of coaching, though I'm not sure if it's sustainable for a full season. It took the Bobcats by surprise, but opponents now know to look for it. On top of that, while they packed it in on their end, the Lakers struggled to balance that with any sustained offense. As evidenced by the Saturday loss, it just takes one shot to beat them when they aren't putting any pucks on net themselves. That's a tenuous situation to be in, at best. It's a bit of a catch-22 for them because they can't develop any player — or line — as an offensive threat without giving them time on the ice to grow and gain confidence. However, this strategy doesn't really allow much room for that.
In any event, I love that they found a way to throw a speed bump in front of Quinnipiac, who looked like they might roll on through as the season got underway. I expect more teams to try to frustrate the Bobcats that way. It'll be fun to see if a team with a good transition game can not only fluster them on defense, but steal some pucks and make Sydney Rossman work on the other end.
It seems like Robert Morris has pole position in the CHA, though we've not had any conference games yet. The Colonials play even fewer ranked teams than Mercyhurst does, but the two teams will meet each other four times and it seems like those four games could decide who gets the autobid.
I guess that only leaves the ECAC. A couple of the Ivies played exhibition games last weekend, but will officially get underway this weekend when Harvard meets Dartmouth and Princeton heads to Providence. What have you seen so far in the ECAC? And piggybacking on your question, if we assume Quinnipiac wins the conference, do we see an autobid for Clarkson? What about St. Lawrence?
Candace: Tough question right back at you! I expect the ECAC to send at least two teams to the NCAA tournament, and possibly three, but I'm not sure who. Right now, my gut is saying that the only Hockey East team to make it will be whomever wins the the Hockey East tournament, and the same with the CHA. That leaves, realistically, three open spots, after you take into account the ECAC tournament winner and the WCHA tournament winner, plus whichever of Minnesota-Wisconsin doesn't win the WCHA, barring a huge upset. I think honestly it's a tough ask to beat Minnesota and Wisconsin back-to-back to win the WCHA tournament, so while the other WCHA squads are really good, and most would be in the running to win any of the other conferences, I don't see them beating the two top dogs consecutively.
With three spots available after those five are taken care of, I think the WCHA could likely land one more, and the ECAC two. You mentioned Clarkson and St. Lawrence, and both are teams I'd expect to be in contention, but don't forget Colgate. I like what I see from the Raiders early on. We also haven't seen Cornell play yet, and they've often been a good team, and Princeton was a strong team last year as well. It's still awfully early to be prognosticating out that far, so for now, let's look at teams that might dethrone Quinnipiac. If I had to pick, I'd probably go, in order, St. Lawrence, Clarkson, Colgate, Princeton, Cornell.
Anyway, I want to focus in on the Red Raiders a little. Sophomore goalie Julia Vandyk currently leads the nation in save percentage at .963, and is third in goals-against at 1.005, both very impressive stats. Vandyk's play is one reason the defense is fifth in the country, giving up only 1.5 goals per game.
What's even more impressive to me about the Raiders though, is the offense. It's second in the country, averaging 4.25 goals per game, despite not having a single player ranked in the top 20 in scoring. Usually in the past, what we've seen is the teams with potent offenses have one or two players who are lights out, and they lift everyone else. Think of Minnesota with Hannah Brandt and Amanda Kessel, or BC with Carpenter and Skarupa, players who were all frequently at the top of the nation's scoring charts. Colgate's highest scorer is currently 28th in the country, Bailey Larson. Of course, they have three other players tied for 28 in Annika Zalewski, Cat Quirion, and Jessie Eldridge. Teams that get balanced scoring like that are in many ways harder to shut down.
Colgate has a big test this weekend when it plays Syracuse in a home-and-home. To really prove worthy of at-large contention, this is a series the Raiders need to win. Do you think they can do so, and, more importantly, handle the pressure of being the favorite? After all, the Raiders are a young squad.
Nicole: You're right, I did forget to mention Colgate, which is silly since I picked them third in the conference and to get an at-large bid in my preview. It certainly seems like the Red Raiders should continue their winning ways against Syracuse, who've struggled early on this season. The Orange haven't had a favorable schedule, but still probably didn't expect to start the season 0-3-1.
I think one of the advantages of being a young, upstart kind of team like Colgate is this season is that there isn't actually a lot of pressure. They're playing above expectations, so anything from here on out is just kind of bonus. There's no win-or-go home mentality like if it was a senior-heavy squad. They've already added to last season's successes – their No. 5 ranking this week is the highest in program history. The team got an idea of what it could feel like to be successful last season and they seem to have come back looking to take that even further.
The thing about their scoring is that it's not coming from just their top two offensive lines. Cat Quirion, a defender, led all ECAC scoring last week with five points. Shelby Perry, on the Red Raiders' fourth line, has three goals. It's one thing to say balanced scoring, but the fact that teams are needing to match up to four lines and keep an eye on the blue liners is what really makes Colgate such a tough opponent.
Looking ahead, Colgate's game against Cornell on November 1 should be must-watch and give us a good idea of where the teams stand.
Cornell has the opportunity to play spoiler, but they're starting from behind and will need to get up to speed quickly. They have the firepower to be a prolific offense, but struggled to show it at times last season. They lost a huge presence on the blue line in Cassandra Poudrier and they've not got a solid answer in goal yet. They start with two at home against Mercyhurst, so we should get a pretty good read on them right away.
Before we saw St. Lawrence, I thought it would be Colgate and Cornell fighting each other and Princeton to make waves at the top of the standings, but I gave Colgate the nod because of the momentum of last season. The more we talk about it, the more the ECAC feels a lot like the WCHA. Quinnipiac is the clear front-runner, though they'v shown some chinks in the armor. Clarkson is holding on to the two spot, possibly a bit out of deference to past performance. Colgate, Cornell, Princeton and St. Lawrence are the upstarts, breaking out of the middle-ranks and proving they're forces to be taken seriously. Quinnipiac and Clarkson's top positions are more vulnerable than Wisconsin and Minnesota's, in my opinion. We've been calling it chaos, but the increased level of play and parity are actually great things for the sport overall. They make our jobs a bit harder, but also a lot more fun.
You mentioned Colgate's goalie, but what other players have stood out to you early on? North Dakota's Lexie Shaw leads all goalies with a .9721 goals against average. Some were worried the Fighting Hawks would suffer after the graduation of Shelby Amsley-Benzie, but Shaw has stepped right in. Minnesota-Duluth's Lara Stalder has six goals and six assists in six games played to lead the country in scoring. The Swiss national seems to have found comfort and confidence this season. Looking at the rest of the top scorers, there are just two that played in last year's Frozen Four — Minnesota's Kelly Pannek and Dani Cameranesi. Quinnipiac's Taylar Cianfarno is near the top, but the rest of the top of the list is a lot of new names. Should we be reading anything into the lack from Minnesota, Wisconsin, Clarkson, and Boston College?
Candace: Minnesota, Wisconsin, and BC interest me in that though they don't seem to have top scorers as they've had in the past years, they are still scoring at a fair clip. Wisconsin is fifth in the country with 3.5 goals per game, Minnesota seventh with 3.17, and BC eighth with 3 goals per game. Wisconsin also has the country's best defense, letting up only a goal per game, which is why it's odd to me that Ann-Renée Desbiens is second in GAA and only ninth in save percentage among goalies.
The issue for BC, and to a lesser extent Minnesota, is defense. Minnesota is giving up 1.67 goals per game, which is respectable, especially since it's the first year for Sidney Peters as a starter, and it's good for a goal differential of 1.5 goals per game. You'll win most games with that stat.
BC, on the other hand, after averaging barely a goal per game last year on defense, is at 2.33 goals per game, only 17th in the country, so that means the Eagles' goal differential, which used to be among the best in the country, is now less than a goal per game. Of course, Arlan always used to tell me last year that BC played defense by dominating offensive time of possession, so other teams couldn't really get too many scoring opportunities when they were stuck playing defense all the time. BC needs to clamp down defensively to give themselves a better chance since the Eagles don't have Carpenter and Skarupa to run up the points and dominate puck possession.
As for players impressing me early, Mercyhurst netminder Jessica Convery has been impressive, with a 1.05 goals-against, and freshman netminder Janine Alder of St. Cloud has also been strong, with a 1.15 GAA and a .962 save percentage, the latter of which is second in the country.
For offense, I don't think you can say enough about what junior Kennedy Marchment of St. Lawrence has done early. She's averaging 2.5 points a game, best in the country. St. Lawrence is also getting impressive production from junior Hannah Miller and senior Brooke Webster, who each have eight points, for an average of 2 points a game, equal to Stalder.
Duluth's Lara Stalder leads all scorers with 12 points, but has played two more games than Marchment. I think you also have to recognize Robert Morris freshman Jaycee Gebhard, who is third in the country with 1.67 points per game.
Did I miss anybody? Who stands out to you?
Nicole: Though it's not exactly surprising after her performance in last year's Frozen Four, Sarah Potomak had a great weekend for the Gophers. They shuffled lines a bit and put her on wing instead of center and she scored both game-winning goals for Minnesota in close games this weekend. She tends to not get mentioned behind some of her more well-known teammates, but she stepped up big as a freshman and has the tendency to be in exactly the right place in front of the net.
There's a lot of names to watch at Wisconsin, but one player quietly making a difference is Sam Cogan. She scored with under two minutes to go in Wisconsin's second game against Ohio State to salvage the tie and force overtime. She did the same thing again against Clarkson, scoring in the third to tie the game. Both were power-play tallies. She benefits from being on the top line with Emily Clark and Annie Pankowski, but is capitalizing on the opportunities that come her way when the defense focuses on those two.
Mary Parker transferred from Harvard to BU and has continued her scoring proficiency with little hesitancy after sitting out a year. She led the Crimson in scoring two years ago when they played in the national championship game. She's tied for second on the Terriers with eight points.
St. Cloud State's Julia Tylke has already netted five goals after tallying just nine all of last season. Freshman Terra Lanteigne has started four of RIT's six games and has a .946 save percentage and a 1.495 goals-against average, despite her 1-3-0 record.
Looking ahead to next week, you mentioned Syracuse and Colgate, but what other games are must-follow for you this weekend?
Candace: I'm interested to see how Ohio State performs against Minnesota. The Buckeyes are the home team, and if they are serious about being a contender this year, they need to at least earn a tie in one game, if not a win. The Bemidji State-Minnesota-Duluth series should be super competitive. Duluth is a great offensive team, but the Beavers counter with Brittni Mowat in goal, and as the Gophers found out two weeks ago, she can be tough to solve.
The one I'm most interested in is the home-and-home between Boston College and Quinnipiac. As I mentioned, BC has had some defensive struggles, but the Bobcats aren't known for having a lot of firepower, so it could help the Eagles. BC needs to get at least one win this weekend to rebuild its confidence and show it is still in the NCAA conversation.
What about you? What are your must-watch games this weekend?
Nicole:  I haven't gotten a chance to watch Colgate yet, so I'm interested to see them against Syracuse. Four of the WCHA's ranked teams meet each other, and the fifth, Minnesota, faces the sixth team you voted for, Ohio State. We're either going to get a clearer picture or a lot more chaos — either way, it'll be interesting. Lastly, I'm just anxious to finally see the Ivies. Harvard could play spoiler, Cornell looks to be interesting, and Princeton has been ranked without playing any games.