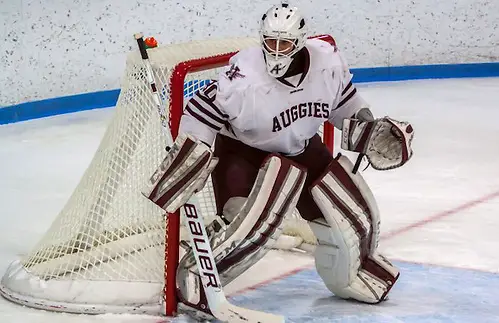 Last year's champion
Augsburg won the regular season and conference tournament titles last year. The Auggies topped St. John's 5-4 in a triple-overtime thriller in the MIAC title game and went on to play in the NCAA tournament, where they fell to St. Norbert 6-1 in the quarterfinal
round.
Favorites
Augsburg, St. John's, and St. Thomas are the front-runners to contend for the conference title.
Dark horse
St. Mary's returns two-time All-MIAC selection Martin Gruse; the Cardinals struggled down the stretch last year, losing their final three, but could be a surprise contender if they can get off to a strong start in conference play.
Players to watch
Augsburg welcomes back All-American goalie Jordyn Kaufer, a transfer from Concordia who went 16-61 in his first season with the Auggies. Kaufer recorded three shutouts and his 16 wins were the fifth most in the nation. Nate Flynn was the top scoring threat for Augsburg last season, as he punched in 16 goals to go along with 14 assists.
Michael Dockry led St. Thomas in assists (11) last year and also came through with eight goals en route to earning honorable mention All-MIAC honors. All-MIAC selection Johnny Rosium tallied three goals and 10 assists.
George Spilchal was the second-leading scorer for Bethel a year ago, racking up eight goals and nine assists. Justin Bonanno struck for nine goals a season ago and is the top returning goal scorer for the Royals.
Huba Sekesi is one of the top scoring threats in the league. An all-league pick a season ago and an all-rookie team selection two years ago, Sekesi has scored 16 goals and dished out 20 assists in his career with St. John's. He led the team in points (25) and assists (16) last year. Sean Lang is a promising young player who earned a spot on the all-rookie team last year. Lang came through with 13 points, good enough to lead all defensemen on the St. John's roster.
Bob Kinne is a two-time All-MIAC selection and ranked third in the league in assists last season with 18. He also scored nine goals and has two three-assist games in his career with St. Mary's. Jay Heinle led the Cardinals in goals with 16 and also dished out eight assists. He ranked third in the conference in goals scored.
John Grebosky is back to lead the way for Concordia. The All-MIAC pick led the Cobbers in scoring as he struck for 11 goals and racked up 14 assists. Mario Bianchi is a solid threat for the Cobbers as well after coming through with 11 goals and four assists last season.
Mitch McPherson will be counted on to help pave the way for Hamline this year now that Brandon Zurn and Charlie Adams have graduated. McPherson ranked third on the team in goals (13) and was tied fourth in assists (14) last year. Mitch Hall racked up eight goals and tallied a team-high 17 assists for the Pipers.
St. Olaf will rely on the talent and experience of Drew Otto, who ranked second on the team in goals (9) and assists (7) last year. Steven Sherman will also provide a boost to the Oles' offense as he is coming off a year where he dished out a team-best 11 assists. He also scored three goals.
Gustavus Adolphus should be a much-improved team as its top three scorers are back, including Sam Majka, who finished with five goals and 13 assists and will look to provide a boost to an offense that managed to score only 52 goals last year. Colin Hernon and Van Sullivan also return and will help that cause after combining for 14 goals and 17 assists last year, including eight goals and eight assists by Hernon.
Notes
St. Thomas placed second in the MIAC regular-season standings and is hoping to rely on defense to fuel its success after holding 18 of its 26 opponents to two goals or less in regulation. The Tommies also killed off 87 percent of their opponent's power plays.
Bonanno closed out the 2015-16 season with his first career hat trick, helping Bethel top Concordia 4-1 and win for the second time in its final three games. The Royals finished with 62 goals last season, including 15 off the power play.
St. John's was a goal away from an NCAA tournament bid after falling in overtime in the third-longest game in NCAA history (102:53). The Johnnies have a reputation for being great when the calendar flips to the new year, fashioning a 47-27-10 record after Jan. 1 under coach Doug Schueller, including a 7-1-2 record last year.
St. Mary's snapped a 22-game winless streak against the Tommies last year. The Cardinals were 0-19-3 during a streak that dated back to December 2004. St. Mary's had a player tally three assists in a game four times last season, with Gruse doing it twice. Gruse has come through with back-to-back seasons of 30 or more points.
Concordia has been one of the most consistent teams in the MIAC lately, having advanced to the conference tourney five times in the last six years. The Cobbers have also finished  in the top five in the league in six consecutive seasons.
Augsburg won 17 games last season, the third-most in program history, and is more than capable of duplicating or even topping that total this year. The Auggies return four of their top five scorers from a team that put up 101 goals last season. The group includes Corbin Chapman, who finished with 11 goals and also tallied 10 assists.
Hamline is looking to return to the top of the MIAC mountain after winning the league tourney two years ago. The Pipers finished the year with 10 wins and made it to the second round of the MIAC tournament.
St. Olaf has a new head coach in Mike Eaves, who spent 14 seasons as the head coach at Division I Wisconsin. Eaves, a two-time All-American for the Badgers and the program's all-time leading scorer, is no stranger to Division III hockey as he began his coaching career at Wis.-Eau Claire in 1986. He played seven years in the NHL and finished with 90 career goals before retiring and becoming a coach.
This year will mark the 75th anniversary of hockey at Gustavus. The Gusties are hoping to make it one to remember after winning only six games last season. They are aiming for their first winning campaign since 2013-14, when they went 16-7-4 and played in the MIAC tournament title game.