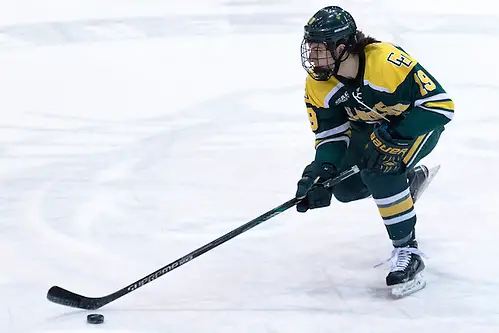 Clarkson started a stretch playing four ranked teams in the USCHO.com Division I Men's Poll this past weekend with a pair of games against Providence and Massachusetts-Lowell.
The undermanned Golden Knights did quite well as youngsters and veterans alike contributed in the 3-3 tie against the Friars and the 4-3 victory over the River Hawks. They were led by freshman goaltender Jake Kielly, who made 71 saves on the weekend and was named ECAC Goaltender of the Week for his efforts.
Kielly has been filling in for senior Steve Perry.
"Steve Perry has been hurt to start the season here," Clarkson coach Casey Jones said. "It gave us the opportunity to get Jake in net right off the bat. I think he came in prepared. He obviously won a championship in the USHL last year [with Tri-City], so we knew he would be competitive and ready to challenge for playing time. The opportunity has presented it to him and he's a calming effect for us, which is always nice."
Defensemen Terrance Amorosa and Aaron Thow have also missed time recently.
In Friday's game, it was the freshmen who stepped up as they had two of the three goals, Jordan Schneider and Sheldon Rempal each scoring in the second period. Junior defensemen Tyko Karjalainen scored in the third period.
Saturday, it was the seniors who stepped up in the comeback win against UMass-Lowell. Down 2-0 in the second period, they tied the game with goals from freshman Devin Brosseau and senior Jordan Boucher. Seniors A.J. Fossen and James de Haas scored in the third.
Even with the successful weekend, Jones knows his club still has plenty of work ahead.
"Three points is encouraging, but we are a work in progress," Jones said. "I was happy to get points on the road from two good teams. I think for us, that's our team. We are going to have to have some depth in scoring and we are going to have to spread it around to be successful. I think this point of the season, we are happy we are getting more consistency of production on a nightly basis, which has allowed us to get three or four goals.
"That's a step in the right direction for us this season."
Only three skaters on the roster don't have a point so far in the young season. Two of them are freshmen in forward Haralds Egle and defenseman Shane Kuzmeski, who each have only played in three games so far. The other is junior forward Dylan Gareau, who also has only played three games.
Quebec natives Devin Brosseau and Sam Vigneault lead the team with five points each. Boucher, de Haas and Nic Pierog each have four points. Six players sit with three points.
The schedule doesn't get any easier for Clarkson after starting the regular season with six games against Hockey East opponents. This weekend, they host two Big Ten teams in Minnesota on Friday night and Wisconsin on Saturday.
"We knew our schedule was going to be tough in October," Jones said. "We wanted to get that challenge to see where we are at to help us prepare for the ever-tough ECAC league season."
Clarkson opens ECAC play the first weekend of November with Quinnipiac on Nov. 4 and Princeton on Nov. 5.
CIS scheduling change leads to Dartmouth-Harvard scrimmage
With the Ivy League schools getting their regular season underway this weekend, travel partners Harvard and Dartmouth met in Hanover, N.H., Saturday afternoon to get one final warmup in before the regular season begins.
Why did the two teams decide to face each other?
First, Ivy League rules allow teams to scrimmage each other. Secondly, as they get a late start compared to the rest of Division I, they couldn't schedule a Canadian Interuniversity Sport team this year.
"It's kind of unavoidable because of the new regulations in CIS, the college hockey loop in Canada," Dartmouth coach Bob Gaudet said. "It's hard to play a Canadian team because most of the leagues, they can't play (NCAA teams) once they started the (regular season) schedule. They can't take out outside trips once they start their league schedule. There are very few teams that can. The teams we have been dealing with in the past like McGill or teams in the Maritimes – we actually had an exhibition game scheduled with the University of New Brunswick. That new rule actually caused that not to happen."
University of New Brunswick is perennial power in CIS that usually plays a handful of NCAA teams during the season.
Cornell did play two Ontario University Athletics teams – a conference within CIS – this past weekend in Ontario IT and Brock.
Dartmouth and Harvard usually play the same CIS team, but with the teams not playing each other until Jan.17, it made sense to schedule an exhibition against each other.
"I know Teddy Donato and Paul Pearl over there at Harvard and what we figured we would do is play a game for all intents and purposes that was to get us prepared to play the upcoming schedule," Gaudet said. "It would be nice to play a couple of those, but we don't have the opportunity. To play once, I think it benefited us both."
Harvard, who also played the U.S. National Team Development Program's Under-18 team on Oct. 8, won the scrimmage against Dartmouth, 4-3 in a shootout.
With Harvard being ranked, it also gave a quality test as Dartmouth opens the season against another ranked opponent in Michigan. Dartmouth went out to Ann Arbor last season after Thanksgiving and lost 7-0 and skated to a 1-1 tie. The Wolverines return the favor this year by heading over to Hanover for a single game.
"Playing the University of Michigan is great," Gaudet said. "We want to play a tough schedule and we have since I have been here. It's been 20 years now and we have played so many tough schedules. I think that's what we aspire to be, one of the nation's elite. In order to do that, you have to play them and that's what we are trying to do."
Vecchione, Cockrell also win ECAC weekly awards
With Kielly winning the Goaltender of the Week, Mike Vecchione of Union was named the Player of the Week with his six goals and two assists in the victories over RIT and Niagara. Adam Dauda of Colgate was also another nominee as he had two goals and two assists in the series against Merrimack. De Haas of Clarkson was the third nominee with his goal against UMass-Lowell. Evan Tironese of RPI was also a nominee with his seven-point weekend. He had a goal and an assist in the tie against Niagara and a goal and four assists against RIT.
Jared Cockrell of Colgate was named the Rookie of the Week with his first two points of his career in the series against Merrimack. Brogan Rafferty of Quinnipiac had two points against UConn to receive a nomination. Kielly was also in the running for Rookie of the Week.
Runner-ups for Goalie of the Week were Chris Truehl of Quinnipiac and Jake Kupsky of Union.
Pecknold inducted into New Hampshire Hockey Hall
On Sunday, Quinnipiac head coach Rand Pecknold was inducted into the Hampshire Hockey Hall of Fame for contributions to the game.
The Bedford, N.H., native is in his 23rd season behind the Bobcats' bench. He played at Connecticut College, where he had 17 goals and 40 assists as a senior. Before playing at Connecticut College, he played at Lawrence Academy.
Before taking the Quinnipiac job in 1994, he served as an assistant coach at Connecticut College for three seasons.
"This is an incredible honor," Pecknold said in a Quinnipiac press release. "I'm very appreciative of the New Hampshire Hockey Hall of Fame for this recognition."