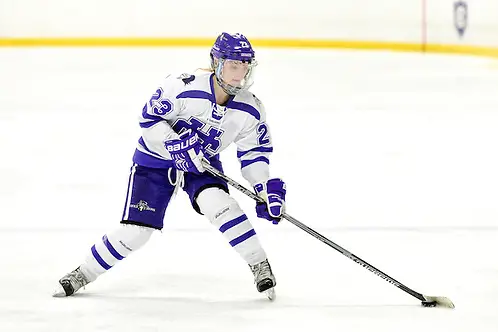 The Holy Cross women's hockey program has existed in an interesting state of limbo since it was started for the 1999-2000 season. Though Holy Cross is officially a Division I school, and the men's team has in the last 10 years had great success, up to and including two appearances in the NCAA tournament and the memorable overtime victory over top seed Minnesota in the West Regional in 2006, the women's team has played a Division III schedule.
The women currently play in the New England Hockey Conference and have played in that conference's earlier iterations as well. As a Division I school competing on a Division III level, that has meant that the team can't play in the national tournament, and can't play in the conference tournament, either.
Instead, the women, along with Division II programs St. Anselm, St. Michael's and Franklin Pierce, have played an unofficial NEHC Women's Open Championship among themselves at the end of the season. Since it's an unofficial championship, there is no national tournament that the winner of the NEHC Women's Open Championship can advance to. The only way Holy Cross could advance to a national tournament would be to upgrade the program to a Division I level and play in a Division I conference.
According to Holy Cross athletic director Nathan Pine, the idea of upgrading the Holy Cross women's hockey team to a full Division I program has been on the table for several years. Now that time has come, and the Holy Cross women's team will be upgraded to full Division I status starting in the 2017-18 season.
"There are a couple reasons," Pine said. "One is that is where the school is at. Two, we have also had conversations with the Division III league we have played in, and it's no longer a scheduling option. In a very good way, our hand is forced, and so we will play this last season with our current schedule, and we are looking at what our Division I conference affiliation options might be. We are in the process of that. We have some due diligence to do. We have had some preliminary conversations, nothing that is worth an announcement yet, but hopefully here in a short period of time we will have that and will make an announcement of where we intend to play moving forward and our Division I conference affiliation."
The conference schedule options Pine refers to are that the NEHC will only allow Division III schools to play in the conference starting in 2017-18. That change will also affect St. Anselm, St. Michael's and Franklin Pierce, which have yet to make any announcement of their future plans. Since those three schools are all Division II officially, they will not be able to play in the NEHC next year. There were protests recently at St. Anselm from students at the school regarding conference affiliation.
"The NEHC is moving forward as a Division III conference only, beginning with the 2017-2018 season," said Norwich director of athletic communications Derek Dunning. Norwich athletic director Anthony Mariano has been on the executive board for the NEHC since it was founded at the start of the 2015-16 season.
Questioned about the NEHC changes, Pine said, "That is absolutely accurate, and in fact all have been given notice that this would be the last season. I believe we were given two seasons' notice, last year and then this year before it takes effect. It was very good in that respect that we had an opportunity to start planning for it. I think the most likely next step for Holy Cross will be to play an independent schedule next season. We are working on that right now. We will probably play a mix of Division I schools and some of those schools that are in the same boat as us as we transition into a conference affiliation that will predicate that we are only playing Division I opponents. I see one season as an independent transition, and beyond that into a conference and hopefully have direct affiliation."
The Holy Cross men's and women's programs play their games on campus in the Hart Center. That facility received some upgrades for its hockey programs a few years ago, including locker rooms and office spaces for both programs. The facility also received some upgrades to comply with the federal Americans with Disabilities Act.
The men's team has also played some games at the DCU Center, which is two miles from the Worcester, Mass., campus. Two weeks ago, the men upset nationally ranked Providence in a game attended by nearly 3,000 fans. Approximately 4,000 saw the men lose to Boston College last weekend. With the DCU Center so close, the decision was made not to upgrade the seating capacity of the Hart Center.
"At the end of the day, the size of our rink for the demand that we have for women's hockey and playing the men's Atlantic Hockey schedule that we have works quite nicely," Pine said. "It became cost-prohibitive when you really explored knocking down walls and expanding rink capacity and seating to where it would have eaten up maybe even the lion's share of the project costs. And with the DCU Center two miles from campus, we felt that would be a lot better strategic option should we have demand for more seats.
"We made our investment in the student-athletes with locker rooms and dedicated office space for our men's and women's coaching staffs. We already had a men's locker room in that facility, so what we really wanted to do was bring balance between the two programs, especially knowing that we intended on elevating the women's program."
Holy Cross hopes to make an announcement regarding a conference affiliation for its women's team in December or January.
"We are trying to do our due diligence regarding what the expenses would be like, what the missed class time for travel would look like, and what would be the best fit for Holy Cross, but our three options at hand are the CHA, ECAC or Hockey East," Pine said. "We are looking at all three. It will take an out-of-session presentation and vote. Our announcement might come in December or around the first of the year. It's really important for us for recruiting, and again knowing that we will play an independent schedule next year, just that buzz and momentum would be huge for us and our program."