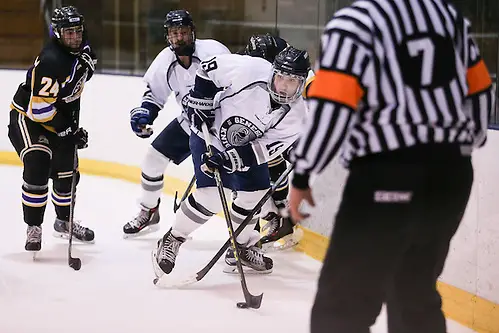 What better way to look at a conference preview than through the eyes of the coach of the defending champions, who just so happens to be the same guy whose team has the bullseye on them, according to the other coaches in the conference. Geneseo's Chris Schultz understands why his team was the coaches' pick, but believes there may be some surprises in store this season in the SUNYAC Conference.
The favorites
"I know why we were the favorites," noted Schultz. "We have a lot of seniors and a lot of offense in that [Stephen] Collins, [Anthony] Marra, [Trevor] Hills line back this season. We are experienced and have good depth, along with some new faces to contribute. Our core group was highly successful last season and as a nucleus of players bring great leadership for this team looking to build off the success of last season.
"This conference is going to be highly competitive. Oswego is definitely a team to watch out for this year with their senior leadership and core of returning players. They are built a bit like us with the solid number of seniors on the team this year, so there is experience in that group to build off. They had kind of a down year by their standards last season, so I expect they will be very focused on regaining their position in the conference."
The dark horses
It should surprise no one that with 22 freshmen and sophomores on the team, the perennial favorites from Plattsburgh are very much in the mix as potential conference winners.
"They put the band back together," said Chris Schultz. "Steve [Moffat] is back with head coach Bob Emery after his head coaching run at Castleton. They have always been a terrific coaching tandem, so don't be surprised if this team matures pretty quickly. They have some good returning players, so a lot will depend on how the freshmen acclimate themselves to the college game.
"Buffalo State was very good last year and has had a terrific recruiting class by all accounts, so they figure to be better, and no one should take Brockport lightly as they will take advantage of any lapse and beat you given any opportunity."
Players to watch
Brockport: Tim Kielich – forward; Ryan Kangas – forward
Buffalo State: Taylor Price – forward
Cortland: Darren MacCormick – forward
Fredonia: Marcus Ortiz – forward
Geneseo: Devin MacDonald – goalie; Stephen Collins – forward
Morrisville: Joe Santino – forward
Oswego: Shawn Hulshof – forward; Matt Zawadzki – goalie
Plattsburgh: Brady Rouleau – goalie; Pat Egan – forward
Potsdam: Dylan Vander Esch – forward; Nick Casacci – defense
USCHO predicted finish
1. Geneseo
2. Oswego
3. Plattsburgh
4. Buffalo State
5. Brockport
6. Cortland
7. Potsdam
8. Fredonia
9. Morrisville
Several teams, including Geneseo and Oswego, got off to fast starts this past weekend by posting wins over competition from the ECAC West. The action gets hot and heavy this week on the way to what will be a great race for the auto-bid to the NCAA tournament and opportunity to play in Utica next March.