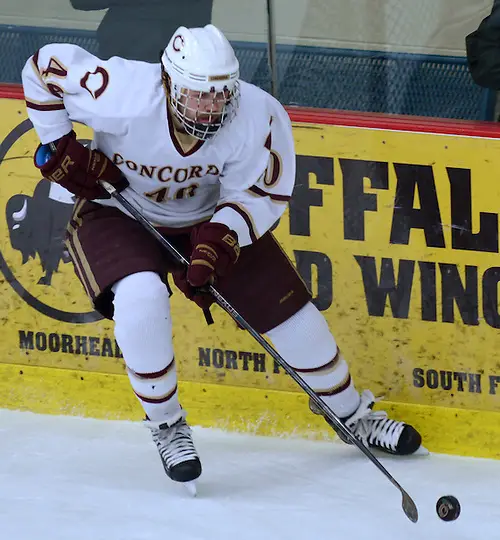 Garrett Hendrickson played through pain during the first weekend of the season for Concordia.
The thing is, he had no idea what the source of the pain was until after he had helped the Cobbers open the year with wins over St. Thomas (1-0) and Saint Mary's (3-2) in the MIAC Showcase.
"I was playing with a herniated disc, but I felt like I played well considering the situation," Hendrickson said. "I tweaked something in the preseason and saw a chiropractor, but they didn't find anything. They finally did an MRI and now I know what I'm dealing with."
Hendrickson has no intentions of letting the pain slow him down. He's made it clear he intends to play the rest of the year and will take advantage of treatments for the pain to keep him on the ice.
"I'm going to play no matter what," Hendrickson said. "As a leader on the team and as a senior, I want to be out there on the ice helping my team out."
Hendrickson scored one goal during the first weekend of play and is hoping to make his senior season his best one yet. The talented forward has scored five goals in each of the last two seasons after striking for 10 as a freshman. Hendrickson has racked up 34 career assists as well.
"I feel like my first three steps have gotten a lot better, although it's hard to tell with the back injury," Hendrickson said. "I do feel more confident out there and my experience makes a difference. I know what to expect and how to handle certain situations."
Hendrickson is thrilled the Cobbers have gotten off to a great start, but he knows there is still plenty of work to do. Staying level-headed is vital going forward.
"We've talked about how we can't get too high or too low," Hendrickson said. "We don't want to be attached to the results. We have to keep working to get better and take one week at a time."
Hendrickson is a native of Minnesota and graduated from high school as his team's all-time leading scorer. He loves hunting and fishing as well as hockey and relishes the opportunity he has in front of him to play one last season at the collegiate level.
"It's an honor to be able to play college hockey; our coach always tells us it's a privilege to be able to put on those skates every day," Hendrickson said. "People forget there isn't a Division II so Division III hockey has some pretty good players. The competition is tough and I'm enjoying the opportunity I have to go out there and compete. It's special and I want to help our team compete for a conference title and make a run in the playoffs."
Chapman off to strong start for Auggies
Augsburg is off to a strong start to its season. The reigning regular-season and tournament champions of the MIAC are 1-0-1 through two games.
Corbin Chapman has played a pivotal role in the early-season success, scoring three goals to pace the offense. He's the only player on the team with more than one goal through the first two games.
Chapman is well on his way to building off the success he enjoyed a year ago when he came through with 11 goals and dished out 10 assists, marking the second consecutive year the senior forward has tallied 10 or more goals and assists in a season.
Augsburg has scored seven goals in all this season while allowing five.
Superior Start
Jordan Neduzak delivered in a big way for Wisconsin-Superior during the opening weekend of play, recording a pair of hat tricks to help the Yellow Jackets top Northland and Finlandia. The senior forward also dished out four assists to help Superior start off the season with a 2-0 record.
Neduzak fueled an offense that cranked out 19 goals in two games.
With six goals in the first two games, Neduzak is already halfway to his goal total of a year ago. He finished with 12 goals and seven assists last season, marking the first time in his career he reached double digits in goals. He scored a combined 16 goals in his first two seasons of college hockey.
Wis.-Superior not only started off well offensively, its defense limited the opposition to five goals thanks in part to goalie Ethan Wood making 43 saves.
Cooper to the rescue
Senior goalie Billy Cooper made a name for himself in the opening weekend of play for Lake Forest. Cooper recorded 60 saves in two games as the Foresters jumped out to a 2-0 start to their season. He gave up five goals in the two outings and owns a .923 save percentage.
Cooper appeared in only four games a year ago and played in just two games as a sophomore. He played in eight games as a freshman.
With 60 saves already, Cooper has nearly half of the number of saves he made in 2015-16 (130). He has already matched his win total as well from last season and has six wins in his career.