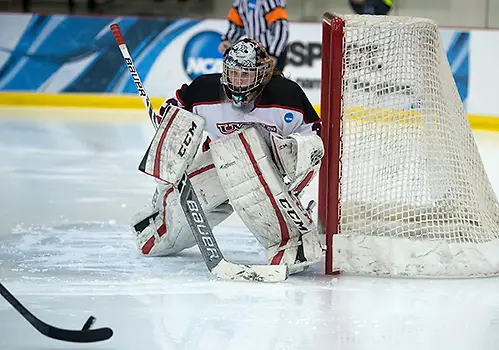 Though it's a small conference, the WIAC boasts some of the country's top teams, including Wisconsin-River Falls.
Last year's champion
Wisconsin-River Falls won the regular season crown with 18 points and a 9-3 conference record. They defeated Wis.-Stevens Point to win the O'Brien Cup and the WIAC Tournament championship. The Falcons would go on to finish second in the country, losing to Plattsburgh in the national championship.
Favorites
Wis.-River Falls is the favorite to win the conference for the fourth time running. They Falcons return 18 players from last year's roster.
Dark horse
Wis.-Stevens Point has five returning all-conference players and could play spoiler — but it's probably unlikely.
Players to watch
Dani Sibley was first team all-WIAC and a 2016 ACHA All-American. She's the Falcons' highest returning scorer with 19 goals and 21 assists. Defensemen Paige Johnson is a three-time first team all-WIAC selection.
Wis.-Stevens Point will be looking to first team all-WIAC goalie Sydney Conley. Cara Lemirande is the team's leading returning scorer. She was third in nation with nine power-play goals. Ellie Pennett led the conference in points by a defenseman with 17 points.
Mariah Czech and Kelsey Rafferty are the only two players to have tallied double-digit points for Wis.-Eau Claire last season. The BluGolds have three freshman goalies on the roster and will need to figure out who will be their starter.
Hailey Adair is Wis.-Superior's leading returning scorer. Goalie Sky Brown earned all-WIAC honorable mention.
Notes
Wis.-River Falls is the No. 2 ranked team in the nation. Last year was the 20th consecutive season they won 20 or more games. They've made eight straight NCAA tournaments.
Wis.-Stevens Point lost seven seniors to graduation, including their two top scorers.
First-year coach at Wis.-Eau Claire Erik Strand was named WIAC Coach of the Year.