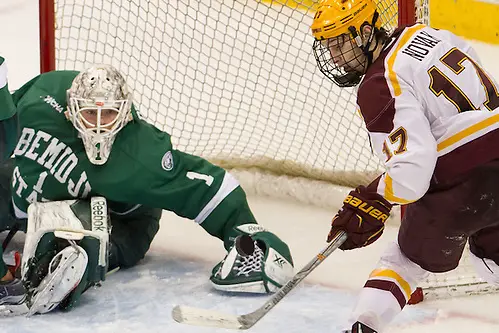 This week, the column is all about some of the minutia of the league, the little things that seem to be adding up to some interesting first impressions for B1G Hockey in the early going.
That scoring margin
Three of the top ten scoring offenses nationally belong to Big Ten teams: Ohio State (4.44 goals per game, third), Penn State (4.22, fourth) and Minnesota (4.00, tied seventh). Averaging 3.75 goals per game, Wisconsin is tied for 12th nationally in scoring. Not one of those teams has played fewer than eight games.
At the end of the 2015-2016 campaign, there were four B1G team among the nation's top 11 scoring offenses, with Michigan averaging 4.76 goals per game to lead the nation. At the end of last season, though, Michigan was the only Big Ten team to be among the top 20 teams in the country in terms of scoring margin, and the Wolverines were fifth, averaging 1.74 more goals per game than opponents.
Through the first eight and nine games of the season, there are two B1G teams among the top 10 nationally in scoring margin, Penn State (2.22, third) and Ohio State (1.67, seventh), and Minnesota sits in 12th place (1.25).
Although the season is young, this is a particularly encouraging stat – especially considering that not one Big Ten team finished the 2015-2016 season among the top half of D-I teams in scoring defense. Minnesota led the league and was 33rd in the nation defensively.
Two B1G teams, Penn State (2.00, seventh) and Michigan (2.25, tied 10th) are among the top ten teams nationally in scoring defense. Minnesota (2.75, tied 24th) and Ohio State (2.78, tied 27th) barely crack the top half.
It's a mixed bag, but it's a promising trend.
And when was the last time you saw a Michigan team that played better defense than offense?
Those freshmen goaltenders
Four freshmen goaltenders have made an impression so far this season. In Michigan's net, rookies Jack LaFontaine (2.28 GAA, .936 SV%) and Hayden Lavigne (2.00 GAA, .944 SV%) are among the top 10 goalies nationally in save percentage.
Penn State's Peyton Jones (1.95 GAA, .923 SV%) is 16th in save percentage, 11th in goals-against average and third (6-0-1, .929) nationally in win percentage. Last week, Guy Gadowsky told my partner-in-writing, Drew Claussen, that Jones' demeanor is "even-keeled and calm" and that solid goaltending "makes it a lot easier for the team to get good results."
Last weekend, another rookie goaltender garnered attention by earning a shutout in his first college start. Wisconsin freshman Jack Berry made 22 saves in his first complete game, shutting down Northern Michigan as the Badgers won 2-0. That stat is made sweeter by the five power plays that Berry handled and the fact that Wisconsin lost to Northern Michigan the night before, 5-2.
Berry knew in advance that he'd be Saturday's starting netminder.
"I didn't really sleep much," said Berry after the win. "The guys did great in front of me. They did an unreal job, so I got to give it to them."
"We didn't really ask him to get a shutout, but since he did, we'll pretend we did," said Wisconsin coach Tony Granato. "It's hard as a guy who doesn't get a whole lot of reps to jump in like he did."
Granato called Berry's performance "great" and added, "I think he solidified our back end. He was nice and relaxed in front of them."
And the kids can score, too
Four Big Ten teams are currently led in scoring by freshmen.
Michigan's Will Lockwood (5-3—8) leads the Wolverines in overall scoring and goals, and so far this season, freshmen have accounted for 12 of Michigan's 22 goals. Lockwood is among a handful of players nationally to have two shorthanded goals this season.
At Ohio State, it's Tanner Laczynski (3-9—12) leading the scoring but not the goal production. Laczynski is fourth nationally (1.33) among rookies in points per game.
Denis Smirnov (5-10—15) also leads his team, Penn State, in scoring but not goals, but he's currently third nationally in points per game (1.67) and leads all freshmen in that category nationally.
And for the Badgers, Trent Frederic (4-6—10) also leads in scoring but not goals. Frederic has scored three goals for Wisconsin's ninth-best power play in the nation (24.0) and is tied for sixth among rookies in scoring nationally with 1.25.
Those are just the four top offensive contributors among this year's Big Ten freshman class. They are not anomalies.
And B1G Hockey still looks good in nonconference play
This is a drum I'll beat all season long, if the league continues to set this pace.
The Big Ten is now 27-15-7 (.622) in nonconference play following last weekend's collective 6-3-2 performance. This is second only to the NCHC (.635) in nonconference play, miraculously ahead of Hockey East (.582) for the moment.
It's too early to put stock in the PairWise Rankings, but it's heartening to see Penn State, Minnesota and Ohio State all solidly above the No. 16 cutoff line in the PWR, with Wisconsin at No. 17. One of the biggest problems B1G Hockey has had in the past two seasons was its lack of competitiveness outside its own league, leading to dismal PWR standings at the end of the season – even when teams improved significantly as the season progressed. This quicker start could be good news in March.
And thank you, Minnesota
The much-anticipated renewed rivalry between North Dakota and Minnesota didn't disappoint — if you are a Golden Gophers fan.
After the teams tied 5-5 Friday night, Minnesota blanked NoDak 2-0 Saturday. Sophomore Eric Schierhorn made 33 saves in his second shutout of the season and the fifth of his career and battled through six North Dakota power plays as the Hawks outshot the Gophers 33-20. Schierhorn gave up five goals on 22 shots in the tie the night before.
"I'm happy for Eric and the way he rebounded tonight, the way he played," said Gophers coach Don Lucia.
The Gophers are now 2-0-2 since dropping a home-and-home series against St. Cloud State Oct. 21-22. Last weekend, Minnesota played two overtime games in New York State, beating Clarkson 4-3 and tying St. Lawrence 2-2. Lucia said that the Gophers' performance against North Dakota was "important" given how the early season has gone.
"These last two weeks – obviously we were disappointed with the St. Cloud weekend," said Lucia. "We've looked at [last weekend and this] as a four-game segment, starting with that road trip to win and tie and to come back to win and tie again this weekend. Now we have a week off to catch our breath.
"We've had a tough stretch. We're 4-2-2, probably in the position where we could've had one more win, but at the same time, we've only had three home games and we're back on the road three of the next four. We just want to continue to take steps.
"When you play an outstanding team like North Dakota and how hard they compete, it forces you to play a little bit higher level, too, and I think they certainly brought out the best in us this weekend."
And finally, a little history
Forty-eight years ago this week – Nov. 7, 1968, to be exact – Red Berenson scored six goals in a single game to lead St. Louis in an 8-0 win over Philadelphia. Berenson scored four of those goals in the second period.
Three stars of the week
This week, three players are honored for the first time in their careers.
First star – Minnesota sophomore forward Tommy Novak
Novak (River Falls, Wis.) scored two goals and two assists in Minnesota's series with North Dakota. Novak had two goals and a helper in Friday's 5-5 tie, including the game-tying goal with 1:17 left in regulation, and he assisted on the game-winning goal Saturday. Novak has three goals through eight games this season after scoring six goals in 37 last year. This is his first career weekly Big Ten award.
Second star – Penn State freshman forward Denis Smirnov
Smirnov (Moscow, Russia) led all B1G scorers with six points last weekend in Penn State's sweep of visiting Niagara. In Thursday's 5-1 game, he recorded two goals and an assist, and he had three assists in Friday's 5-1 game. This is his first career weekly Big Ten award.
Third star – Minnesota junior forward Mike Szmatula
Szmatula (Commerce Township, Mich.) had two assists in the Gophers' 5-5 tie against North Dakota Friday, including an assist on the game-tying goal. His power-play goal at 10:34 of the first period in Saturday's 2-0 win held up to be the game winner. Szmatula was a Hockey East All-Rookie Team honoree in 2014-2015, transferring to Minnesota before the start of 2015-2016, which he sat out to comply with NCAA rules. This is his first career weekly Big Ten award.
My ballot
1. Minnesota-Duluth
2. Boston College
3. Boston University
4. Denver
5. Mass-Lowell
6. North Dakota
7. Quinnipiac
8. Ohio State
9. Penn State
10. St. Cloud
11. Minnesota
12. Union
13. Bemidji State
14. Minnesota State
15. Western Michigan
16. Providence
17. Michigan
18. Notre Dame
19. St. Lawrence
20. Vermont