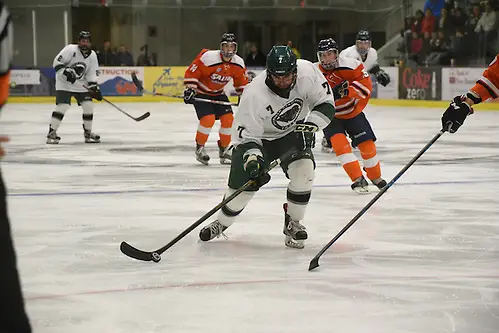 The good news for the Plymouth State Panthers and coach Craig Russell is that they picked up two key conference wins over Massachusetts-Dartmouth and Salem State last week. The bad news is the overtime results have their coach exploring Hair Club for Men options.
"It doesn't go grey from games like that", noted Russell. "It just falls out! It was just crazy the way the games played out and we ARE happy about the wins, but we have some things to work on and our seniors are keeping everyone in the room focused, especially our two very young goaltenders."
On Saturday against Salem State, the Panthers raced to a very quick 5-0 lead over the Vikings before yielding five unanswered goals, all special-teams goals to force overtime, where freshman Tim Larocque sent the fans home happy by netting the overtime winner in the 6-5 decision. There is no doubt the Panthers can score goals or certainly enough to have them in contention each night, so the focus is on getting better on special teams and having sophomore Evan Morelli and freshman Thierry Messervier get through an accelerated maturation process in the crease for Plymouth State.
"Our senior group has been great in keeping everyone calm and being productive on the ice," said Russell. "Saturday, we gave up four power-play goals and a shorty and several of the pucks were deflected a couple of times before finding the back of our net. We need to get more consistent and really fight to find those pucks through the crowd. Our penalty kill hasn't been very good [opponents are 13 for 38, or 34 percent] so far this year, and part of that is we need everyone to be better, especially our two goaltenders. I am sure they aren't thrilled with their numbers so far, but we know they can play and we just need them to settle into their game and make the saves they should make and maybe a couple of ones they shouldn't. They don't need to carry us; if we can keep teams to three or less, we have enough firepower to win a lot of games."
One guy that is truly helping to keep the room calm and keep everyone on the same page is senior captain Michael Economos. With four points in five games, Economos is contributing on the ice, but his value is most clearly displayed in how he approaches each and every practice, clearly setting the example and showing the younger players how to prepare and stay focused.
"We are 3-2-0 with the losses to Utica and Babson," stated Russell. "A couple of different bounces and we could be 5-0, but we are going in the right direction. Michael [Economos], along with Erik Strom, Tommy Dowell, and Ian McGilvrey, has kept the team in a good place where emotions can get the best of younger players sometimes. They all don't have letters on their shirts but they have seen this play out for now four seasons and bring that push to be better on the ice every day."
This week the Panthers face two more conference opponents when they travel to Framingham State on Thursday before returning home to host Fitchburg State on Saturday in a celebration of both hockey alumni and military veterans and their commitment to service.
"I really don't want to play too many more games like last week," said Russell. "I won't have any hair left. But seriously, we need to be ready to play everyone no matter what the records and stats say and they are all readily available online for the players to see. Saturday is huge for us at home with alums coming back and the tribute to local veterans, so Thursday is a trap game. We will talk about that in film sessions in getting ready this week and I know our seniors will help with the message to be ready to go and take care of business in regulation time."