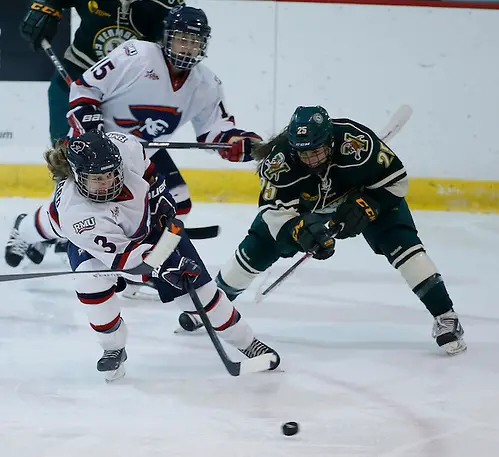 Candace: For the most part, things proceeded according to plan this past weekend. However, Friday saw three games that had results that baffled me. I don't know if the players had a turkey hangover or what, but I certainly didn't expect those results. First was Syracuse blanking North Dakota. I was following game results on my cell phone and when that popped up, I was very surprised. The Orange have struggled this year, posting a losing record, while North Dakota is battling for the NCAA tournament. Those hopes may have been dashed in that loss. The Fighting Hawks only mustered 19 shots in the loss, though they did rebound to beat Syracuse the next day.
Next was Robert Morris tying Clarkson, 3-3, in the Windjammer Classic in Vermont. I guess it's finally time to take notice of the Colonials, and 15 voters in the poll did this week, though it wasn't enough to get Robert Morris into the top 10, as Northeastern held on by one vote. In that game, Clarkson had a two-goal lead after Cayley Mercer scored at the 19-minute mark of the second. With Shea Tiley in net, I would have thought game over at that point, but Brittany Howard scored with one second left on the clock in the second, and then Kirsten Welsh scored with 31 seconds left in the game to tie it. Matt Desrosiers is probably upset that play in the final minutes of periods cost Clarkson a needed win.
If those were surprising results, Merrimack tying Quinnipiac 1-1 was a shocker. On paper, it shouldn't have been close. Quinnipiac has some offensive punch, and did pile up a huge number of shots, 44, but couldn't solve Merrimack netminder Samantha Ridgewell, and Paige Voight got the tie for Merrimack in the third period. The Warriors then won the shootout to advance to the final of the Nutmeg Classic.
Which of those three stands out the most to you, and what do you make of those results?
Nicole: While all of them were a little shocking, I think the one that most made me raise my eyebrows was the Robert Morris/Clarkson game.
I feel like we've all been a bit unsure about what to think of the CHA. Even with early struggles, Arlan stuck with Mercyhurst in a previous Wednesday Women column because they've been such a presence in that conference for so long. I'm pretty sure we didn't even mention RMU in those early columns about who could win the CHA and now here they are. They've got a crucial series this weekend with Penn State, who's currently just two points back in the conference standings. But for me, the tie with Clarkson solidified that this isn't a fluke and we should expect to still be talking about the Colonials come March.
The ECAC is certainly more volatile than past seasons, but Clarkson still has a share of the conference lead. They are no easy team to beat. One of the things that resonates with me from this is that RMU had three goals. They didn't sneak one in and skate by. They had three goals on Shea Tiley and they pushed Clarkson to the end. Any team that's going to win a conference and be successful in the postseason needs that kind of perseverance, and I think the Colonials really made a statement that they aren't a fluke.
I think the NoDak result had a lot of people thrown after they tied Minnesota twice the weekend before. I won't win any fans in North Dakota for saying this, but I've come to expect the unexpected from the Fighting Hawks. I'm no longer surprised when they pull off an upset, nor when they get upset. They are consistently inconsistent.
I know there's been a feeling in recent years that North Dakota just missed the NCAA tournament or maybe should have been included, but so often you can look back at their schedule and pinpoint the exact places things when wrong. This is one of those. They have been taking care of above-average teams and proving they can play with the elite squads, but they stumble against teams they should beat. If they're on the outside looking in again this season, they'll have no one to blame but themselves.
I've not seen enough of Merrimack to say much about their play, but I do know that seeing a young team like that succeed makes me so happy and hopeful for the future of the game as it continues to grow.
It seemed a tough weekend even for the teams that ultimately came away with wins. Minnesota-Duluth needed three third-period goals to defeat Harvard on Friday and an OT goal to win on Saturday. Wisconsin couldn't put the puck in the net until 50 minutes had passed against Cornell on Friday night. Minnesota had just a 1-0 lead until midway through the third period on Saturday. Good teams win in those positions, but still, do we think it was a turkey hangover, or are there things to be concerned about for all these top teams?
Candace: I think if you are a fan of any of those three teams, there's less to be worried about for Minnesota and Minnesota-Duluth. The Gophers played Bemidji State, a team that has an elite goalie in Brittni Mowat and has often stumped the Gophers in the past. Bemidji is never an easy out, no matter who they are playing. For Duluth, the Bulldogs had a long road trip to play Harvard, a team that while it is struggling is still only two years removed from making the NCAA championship, and was at home. A long road trip like that against a team that can be a tough out, but the Bulldogs did win both games, and that's what matters.
Wisconsin however, I feel like has been struggling. While I said above that winning the games is ultimately all that matters, the Badgers were at home, hosting a Cornell team that is showing improvement, but still isn't there. A couple of weeks ago, you and I discussed Annie Pankowski, and you said you weren't concerned about her production because she brings a lot to the team besides leadership, and while that's true, for Wisconsin to have success into the postseason, Pankowski needs to be that player, someone like Amanda Kessel at Minnesota, or Alex Carpenter at Boston College, or former Badgers like Hilary Knight and Brianna Decker, the one who when it gets tight can be counted on to score and be that offensive force. That she has six goals in her last three games bodes well for the future; hopefully, if you are a Wisconsin fan, she can continue that production.
One other concern for Wisconsin is that Ann-Renée Desbiens was again out. Nikki Cece played well, but Desbiens will be crucial for any hopes the Badgers have at winning a national championship again.
Let's go to Hockey East for a bit. Boston College put itself in the driver's seat in the conference by rallying to defeat Northeastern on Saturday. What is your takeaway on those two teams right now? BC is getting some impressive offense from two freshmen in Caitrin Lonergan and Delaney Belinskas. Northeastern's McKenna Brand is having an impressive junior year offensively, and leads the nation in short-handed goals, but the Huskies don't seem as deep to me as the Eagles.
Nicole: I wonder if we're unfairly judging Northeastern by the standard set last season. It was the program's first NCAA berth and we've talked extensively about the talent they graduated, so it's probably premature to act like that one stellar season should signify something bigger. Obviously we were all surprised by the losses to St. Lawrence early on, though those aren't as surprising now. Since then, the Huskies have just two other losses — once to Merrimack, which is a game they probably should have won — and this weekend's game to BC. As we mentioned above, Merrimack is surprising teams, so all in all, we're talking about a four-loss Northeastern team and none of the losses are too shocking in retrospect.
More than the losses, the coaching staff might be thinking a bit about the three ties. If they're going to be successful in the new year and into the postseason, they need to be able to dig deep and close out tight games.
A stat I noticed today that I want to pay some attention to — the dropoff in shots on goal after the top line of Denisa Krížová, Hayley Scamurra, and McKenna Brand is pretty significant. The Huskies have done a lot of shuffling on lines two and three, but to your question about depth, you can't score goals if you're not shooting the puck. Northeastern can't be successful if they're only getting production from their top line.
It does seem at this point that Boston College controls its own destiny, but the teams in the bottom half of the conference have all shown they can pull an upset. Do you see any of them causing problems for Boston College in the second half?
Candace: I don't want to say definitively no, as the Eagles did lose to Maine back in October, but I do find it unlikely. BC may not be loaded for bear and ready to advance to the national championship game again, but the Eagles do have enough pieces that Hockey East is likely. In addition to Lonergan and Belinskas, Makenna Newkirk seems to have gotten her scoring touch back, Andie Anastos and Kenzie Kent are providing secondary scoring, and the blue line is anchored by Megan Keller and Tori Ann Miano, who not only are tough defensively, but they provide offensive support too. Katie Burt may not be putting up the goals-against and save percentage she has in the past, but she's still one of the top goalies in the conference, currently second in goals-against and fifth in save percentage.
BC is giving up slightly more shots this year than last year, about one more per game, but I don't think that's enough in the long run to pressure Burt. When you look at the current standings, BC leads Northeastern by five points, BU by seven, and New Hampshire and Providence, who are tied for fourth, by 10. BU and New Hampshire each have a game in hand on the Eagles, Northeastern has two games in hand, and Providence has three, but I don't think any of those teams except Northeastern can be consistent enough to unseat BC in the regular season.
The Eagles are probably safe in the first round of the Hockey East tournament too, because that series is a best of three, and beating the Eagles at home twice is probably more than a Merrimack, Maine, or Vermont could pull off. That leaves the semifinals and finals, which are one game each, and there BC could be vulnerable to someone like Northeastern or BU. Providence I suppose could put a scare into the Eagles too, as they only lost to Northeastern by a goal, but I think BC is deeper and has too many ways to beat a team like the Friars.
Let's look briefly at some teams we don't talk about much. Lindenwood went up to Makato and easily won the first game, 5-1, and then tied the Mavericks the next night 1-1. I had thought Minnesota State might be stronger than that, and ride the joy of having gotten their first WCHA win in over a year the weekend before, but Lindenwood definitely pulled the surprise wins. As you said before about Merrimack, it's nice to see teams like that show growth and do well. The Lions play Mercyhurst this weekend. What did you think of that series, and what it means for each team?
Nicole: We all knew that losing Nicole Hensley to graduation would be difficult for Lindenwood, but I don't think I expected them to struggle quite so much. When I spoke to coach Scott Spencer last year for a piece I did about growing the game, he talked about the advantages Lindenwood has in terms of location and being able to recruit from not just the hockey-rich areas of Chicago and St. Louis, but also all around the south where hockey has been emerging. I agree with him that they are uniquely setup for that and I hope that he can continue to see the fruits of that. Lindenwood hosts this year's Frozen Four, so there's a hope that the exposure to top-level women's hockey helps grow interest in and around St. Louis as well.
I suppose that's not entirely relevant to your question, but in order to improve, Lindenwood will need to recruit strong players and those players have to be the type of people that see the potential to build a program and create something special in the Midwest/Mid-South area.
Mankato also needs to recruit players interested in potential, but they also have to be incredibly mentally tough.
It's always difficult to get a relative read on Mankato and the potential and talent they have. No program is showcased at its finest when its constantly playing the likes that the Mavericks see in the WCHA. At points in this season, five different WCHA teams have been ranked. It's difficult for recruiting, for morale, and for confidence to look ahead and see the land mines they have to face throughout the course of the season. Its so difficult to climb out of that hole when you are constantly on defense and playing catch up; they don't get to grow skills or gain confidence.
I, too, thought the Mavericks would fare a bit better this past weekend, but I did think there was a lot to like in the tie in the second series. They didn't get too frustrated by that loss. They responded quickly when Lindenwood scored. They outshot the Lions, including 26-11 over the first two periods. It's necessary to find positives and small "wins" in the details for these teams and I thought there was a lot to be proud of and build on for Mankato.
Another couple of teams we don't talk much about played a similar series this past weekend: RIT and RPI. Both teams are looking to build themselves up. RPI took the 5-1 win on Friday, but RIT came back on Saturday to win 3-1. What did you see from these two and what can they take away from the series?
Candace: The good news for the Engineers is that there is enough volatility in the ECAC that a tournament berth is entirely within reach. The bad news is they are currently eighth in the ECAC, but are only two points up on three of the teams below them, and two of those, Dartmouth and Harvard, not only have a game in hand, but have shown to me more potential than the Engineers.
Rensselaer had a good game Friday. Laura Horwood scored a power-play goal just 2:26 into the game, and that portended well for that power play, which scored all five RPI goals in the 5-1 win. Lovissa Selander is a quality goaltender, and made 27 saves. However, RPI couldn't follow it up. The Engineers fired 32 shots on Jenna de Jonge on Saturday, but only got one goal, their first even-strength marker of the weekend, at 12:10 of the third. RPI had seven power-play chances and couldn't score once, a killer when the Tigers only led 2-1 through most of the third before tacking on an empty-netter at the end.
Selander does give the Engineers potential in most games, posting a .916 save percentage and a 2.64 goals-against, but the team isn't getting enough goals. Sabrina Repaci is a freshman and leads the team in scoring with 11 points in 18 games. Larua Horwood is second on the team in scoring with eight points in 11 games. RPI needs to find more offense if it wants to qualify for the postseason.
If RPI's offense has struggled, RIT's is worse, as the Tigers are barely getting more than a goal a game. Their offense ranks 35th out of 37 teams, getting only 1.11 points per game. Unfortunately for the Tigers, the defense isn't much better, as it is 34th, giving up 3.5 goals per game. Sophomore Kendall Cornine leads the team with nine points in 18 games, and the next best scorer is Caitlin Wallace with five points in 16 games.
RIT can look to previous success in finishing last in the regular season, but getting hot and winning the conference championship to advance to the NCAA tournament, as they did two years ago. However, that team had Ali Binnington in net, and without her, and with Robert Morris matching RIT with a better goalie and more offense, I don't see RIT advancing out of the first round of the tournament. RIT closes conference play with a pair against Syracuse this weekend, and then two against Bemidji State the following weekend. I don't know that they have the depth to win any of those games.
One team I still can't get a handle on is Princeton. The Tigers looked impressive two weeks ago in dealing Colgate its first loss of the season, but they have since lost three straight, getting swept by Boston University this weekend. Do you think we might have expected too much out of them this season?
Nicole: If we expected too much of them, then so did they, themselves. I spoke with Princeton coach Jeff Kampersal early in the season and he was optimistic for the season. He did mention that the impact of those lost to graduation was maybe bigger than they'd planned on, but he thought his team was adjusting well.
The biggest difference for the Tigers is that Kelsey Koelzer has just one goal thus far. She also has nine assists, but I think the Princeton offense was relying rather heavily on the output from a blue liner. Without the stalwart Kimberly Newell in net, I think Koelzer is much more tied up on the defensive side of things and isn't free to be as useful on the offensive end of the ice.
There's just half a goal difference between their goals scored and their goals allowed, and that's entirely too slim. Just one of their losses was by more than a two-goal margin, but they also only have one win by two goals or less. When they're winning, they're blowing teams out, but if it's a close game, the Tigers don't seem to be able to find that extra level to come out on top.
The last team that I've been unable to get a good read on is one you just mentioned — Boston University. They're just two points back of Northeastern in the standings, but I feel like I'm never quite sure what to expect from them. They split a series with Boston College to start November, but they've also lost to Vermont and tied Penn State. They lost two to Northeastern, but handled Harvard and Princeton. Then there was the split with Maine.
What are your thoughts on why their results are so varied?
Candace: BU's issue is the same one it's had the last several years, and one you just alluded to with Princeton. The Terriers can certainly score, averaging 3.88 goals per game, tops in the country. However, they tend to let up a lot of goals as well. They currently are 24th in team defense, giving up 2.88 goals per game. That's a goal differential of a single goal, compared to a team like St. Lawrence, which averages more than two goals per game than its opponents. That's a place many of the top teams are at, and it's a stat Arlan and I have paid a lot of attention to the last several years. It's not enough to score a lot; you have to defend well too.
It was the same story for BU last year, as the Terriers had a top 10 offense, scoring 3.59 goals per game, but a bottom third defense, giving up 3.05 goals per game. Two years ago, the last time BU made the NCAA tournament, they averaged more than a goal better than their opposition, scoring 3.81 goals per game and only giving up 2.54, but even that's not a great margin, and when things get tighter with top teams, things can go wrong. If you look at the teams that have done well and gone far in the NCAA tournament, they've generally kept the opposition to around a goal or 1.5 goals per game.
BU has talent, and will finish top three in the conference, but if they want to win the Hockey East tournament and return to the NCAA tournament, the Terriers need to tighten up defensively.
We mentioned Boston College and Northeastern, and Hockey East has already had two games between its top two teams. This weekend will see the other three conferences' top teams battle, as Robert Morris faces Penn State for the first time, Minnesota faces Wisconsin, and St. Lawrence takes on Clarkson. Interestingly, the top conference team is on the road in each, though St. Lawrence will host Clakson on Saturday, as series between those two are always home-and-home, but Minnesota, currently atop the WCHA, travels to Madison, and Robert Morris, currently on top in the CHA, travels to University Park.
The Minnesota-Wisconsin series and Clarkson-St. Lawrence series have been eagerly anticipated by fans of the sport. What do you see playing out? Do you think either series might result in a sweep, or is it splitsville?
Nicole: Based on my record picking games, I'm probably the last person you should ask to prognosticate what will happen. I've joked more than once on Twitter that I'm about to start letting my basset hound pick for me, since I don't think she could do any worse than I already am and I'm really not actually kidding about that.
I think the easy answer is to call for splits across the board. If any team has a chance at a sweep, I think it's St. Lawrence. At the beginning of October, they managed a win and a tie and I think they've improved quite a bit since then.
Clarkson has had a bit of an easy stretch to their schedule. The tie against Robert Morris last weekend is enough to make me wonder if they are ready for the level of play they'll see this weekend. St. Lawrence has also cruised through their recent games, so both teams will need to handle the excitement and pressure of these games and make sure they can stay focused.
In Madison, I think the games will be up to the goalies for the most part. We don't know yet if Ann-Renée Desbiens will be on the ice. She's moving through concussion protocol and those things can't be rushed, so it's totally out of her — and the Badgers' — hands as to whether or not she plays.
On the other end of the ice, Sidney Peters is allowing just 1.15 goals a game, but I'd imagine everyone in Minneapolis would like to see her improve on her .929 save percentage. Her shutouts have come against teams near the bottom of the conference and she let in five goals over the series with Minnesota-Duluth and four against North Dakota. These Badgers/Gophers games often come down to just one shot or one bounce or one rebound and Minnesota will need her to be a bit sharper against the no. 1 team in the country.
Additionally, Sarah Potomak left Minnesota's game against Bemidji State after taking a tough hit. As of Monday, Brad Frost did not have an update on her status. The Gophers' top line has been incredibly potent and their chemistry is pretty much unmatchable. Certainly Minnesota has any number of other talented players that can step up into the top line should Potomak be unable to play, but it would undoubtedly affect the efficacy of that line.
I expect a split, but would be unsurprised if either team is able to steal a sweep.