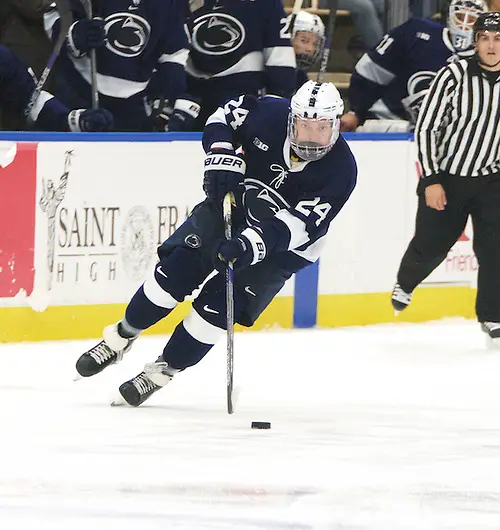 Each week during the season, we look at the big events and big games around Division I men's college hockey in Tuesday Morning Quarterback.
Jim: Well, Paula, this was actually a week where many of the top teams in the nation performed pretty well. Of the 18 teams in action among the USCHO.com top 20, only one was swept (No. 20 Michigan). That didn't mean there wasn't significant movement in this week's poll. Most notable was Penn State which moved from No. 7 to a program-best No. 3 after a two-game shellacking of Michigan. Now with the best record in the nation, the Nittany Lions seem to have earned the respect of the poll voters.
And, as we've said a few times, it seems that respect is deserved. Do I have a few caveats still? Yes. To date, Penn State has played the 27th-most difficult schedule in the nation. Compare that to still-No. 1 Minnesota-Duluth, which has played the most difficult schedule in the nation (easy to do in the NCHC, which has five of its eight teams in the top 13 of the RPI). Also, Penn State has experienced some solid home cooking, having played 12 of its first 15 games at home. Minnesota State has played 11 of 16 at home and a few teams have played 10 of either 15 or 16 at home. But most teams haven't had that disproportionate of a home/road schedule.
I don't know if road games will have too much of an impact on Penn State. But they won't play another game this calendar year. The Nittany Lions have a 35-day break right now before resuming play Jan. 6.
I feel like Guy Gadowsky built the schedule he really wanted and, thus far, his team has performed as best it could.
Paula: I couldn't agree more with everything regarding Penn State. The Nittany Lions' schedule wasn't that tough, but one hallmark of a good team is that it takes care of business against teams it should beat. Another hallmark is that it defends its home territory. Penn State has done both of those things through its 10-game home stand, culminating with the two games against Michigan this past weekend.
I've seen Michigan play and the Wolverines are suffering, but they haven't looked like pushovers to me. The number of goals the Nittany Lions scored surprised me – and the unreal number of shots they take. Officially, PSU had 48 shots in Thursday's win and 58 Friday. Michigan rookie Jack LaFontaine made 53 stops in a 5-1 loss.
And PSU's schedule was certainly designed to help a team that thought it would be rebuilding. From the start of the season, Gadowsky said that there were a lot of question marks for this year's team. That early success can help any team build confidence. I wonder, though, about the 35 days off. That's certainly good for bruises and bumps. Penn State's first opponent after the break is Ohio State, which will be the Nittany Lions' toughest opponent since they faced Notre Dame in late October.
I am glad that PSU has gained some respect because I think the program has earned it. As someone who covers the Big Ten, though, I'm delighted that Ohio State and Minnesota split – delighted because I think the series was a really good measuring stick for each team. Each, in my opinion, has passed a bit of a test.
Another really interesting barometer series this past weekend was St. Cloud at Western Michigan. Like the Nittany Lions, I think the Broncos are another team trying to earn some respect. After dropping Friday's game 3-0, battling back to tie St. Cloud Saturday and take the extra shootout point should send a message about Western Michigan's legitimacy. You mention the NCHC as a strong league. I don't think anyone would want to face any of that league's top six teams next March and April.
Jim: Before I close out thoughts on Penn State, the conversation feels a little bit familiar to what many used to say about Quinnipiac. No one wanted to give the Bobcats a look when they were starting seasons with double-digit wins before Christmas. And now, a few years after hearing those conversations, those same Bobcats been to two national title games
Back to what you said about the NCHC, I don't even know that I want to limit the league to just six dangerous teams. Miami is very dangerous (assuming that's who you're considering the "seventh" team). And I've seen Colorado College play a number of times both live and on film and know that they have the offensive fire power and the defense is continuing to improve.
A couple of ECAC took steps forward this weekend in Union and Harvard. Union handed Quinnipiac its second loss in three games while also beating Princeton for their two wins. Harvard headed to the North Country and beat Clarkson and St. Lawrence, two of the strongest teams in the league thus far.
Maybe it's just me, but it often takes a while for the ECAC to grab headlines every season. That despite Union and Yale's recent national titles and the aforementioned success of Quinnipiac. Maybe it's the late start to the Ivy League season? But would you agree that it's time to pay attention some of the ECAC squads?
Paula: Oh, absolutely. I've had my eye on Union and St. Lawrence from the start of the season, and I know that Clarkson is improved. I admit that I often wait until I see a few games from the Ivies until I vote them into the poll. Take Harvard, for example. Many people voted Harvard into the poll before they'd played a game, but the Crimson proved those poll voters right when their schedule began in earnest.
With the Ivies, I sometimes feel as though it's the opposite of Quinnipiac and Penn State, perhaps, have experienced. I am by no means putting the Ivies down, but for years it seemed to me that Cornell was given too much of the benefit of the doubt in the first half, based on years of reputation. This isn't a bad thing, necessarily, but for a few seasons, we watched Cornell enter the polls fairly high and then slip and slip and slip – and I'm sure that many poll voters felt a little snake-bitten by that phenomenon. I've had no problem voting Harvard higher in my poll weekly as they've played. I just wanted to see a little bit more from them before voting them in my top 10.
As for the ECAC, I've been so happy with that conference's progress in recent years. To see Yale and Union win back-to-back national titles was amazing, and to watch an all-ECAC national championship game when Quinnipiac and Yale faced off was something that few of us could have imagined in the decade leading up to that point. The ECAC suffers from a little reputation burn, I think.
This year, we have Harvard (4.45 goals per game) and Union (4.00) as the third and fourth top-scoring teams nationally, Cornell has the ninth-best defense, and there are a slew of ECAC players making big waves this season. It's really nice to see.
Jim: Also nice to see this past weekend is that Michigan Tech isn't going to lay down for Bemidji State to walk away with the WCHA title. I jest, sort of, that anything of that would happen. But Bemidji's lead is eight points over Michigan Tech after last weekend. Had the Huskies been swept, that lead would have been 14 points, or nearly five games in a three-points-for-a-win conference.
But looking at Tech, they have bounced back well from an 0-4 start and, after last weekend, is 9-2-1 in its last 12 games. What has improved most over that stretch is the team's defense. Since a 4-1 loss to Michigan State on October 21, the Huskies haven't allowed more than three goals a game, that after allowing four or more goals in four of its first seven.
I know you're a big Mel Pearson fan. This is much more, I assume, what you expected from Tech.
Paula: I was very disappointed in both Michigan Tech's and Bowling Green's starts, so I am pleased to see that each team has rebounded from earlier in the season. You mention Tech's 0-4 start and the Huskies' rebound – and I am pleased, as someone with a great regard for Mel Pearson – but Bowling Green's start was even worse. The Falcons went 1-6-1 in their first eight games, and their first win of the season came against Miami Oct. 29. Since the start of November, the Falcons are 7-2-1 and all in WCHA play.
Now the Falcons are seven points behind the second-place Huskies and the teams play each other in Bowling Green this weekend while Bemidji State hosts Lake Superior State. Those are two series this weekend that may make things even more interesting in the WCHA standings – and it's good hockey for WCHA fans.
Thumbs Up/Thumbs Down
Thumbs Up
Here's to the NCHC for its making a case that it's consistently the best conference in Division I this season. Thanks to that league's poll success, this weekend we're treated to No. 2 Denver hosting No. 1 Minnesota-Duluth, marking the second time in 2016-2017 that we're seeing the top two ranked teams meet for a series during the regular season. When North Dakota was No. 1, the Fighting Hawks traveled to then-No. 2 Minnesota Duluth for two games (Oct. 28-29). This weekend's second game between the Bulldogs and Pioneers marks the fourth time in a single season that Nos. 1 and 2 will meet – just the second time in the history of the USCHO.com poll (2000-01 season was the last time, when four different weekends Nos. 1 and 2 met in single games).
Thumbs Down
It was a tough weekend for the penalty killers at Niagara. Friday, the Purple Eagles allowed six power play goals in 10 chances to RIT. Cutting opportunities in half on Saturday night didn't help help things too much as the RIT power play scored twice in five chances. Having a below 50 percent kill rate on the weekend didn't help Niagara's overall efficiency for the season. Entering the weekend having killed 68 of 85, Niagara now ranks tied for 56th nationally on the penalty kill with Mercyhurst.