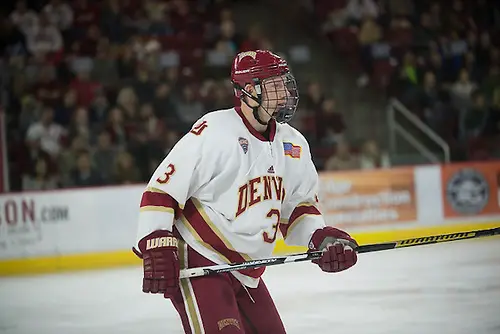 Going into a rivalry series against Colorado College last weekend, there was some cause for concern for No. 2 Denver, which had struggled defensively the prior weekend in defeating Air Force in overtime 4-3 and holding on for a 6-5 win against Wisconsin.
Given that the Tigers are capable of putting up goals in bunches, it was fair to wonder if Denver might finally lose to their long-time rival for the first time in three years.
Instead, Denver responded with a pair of 3-1 victories, retaining the Gold Pan trophy that goes to the winner of the season series each year. (To take the Gold Pan from the other team, one team has to win the season series outright.)
Denver's wins were all the more impressive since star freshman forward Henrik Borgström was out sick.
"I think we addressed it," said Denver coach Jim Montogmery of his team's response. "We weren't as physical as we needed to be the week before. We gave up more odd-man rushes to the net, and we didn't protect our netfront like we had. I think we just got back to what we had done all year. The goal production wasn't the same as the weekend before, but we had just as many chances and opportunities to score, and we were missing Henrik Borgström."
Denver won with defense and depth, as it has all year. Denver has the fourth-best defense in the country, giving up only 1.94 goals per game. Senior defenseman Will Butcher and goaltender Tanner Jaillet help steady the team in the defensive zone.
"I think it's been the No. 1 key, how well our defensemen communicate on rush defense, how we take away time and space, and how good they are at breaking the puck out," said Montgomery. "I think it's made life a lot easier on our younger forwards when they need to play 'D' zone because the communication is at a high level and we have a brick wall there so far in Tanner Jaillet, who is communicating at a high level as well."
Denver's depth is also enviable. The Pioneers are riding a 14-game unbeaten streak, and key players have been injured or out during parts of that streak, including sophomore Dylan Gambrell and seniors Evan Janssen and Emil Romig. Janssen returned to the lineup against CC and scored the game-winner on a power play Saturday night.
"It really has been a team effort, and we've won a lot of games in different fashions," said Montgomery. "We have different heroes every night. We did this before with Dylan Gambrell out with an injury for 2-3 weekends, Henrik Borgström last weekend. We've lost two seniors for a couple of weekends, Emil Romig and Evan Janssen. It was great to have Evan back last weekend. Again, I think our depth is important and being able to rely on not just 18 skaters, but 24 skaters that exist in our program, because I think there's only one player who hasn't played a game so far."
This weekend, Denver will host No. 1 Minnesota-Duluth. It's the second time this season that the No. 1 and No. 2 teams in the country will have squared off for a weekend series, and all the teams have come from the NCHC. Saturday will be the second time in the history of the USCHO.com Division I Men's Poll that a fourth No. 1 vs. No. 2 game has happened in a season.
"First of all, it's energizing to be part of a weekend like this, for not only fans and media, but we're one point behind Duluth for the NCHC regular-season title, and this weekend will have a big influence on who at Christmas break has the lead," said Montgomery. "That's very energizing. As far as the NCHC, it's really impressive that it's happened twice already this year and it's three different teams involved. It speaks to the depth of talent at all levels in the NCHC."
Duluth will try to poke holes in Denver's top defense with its fearsome offense, which is currently fifth in the country and scoring at 3.71 goals per game. The Duluth power play is also strong, clicking at 21.13 percent.
"We cannot turn the puck over," said Montgomery of what Denver needs to do to have success. "That's for sure, because they don't only have one line that's fast, they have four lines that are fast. They have three D-men that are contributing in (Neal) Pionk, (Carson) Soucy, and (Willie) Raskob that are contributing offensively at a high level. They're not only coming at you with talent up front, they have defensemen supporting with offensive talent. We have to manage the puck, and we have to make sure that we are limiting their odd-man rushes."
St. Cloud State regroups after two shutouts
After getting shut out in two straight games by North Dakota, the St. Cloud State Huskies were off for Thanksgiving ahead of a key NCHC league road series against surging Western Michigan. That break proved timely, as St. Cloud was able to regroup and earn a win and a tie against the Broncos.
"I think the big thing is we gave the guys three days off," said Huskies coach Bob Motzko about his team's regrouping from the North Dakota series. "We didn't let the North Dakota weekend be a bigger deal than it was. We're still a team that I believe is fighting like heck to find solid ground to stand on. The worst thing we could have done is take two losses. We still have to take the best out of what we're doing and move forward. Sometimes the less done is the best to stay on a steady course."
Goaltender Zach Driscoll played both games, earning a 3-0 shutout victory on Friday and then struggling in a 5-5 tie Saturday, a game in which St. Cloud led by a goal three different times in the second period before settling for the tie and then losing the extra league point in the shootout.
"We were playing a strong, hard game, our power play was strong, special teams we got some on the power play and our penalty kill stayed strong," said Motzko. "They were 0-for 5 the first night and 0-for-3 the second night, and I think the biggest thing is that we were steady. It was a steady weekend for us all around, and we played smart, methodical hockey on the road, and used special teams to our advantage and it was unfortunate we couldn't hold the lead, but we weren't making many mistakes."
Driscoll, a freshman, has seemed to have won the starting role for the Huskies, starting the last seven games and eight of the last nine, going 4-3-1 during that stretch. St. Cloud had a big hole to fill in goal after Charlie Lindgren left, and so far, Driscoll and another freshman, Jeff Smith, have played.
"I think that's the one area right now on our team that has taken steps forward for us," said Motzko. "We're still not at the level that you have to have to play at an NCAA tournament caliber yet. These are young goaltenders. Experience is going to be critical and that's just once again over a measurement of time. This last week was a great example. Friday night, very strong performance all the way around and Saturday, we struggled. I just think that being in the situation and being on the rink in those situations is valuable time that goaltenders need to get better."
In addition to losing Lindgren from last year's team, St. Cloud lost its top six scorers, so special teams have been evolving. The power play came up big on Saturday with three goals, and Motzko has liked the progress from that unit, though he still thinks there is more work to do.
Motzko is happier and more confident in the progress the penalty kill has made. That unit kept Western Michigan's potent power play without a point on the weekend, and will need to come up big again this weekend when St. Cloud hosts No. 20 Omaha, which has the top power play in the country and is led by senior Austin Ortega.
"The most critical factor is discipline and staying out of the box; that's the best preparation we can have for this weekend, because that's a veteran group of upperclassmen on their power play," said Motzko. "They play with tremendous confidence. They can score on the rush, they can score in the zone, and it's going to be a battle within the battle, the special teams."
NCHC Players of the Week
Offensive Player of the Week – Austin Ortega, Omaha: Ortega had five points in leading Omaha to a tie and a win against Wisconsin. On Friday, he assisted on Omaha's first goal, which tied the game. On Saturday, he had four points in Omaha's 7-4 win, leading with his first career hat trick. He scored the game's first goal just 55 seconds in, and added two goals in the final three minutes to seal the win. He is tied for first in scoring in the NCHC with 22 points and is second in goals scored with 12.
Defensive Player of the Week – Will Butcher, Denver: Butcher helped lead the Pioneers to a sweep of rival Colorado College as the Pioneers retained the Gold Pan trophy, awarded to the winner of the season series. On Friday in Colorado Springs, he had two assists, including setting up the game-winner in a 3-1 win while finishing plus-1. On Saturday, he assisted on Denver's first goal in another 3-1 win while finishing plus-2 and helping the PK go 6-for-6.
Rookie of the Week – Tyson Jost, North Dakota: Jost helped lead North Dakota to an impressive 4-3 win over No. 3 Boston College at Madison Square Garden Saturday, scoring twice in the second period to break a scoreless tie. He won 15 of 25 faceoffs in the game and now leads NCHC rookies in scoring with 17 points in 16 games.
Goaltender of the Week – Evan Weninger, Omaha: Weninger played one of the two games against Wisconsin, but came up huge, stopping 47 of 50 shots on Friday in a 3-3 OT tie, including making 36 of those 47 over the last 45 minutes of the game and three in OT. He finished the game with a .940 save percentage and 2.77 GAA.