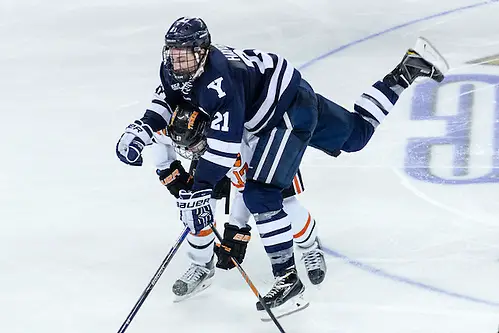 It's been an up and down season so far for Yale as the Bulldogs carry a 3-4-2 record heading into this weekend's games against Rensselaer and Union.
The season has been a season about streaks with the Bulldogs. They have had a three-game losing streak with losses to Colgate and Cornell on Nov. 11 and 12. On Nov. 18, they were handed a 5-2 defeat to St. Lawrence. Currently, the Bulldogs are on a three-game unbeaten streak, having tied Clarkson, the first game an ECAC contest, the second game against Clarkson was the first game of the Shillelagh Tournament in South Bend, Ind.
Yale won the consolation game defeating Holy Cross with a 3-1 victory.
The Bulldogs will be coming off a 13-day break since the Shillelagh Tournament. They have been using the break to their advantage heading into their final three games before the Christmas break as they end the first half of the year traveling to Boston University.
"I think our guys have done a really good job of taking advantage of this time," Yale coach Keith Allain said. "Our practices have been crisp, they have been hard and the guys have been focused. I mean for us, it's a matter of getting better each and every day. I think our mindset has been right on that. Hopefully we are taking steps forward and we will give RPI a game."
Allain hopes the team can get a more of a balanced approach offensively as the 24 goals the team has scored have been on the power play. The power-play percentage is 19.23 percent, which puts them 21st in the nation.
With only 14 goals scored even strength, Allain hopes they can find more consistency while they are playing even strength, part of the reason he's still tinkering with his lineup.
"I think you continue to do that as you go along and you evaluate combinations and chemistry as you try to get the right people into the right place," said Allain.
The players have been getting their chances on net as Yale has been averaging 35.4 shots on net and their opponents have been only getting only 27 shots off per game.
Allain has been pleased with the way his upperclassmen been playing with senior John Hayden leading team with seven goals and four assists, while junior Ryan Hitchcock has eight assists in nine games this season.
Sophomore Joe Snively has also been contributing as he's tied with Hayden with the team lead in points with four goals and seven assists.
Defensively, Allain knew replacing 36 points from last season's blue line wasn't going to be easy.
"I wouldn't say I was expecting bumps in the road," Allain said. "But I think anybody would be foolish to think if you are replacing three experience senior defensemen, with three freshmen defensemen who never played Division I college hockey before that there would be a difference off the bat. I think that's the growing pains and transitions of coaching college hockey. Your team changes all the time. We are working to get better in that area."
Junior Adam Larkin has been shouldering the load on the blue line this season with three goals and three assists. The only other upperclassman on defense is Dan O'Keefe and he has only played in two games this season.
Rivalry games on tap this weekend
There are a couple of rivalry contests this weekend as Clarkson travels to St. Lawrence. Clarkson leads the overall series that dates back to the 1925-26 season, 120-70-11. In the past ten contests, St. Lawrence holds a slight edge at 5-4-1.
Dartmouth hosts New Hampshire. The Wildcats lead the series with a 34-19-2 record. New Hampshire has a 6-3-1 record in the past ten games. It will be the Wildcats' third straight rivalry contest as they swept Maine last weekend in a home-and-home series.
Fox the lone ECAC player named to U.S. WJC camp roster
Adam Fox capped off a pretty good weekend on Monday as he was named one of the 27 players that will vie for a spot for the 2017 U.S. World Junior Championship team. The freshmen Harvard defenseman has been stellar for the Crimson as he has one goal and 16 assists in 12 games played. His 17 points leads all collegiate defensemen attending the camp.
The third-round pick in last summer's draft by the Calgary Flames is no stranger to international events as he was a member of the USA's squad that won the bronze medal at the IIHF World Under-18 Championships where he had a goal and eight assists in seven games as he was named the tournament's best defenseman last spring.
He was also member of the U.S. World Under-17 Challenge squad during the 2014-15 season where he had two assists in six games as the Americans captured the silver medal.
If he does make the team, he would, in theory, only miss one game for the Crimson when Harvard hosts RPI on Dec. 30. The World Junior Championships run from Dec. 26 to Jan. 5. Although depending on how far the U.S. goes in the tournament, Harvard could rest him on Jan. 6-7 as they host Quinnipiac and Princeton.
Players of the Week
Princeton earned their first conference victory over RPI and the league took notice of Max Veronneau's and Jackson Cressey's efforts in the 6-5 overtime victory over the Engineers. Veronneau was named player of the week as he had two goals and two assists on Saturday. In the 7-3 loss to Union, he had two goals and an assist.
Cressey scored in overtime over RPI and added three assists. On Friday he had an assist.
Alex Sakellaropoulos won the goaltender of the week as the senior goaltender went 2-0 on the weekend with wins over Princeton and Quinnipiac. He's 9-1-1 this season with a 2.62 GAA and a .914 save percentage.