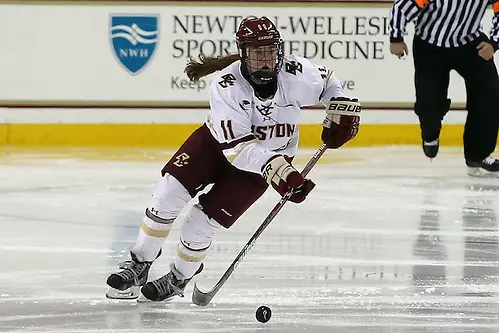 Arlan: Nicole — what in the world was that?
This was one of those weeks that people circled on the calendar as soon as the schedules of teams like Wisconsin and Minnesota were announced, and as the season has unfolded, it took on greater importance in other leagues as well. St. Lawrence was the last team without the blemish of a loss on its ledger, and had the Saints been able to continue rolling through their home-and-home series with Clarkson, they'd have gotten some serious consideration for the top spot in the USCHO poll. It was not to be for SLU, as the Golden Knights battled back late for a second tie with their North Country neighbors in Potsdam on Thursday, and then they paid back an earlier loss to St. Lawrence with a convincing 4-1 verdict on Saturday in Canton. Now that the two rivals are 1-1-2 head-to-head, which is the better team? The Saints have won all 14 of their games against everyone else, while Clarkson got swept by Wisconsin and had to settle for a tie after a late rally by Robert Morris Thanksgiving weekend. However, the Golden Knights have a two-point lead in the ECAC standings over SLU because they got the better of the series that counted in the league.
Speaking of the Colonials, they got a big road sweep at Penn State. The Nittany Lions were in second place and only two points back heading into the weekend, but now RMU has opened up a five-point gap over Syracuse, with the Orange passing PSU. Unless the Colonials hit a wall late in the season as they seemingly did three years back, they'll need a spot in the trophy case for their first regular-season trophy.
There were other noteworthy results, such as Northeastern falling at home to Vermont in the second minute of overtime on back-to-back days and putting itself seriously in peril in the Ratings Percentage Index, North Dakota doing the same with a winless trip to Ohio State that left the Fighting Hawks stuck on one win since October, and Boston College matching its season-long five-game unbeaten streak with an eight-goal destruction of Providence.
But the headliner was No. 2 Minnesota coming home from Madison licking its wounds after getting annihilated by top-ranked Wisconsin, 8-2. Prior to the series, two questions were whether premier goaltender Ann-Renée Desbiens would be in the Badgers net and if Sarah Potomak would take her spot on the country's top-scoring line for the Gophers. Those were answered in the affirmative, as they played in both contests. However, Dani Cameranesi, the NCAA's leading goal scorer, was knocked to the sidelines with an injury in the final period of the opener and didn't return.
This was the most challenging series of Sidney Peters' college career, and she responded with her best performance in shutting out the Badgers on Saturday before being overwhelmed on Sunday. If the first game suggested that Peters is ready to win a game of this magnitude, the second drove home the point that she's going to need a lot more help than she got.
I wasn't really surprised by Minnesota's train wreck on Sunday, because its flaws have been on display most of the season. This isn't the same roster that earned the last two national titles and the Gophers were due to turn in this type of clunker that they've managed to avoid in recent seasons. They just aren't deep enough right now without Cameranesi and Alex Woken, who was lost a week earlier to a season-ending knee injury, to emerge unscathed from the hornets' nest of some stirred-up Badgers.
What I want to know is why do we so seldom see that version of Wisconsin? You see Mark Johnson's crew on a regular basis; how can they flick the Gophers aside so easily, yet string together so many minutes of offensive futility against lesser teams on a somewhat regular basis? Did they need the frustration of Saturday's shutout loss to light a fire under all of that talent at the forward position, and can we expect that fire to remain lit going forward?
Nicole: I'm not sure I have an answer for you about why we don't see this from the Badgers more often, but I do think we may see that change going forward. This win was important for their confidence as it was on the standings sheet.
If I had to guess, I'd say there was a lot of the mental game at play here. Despite being one of the top teams in the country the past few seasons, Wisconsin has been knocked out of the semifinals of the Frozen Four by Minnesota. Sure, they'd gotten the monkey off their back by finally getting a few wins against the Gophers last season, but I think the past few years of postseason futility weighed heavily on some of the players' minds. It's one thing to say you're confident and have chemistry and feel like you're playing well, but when the chips were down, they couldn't finish these past few seasons and I think they may gotten a bit in their own heads.
I won't be surprised to see the effects of this win reverberate through the Badgers locker room for some time to come. Sure, big wins are confidence-building, but this was so much more than that. It was an emphatic statement and proof to everyone — including the players themselves — that they are a really good team. They can beat Minnesota. They can rebound after a tough loss. They can put the puck in the net. They belong here.
As for the offensive futility, I think it may be a product of trying to do too much at times. In the first game against Cornell where the Badgers didn't score until the final 10 minutes of the game, they had 104 attempted shots and just 54 of those were on goal. Cornell had 24 blocks, but it's still a noticeable disparity. And that wasn't an anomaly for them. Wisconsin plays a lot for tipped shots, second chances and, to quote coach Johnson's most-used phrase, "capitalize on opportunities." It's about putting pucks near the net and playing percentages, but I think the scoring droughts are one of the side effects of that philosophy.
It was not a great showing from Sidney Peters and I'm not sure what, if anything, the Gophers can do to shore her up. The unfortunate affect of a reliable goalie for so many seasons is the lack of playing time for backups. She was too easily taken on breakaways on Sunday and though they didn't end up biting her, there were rebound opportunities a-plenty on Saturday. I'm focusing on Peters here, but the debate about preparing goalies is ongoing and relevant to a lot of teams.
One thing you said that I'd like to explore: what does it say if this "flawed" Gopher team that's not as good as seasons past is the no. 2 team in the country? I know a lot of people like to say that Minnesota doesn't rebuild, they reload, but there's a lot to be said about the program and its depth if you've seen cracks all season so far and they've managed to get this far relatively unscathed.
Not to open up a can of worms and get either of us in a whole lot of trouble, but is the gap still that big between these titans and everyone else?
Arlan: I wouldn't lump Wisconsin and Minnesota together this year. I think that the gap should look more like it did on Sunday, and less like it does when Wisconsin is left to explain that it wasn't getting bounces. News flash — when you are the best team in the country, you go out and create your bounces, you don't sit around and wait for a friendly one. The Badgers have the best roster in the country, and I don't think it's that close. It's only a one-year advantage, though, so I think they're wasting an opportunity if they let their postseason fate be determined by a bounce.
As for the Gophers, the gap between them and everyone not named Wisconsin is smaller than it has been since they started their championship run five years back. They graduated four people who had a major impact and need contributions from a number of people to fill those holes. I've heard a number of people speak more glowingly of Amanda Leveille once they've seen what Minnesota looks like in her aftermath. Peters isn't being asked to be Leveille or try to win games single-handedly, just to stop the shots she should be expected to stop and give her team a chance. There have been a few iffy goals, and a couple of them caused two of the earlier blemishes on the record.
Sunday's problems started much farther up the ice than Peters. If the Gophers top three defensemen don't play any better than they did Sunday, then Minnesota isn't long for contention. They and their blue-line mates looked like so much Swiss cheese. By the same token, they weren't getting much help from the forwards. Skating away from a loose puck at center ice and trying to reach back with one hand to pull it along isn't going to work against the best team. You have to be stronger on your stick than that. Goaltending, defense, forwards — all were subpar, so you just flush that game away and start over.
Patti Marshall is the only member of Minnesota's freshman class that has made much of a contribution thus far. Woken was showing signs of finding a groove, but now she's out of the picture. Wisconsin had a couple of fairly dry recruiting classes a few years ago, and the pack closed on the Badgers quickly. With what the Gophers have coming in next year, I don't see that happening to them beyond this season, but right now, they're winning games primarily because few lines can match the pop of Kelly Pannek with Cameranesi and Potomak, and Stecklein can do a lot to neutralize those that do. But they've played a lot more close games than normal because those are about the only places on the line chart where they've really separated from the competition.
It'll be interesting to see how Minnesota matches up with Boston University and its talent up front next week, either with or without Cameranesi, particularly because former Gopher Nina Rodgers is now with the Terriers. As successful as Minnesota's coaching staff has been of late, there is usually a player or two on the roster with obvious strengths to her game that never gets much opportunity to display them. In the men's game, coaches can't just pick nine forwards and five, maybe six, defensemen and develop them at the expense of everyone else. In the women's game on the top teams, there always seems to be an "extra" forward or two at the end of the rotation who shows flashes early in her career and just fades into the background by the time she's a senior. Why does that happen? Are coaches not able to find a way to communicate with that player and encourage her to shore up whatever is keeping her out of the lineup? Or does confidence just take a beating when others are always just a little better in practice and eventually a lesser role is accepted?
I don't know the answer to those questions, but I get the feeling that right now, Minnesota either isn't the second team in the country, or if it is better than the rest, it is by a razor-thin margin. If the Gophers are going to ultimately threaten Wisconsin, then two or three of those kids who are currently somewhat invisible in the rotation are going to need to be much more of a factor by the time the Badgers' bus rolls into Minneapolis.
Whether Minnesota is team 1B behind Wisconsin or just another also-ran to chase the Badgers over the finish line, who do you see as the biggest threat to those WCHA teams?
Nicole: Well, if that's not the million-dollar question this year! I'm woefully behind Candace in our season picks race, so my input should probably have an asterisk next to it. We're at the midway point and I still don't feel like I have a solid handle on which of the middle teams are capable of pulling an upset. Additionally, every one of the rest of the top teams have tied or been beaten by a team that they shouldn't have stumbled against.
I think the most obvious choice would be conference-mates Minnesota-Duluth. They're the only other team to beat Wisconsin and they've got both the offense and goaltending to match up to the Badgers. That being said, they seem to have plateaued a bit the past few weeks, with a tie against Harvard and a close game against St. Cloud State. Wisconsin would certainly be hyped to avenge the loss earlier this season, so I'm not sure I'd pick against them, but the Bulldogs certainly have the talent to push the Badgers.
Another team that would at least have to be considered is Clarkson. I do think they have improved since Wisconsin played them, but then again, so have the Badgers. In a one-game situation, they certainly have a chance against Wisconsin.
From there? I'm not sure. As you said, this is just a year that others lost a lot to graduation and where freshman classes may not have been as strong. The Badgers didn't seem to be as affected by departing seniors and their freshmen are incredibly impactful. We won't be having the same discussion next year.
You mentioned the Gophers heading to BU — that's a series I've been less excited about as the season progresses. Even with Sunday's falter, I don't see how Minnesota doesn't do very well. The Terriers stumbled against Connecticut this weekend, have losses to Maine and Vermont, and lost twice to the Northeastern team that went 2-0-1 against the Catamounts.
What's happening over in Hockey East? There was an opportunity for other teams this season with all the talent BC lost, but it seems like no one wants to take it. No offense to the Eagles, but it feels like they're in first based more on what other teams aren't capable of than on what they are capable of. Just 10 points separate the top five teams, but right now BC's five-point lead doesn't seem much in jeopardy.
Arlan: Candace is tricky in that picks contest. I think we were two months into it the first year before I realized that picking a split was worth zero points if the order was wrong. Until then, I'd just figure, "They'll probably each win one," and I didn't put any thought at all into who would win which night. Picking ties is another path to ruin, because the person who picks one of the teams to win still gets half a point, so being right about the tie only gains a half point but can cost a full point if you're wrong.
Then there's Hockey East. Nothing makes sense in Hockey East, other than if you pick BC to win every time that works out pretty well. Teams like Vermont and BU never seem to do what you'd expect. It's like an entire league of North Dakota at Ohio State. Now you have Merrimack added to the mix, and the Warriors look like they'll do their part to do the unexpected.
Beyond your picks contest, yeah, Hockey East is BC and eight other teams to round out the field. The Eagles might drop the odd game, but they'll come close to running the table in the league, and in so doing, they'll keep themselves in that top six of the PairWise that is likely to result in an NCAA berth. There have been years where finishing first is a big advantage in that league because that avoids the second and third seeds until the final, but this year, it doesn't look like there will be that much of a gap between the third-place team and the team in fourth, so that is mitigated. In any case, it is BC until further notice. Surprisingly, the Eagles don't have any of the top four in scoring in that league and only two of the top nine, and because of that, they aren't pulling away in terms of team offense. But they are the top team defensively, and that should serve them well come the postseason. The fact that they are tops in the league in scoring by both defensemen and rookies makes it likely that they'll continue to improve at the league's expense as the schedule plays out. Caitrin Lonergan has quickly become a household name, and even Delaney Belinskas is starting to roll off the tongue.
It looks like the middle tier of Hockey East has become much more competitive. Providence looked to be improved — at least until the Friars came up eight goals short against BC. Merrimack is still last, but the Warriors have shown the capability of stealing points from a wider range of teams, so they may still scramble out of the cellar. Connecticut, Vermont, and New Hampshire are all still within range of Northeastern and BU in second and third. The Wildcats in particular could surprise. They still need a complement to senior Jonna Curtis to emerge on the offensive end, as there is a gap after her 11 goals and 19 points. Perhaps freshmen forwards Carlee Turner and Meghara McManus, with 11 and 10 points respectively, will show additional growth in the next semester. Another option is junior defenseman Julia Fedeski with nine points. UNH will need more punch in order to contend, as its goaltending stats are average at best.
In previous columns, I think we've looked to Northeastern as the most likely challenger to BC both during the regular season and the playoffs. Maybe we'll need to search elsewhere, because the Huskies must have been absolutely gutted by the twin OT losses to Vermont to send them into the break. Do you think that Northeastern can recover?
Nicole: I'm not so sure. What they're really struggling with is closing out games. Four of their six losses are by a single goal and then there's those three ties. That's a lot of points left on the ice in close matches. And that's not really a teachable skill. Sure, they can work on finishing and fitness over the break, but the players themselves have to have that instinct and tenacity and they seem to be missing it this season.
I really thought we'd see the Huskies come out looking to prove the earlier tie with Vermont was a fluke. Instead, the Catamounts were the determined team. If they can't get fired up and come out hitting on all cylinders for a game like that, I have concerns about how they'll handle must-win games down the stretch.
Denisa Krížová and McKenna Brand are carrying most of the scoring burden and then there's a pretty big drop-off. Without that offensive depth, I think they're going to continue to flounder.
It's a bit disappointing. We all knew there would be some regression, but after reaching their first NCAA tournament, I had hopes of Northeastern taking advantage of this wide open Hockey East season to solidify their spot as a top program and series like this past weekends show they're still a ways to go for that, I think.
You mentioned Robert Morris with the statement series over Penn State. Their lead at the top of the conference isn't huge, but at this point, they've been the most consistent team in the CHA. They're undefeated over their past 11 games. Jaycee Gebhard has to be atop the Rookie of the Year consideration; not only is she scoring a ton, but she's doing it on the power play, which I find impressive.
Though we all thought things might change as all the teams finally hit the ice, Brittany Howard is third in the country in scoring. They're averaging more than three goals a game and are averaging more than a goal more scored than allowed. And they're doing this all while splitting time in the net, disproving my theory that it's difficult to be successful that way.
Early on you had a lot of confidence in the history and experience at Mercyhurst winning the day.
Arlan: So much for that, hey? The Lakers used to be the best team both offensively and defensively in the CHA, and they'd challenge for the top nationally in those categories. Now they rank third both in goals scored and goals allowed among CHA teams, and they look like just another team in the race. Both Robert Morris and Penn State have multiple players who have more points than any of the Lakers. Junior Brooke Hartwick is actually having a nice season for Mercyhurst with 16 points, only two shy of her career high set last year. Classmate Jessica Convery has taken over in net, and she's second in the conference with a 1.79 goals-against average, but her save percentage ranks just fifth in the circuit and her winning percentage is on the wrong side of .500.
In order to keep its streak of conference crowns intact, Mercyhurst would not only have to sweep Robert Morris, it would also need a lot of help. The Lakers are nine points down as the CHA nears the halfway point, and after getting swept by the Colonials to start the campaign, they've had to settle for three straight splits. It doesn't seem like a 10-game CHA winning streak is in Mercyhurst's near future.
Farther down the standings, there are at least some signs of hope for a couple of clubs that had little very recently. RIT started the year 1-14, but the Tigers are .500 over their last five games. Lindenwood lost its first nine games, but has posted a 3-2-2 mark once it broke that string. I think we all like to see the teams that have struggled have reason to celebrate from time to time.
Union won for the first time in almost forever when it knocked off Penn State on Oct. 8, made it two straight at RIT, but is now 10 games into another losing skid. It's been two years since the Dutchwomen won an ECAC game. Their victim on Dec. 6, 2014 was Brown, and Union already had one crack at the Bears and came up short. That 3-1 victory over the Dutchwomen is one of three for Brown under coach Bob Kenneally, but the other two came over Sacred Heart. Nonetheless, by beating the Pioneers twice, it spares the Bears from being the full-time D-I team with the fewest wins. If you'd asked me which team does have the fewest victories among the 35 teams playing in Division-I conferences, I'd never have guessed, particularly if you'd asked me before the season.
Would you have known who it is without looking, and can you recall a team with that much talent, including several Canadian and American veterans of the U-18 World Championships, starting so slowly? Also, which team do you think will wind up with the fewest victories overall when its season ends in February?
Nicole: Yeah, I had some guesses, but one of them definitely wasn't Harvard. Obviously I knew it was a rough start for the Crimson, but I don't think I had any idea they had a single win.
They do seem to be struggling with the same thing I mentioned for Northeastern above — they have five one-goal losses. It doesn't seem like just a platitude to say that the record probably isn't indicative of the talent level. One of their ties and three of the close losses came to ranked teams, so they're staying in games against quality opponents. They've also shown some improvement; their worst losses came in the first three weeks of their season.
Maybe the bigger surprise is how little they are scoring. You mentioned the wealth of U-18 talent, so that they are averaging just 1.55 goals scored a game is definitely a bit concerning. I was prepared to give them a bit of excuse by calling it rebuilding, but half their roster is upperclassmen, so I'm not sure that's really an accurate description.
I hate to say it, since no one outside of Schenectady was as excited as I was when the got their wins early in the season, but I think Union might be at the bottom of the standings come the end of the season. I'd think Brown, RIT, Lindenwood, and Dartmouth would round out the bottom five. It may be misplaced, but I have faith Harvard can eke out a few more wins.
Looking at the top, Wisconsin, Colgate and St. Lawrence each have 15 wins. We're almost at the midway point; do you see any other programs racking up wins or making a run for the top spot in their conference?
Arlan: The obvious answer is Boston College. The Eagles are sitting with 11 wins after going into the break with 20 a year ago. I still think that Katie Crowley's team gets to at least 30 by the end of the season. There just isn't anyone in Hockey East to stop them once they get rolling.
Who else joins the Eagles with 30? For sure, I'll take Wisconsin from your list. I'll say that the Badgers double their current total plus a few more.
Those were two of the five teams to win at least 30 games last year. Can the other three do it again? Quinnipiac? No. The Bobcats have 13, and I'd say they add 11 or 12 more in the regular season. That would leave them needing five postseason wins, such as winning the ECAC tournament and advancing to the Frozen Four. That requires too much to go right. About 26 or 27 wins sounds more likely.
Clarkson? Yes, I can see the Golden Knights getting there. They have 14 wins now and could add a dozen more during the season. They should read the conference final and would total 30 wins by either winning that championship or getting back to the Frozen Four. Clarkson ought to make good on one of those chances.
What about Minnesota? The Gophers have reached 20 wins in all 19 of their previous seasons and are just about a lock to go 20 with 20. But can they reach 30 for a sixth straight year and 10th overall? With 14 wins through 18 games, they are on pace to do so with three postseason wins. As dismal as they looked on Sunday, the odds favor them getting to 30. However, they won't get to 34 like they have in each of the last five years.
I doubt that Colgate can reach 30. The tough part of the Raiders' schedule looms in mid-January, hosting Quinnipiac and Princeton before embarking on five straight road games with stops at Cornell, St. Lawrence, Clarkson, Harvard, and Dartmouth. That stretch should take some steam out of them and blunt a run at 30.
Most intriguing is St. Lawrence. Despite all of the program's past success, it only made it to 30 wins one time, back in 2006. Can the Saints double their first-half total? It's doable with 12 more season wins and an ECAC semifinal triumph. Unless everybody beats each other up down the stretch in the ECAC, I could envision SLU making that happen.
That would give us a list of Wisconsin, BC, Clarkson, Minnesota, and St. Lawrence, all with 30 wins or more. Five teams, just like last year. If it does happen, then I start to wonder if there is as much new-found parity as we think. There were only two 30-win teams each of the prior two seasons, and when the Gophers ran the table in 2012-13, they were the lone team to amass 30 victories.
So those are some teams that could back up solid first halves with strong finishes. What about individuals? Who could you see either separating from the pack or joining it in the scoring race over the next three months? Any rookies that you see emerging, or should we look no farther than a Gebhard or Lonergan? And will Desbiens rise to the top in stats like save percentage and shutouts?
Nicole: In terms of rookies, Lonergan and Gebhard are definitely in the lead. Beyond those two, the players I've been watching are Wisconsin's Abby Roque and Presley Norby, North Dakota's Emma Nuutinen, Clarkson's Michaela Pejzlova and St. Cloud's Janine Adler. Should their teams make a lot of movement as we head towards March, I could see Eve-Audrey Picard at Vermont, Kristin O'Neill at Cornell, and Tereza Vanisova of Maine entering the conversation.
Looking at scoring is always interesting because there are so many exceptions. After all our harping on about it, Annie Pankowski has seven goals in the past five games. But Wisconsin's offense is so deep that I'd be surprised to see a single Badger among the very top. Instead, I imagine we'll see about six of them in the top 50 or so. Dani Cameranesi's injury could create some havoc with that top Minnesota line's stranglehold.
A player we haven't talked about much at all is Mary Parker at BU. She transferred from Harvard and is just two goals behind Dani Cameranesi for most in the country. Similarly, I don't think Asheligh Brykaliuk of Minnesota-Duluth has gotten a lot of attention, but she and Lara Stalder will certainly be important if Minnesota-Duluth continues their trajectory.
I'm not really ever of a mind to discount Desbiens. I think she's still the best goaltender in the country and I don't think the competition is all that close. The only other goalie on my radar is Kassidy Sauve at Ohio State. What she's doing in the face of the volume of shots she sees is just remarkable. She's currently sitting at 600 saves. The next closest goalie is Northeastern's Brittany Bugalski with 508. There are only six goalies with 400 or more saves. Sauve's getting absolutely peppered on the regular, but has just a 1.7318 goals-against average and is tied with Desbiens with a .952 save percentage. It's a seriously ridiculous performance from her thus far.
Grace Harrison at St. Lawrence is obviously having a great season, but even so her GAA is almost half a goal higher than Desbiens'. The only goalie with a better save percentage is Paula Voorhies at Cornell and she's played half as many games.