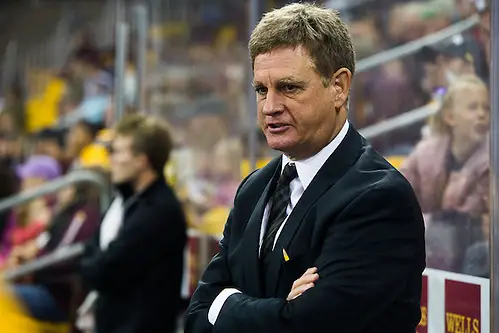 For all but a few programs, sustained success in college hockey is difficult.
Just ask Damon Whitten.
The third-year Lake Superior State head coach inherited a program that hadn't made an NCAA tournament in 18 years when he took over in 2014 – a program that has won three Division I national titles and used to be a regional and national powerhouse.
With the LSSU program playing in its 50th season of hockey — one that his included trailblazing coaches and numerous NHL players — Whitten said before the season that he was mindful of the ultimate goal for his program.
"(We have) a lot of responsibility we have to represent those past players in a positive manner, both around the community, around the country when we travel and most importantly, on the ice," he said. "That's our vision and our goal is to move the program back to those levels. We take it very seriously and we hope we can take a big step that way."
That seems to be well underway in the Lakers' hometown of Sault Ste. Marie, Mich. Despite a pedestrian-looking 8-8-0 overall record, the Lakers continue to score at a high level — they're tied for the WCHA lead with 54 goals in 16 games — and have some good wins against quality opponents.
Maybe the Lakers aren't "there" yet, but they seem to be on the proper path.
"They're a good hockey team, and they're pretty deep," Bemidji State coach Tom Serratore said of the Lakers, in advance of this weekend's matchup in Bemidji. "Lake Superior State is for real. They've played a challenging schedule so far."
Bemidji State leads the WCHA and has an eight-point cushion on second-place Michigan Tech.
All three programs — Bemidji State, Lake Superior and Michigan Tech — have been trending upwards in the past three seasons. Serratore said that having all three programs healthy at the same time is good for college hockey.
"People love hockey in those communities," Serratore said. "People in the Soo, people in Houghton, people in Bemidji. These places are hockey towns. We've had a great history of hockey with these teams. You take a look at what these teams have accomplished over the years, it's great to see them do well. Hockey is a big part of the fabric of those communities and those universities."
At Tech, head coach Mel Pearson has made his alma mater nationally relevant again. In 2014, the Huskies made the NCAA tournament for the first time since 1981 and last season, won the MacNaughton Cup title for the first time since 1976.
The Beavers, who won 20 games and went to the Frozen Four in 2008-09 and won 23 the next year, fell off a bit after that. The nadir was a 6-22-8 season in 2012-13.
But things seem to be much better in Bemidji — with 12 wins through their first 18 games they're already on pace to surpass the 20-win plateau by January.
Lake Superior seems to be on that same track. They have just one senior on the roster and are led in scoring by two sophomores — forwards Mitch Hults (5 goals, 14 assists, 19 points) and Gage Torrel (7-7–14).
And after a hot 6-1 start, LSSU cooled off and lost five straight. The Lakers now seem to be back on a more consistent path — they've split their last two series (at Michigan and at home against Bowling Green).
Some points against Bemidji State may be just what they need to get on track for good.
"Our guys have responded well to challenges," Whitten said on his radio show Tuesday night. "We'll be up to the challenge for sure. It's a tall task the way they've played and the type of team they have, but we've had some success in that building."
Crease gains?
Throughout the season coaches have talked about the strength of goaltending in the WCHA. It was a theme during preseason media conference calls, and coaches have echoed those thoughts throughout the season.
But, how accurate were those statements?
Nearing the midpoint of the season, it's a good time to reflect back on those thoughts and compare them to the results.
At the top of the league it rings true. Michael Bitzer has been one of the best players, not just goalies, in the NCAA this season with a .940 save percentage and three shutouts. He's played in 17 of the Beavers' 18 games and should be in the Hobey Baker conversation.
Freshman Angus Redmond has been a standout for Michigan Tech with a 1.47 GAA and .932 save percentage, while fellow freshman Justin Kapelmaster has also shined brightly at Ferris State. Justin Pawloski, a sophomore, at Minnesota State has also been a bright spot for his team.
But after that, the rest of the league's goaltenders have left something to be desired. Of goalies that qualify for league leaders, those prior four are the only ones with a save percentage above .911.
The rest of those that qualify fall between .911 and .884, while none of the back-up goalies (six games or less appeared in) have a save percentage of .883 or higher.
So is the state of goaltending in the WCHA as strong as coaches claimed? It certainly is at the top, but it's a quick drop off after the top four.
Ice Chips
– Three WCHA skaters had hat tricks last weekend. Minnesota State freshman Marc Michaelis did it Friday night in the Mavericks' game against Alaska. On Saturday, Alabama-Huntsville defensemen Kurt Gosselin did it against Ferris State. And Mitch McLain of Bowling Green recorded his second hat trick of the season with three goals against Lake Superior State.
– Gosselin's hat trick was the first for a men's Division I defenseman this season, and the first by a WCHA defenseman since St. Cloud State's Nick Jensen did it in 2011.
– Alaska-Anchorage won its first WCHA game of the season with a 5-3 win over Northern Michigan on Friday. The Seawolves scored a season high five goals — including a season-best three in the third period.
– Michaelis, a freshman, currently leads the WCHA in scoring with 21 points thanks to a seven-point weekend against Alaska. In all, Minnesota State's freshmen have racked up 20-30–50 in 16 games to stand fifth in scoring in the nation as a group.
Players Of The Week
This past week's WCHA Players of the Week were Bowling Green's McLain (offensive), Gosselin (defensive) and Michaelis (rookie).