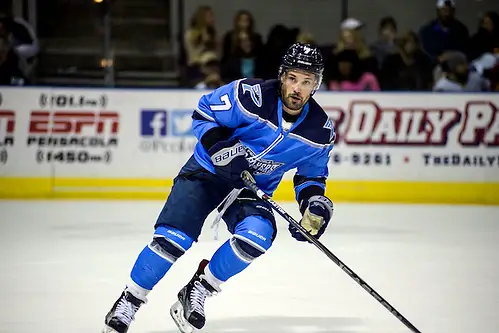 Josh Cousineau knows all about winning. It's all he has done the last two seasons of his pro hockey career, winning an SPHL championship in Knoxville two years ago before winning one with the Pensacola Ice Flyers last spring.
Cousineau was the hero in the Ice Flyers' championship series, scoring the title-clinching goal with two tenths of a second remaining on the clock to help Pensacola earn a 5-4 win and a series sweep of Peoria.
That understanding of how to win games started back in his college days when he was at Adrian. During his career with the Bulldogs, Cousineau scored six or more goals in each of his four seasons, including a career-high 12 as a junior. He played in three NCAA tournaments at Adrian, including as a freshman when he was part of a Bulldogs team that finished as the national runner-up.
"I was with a winning program at Adrian and wanted to continue to be a winner as a pro," Cousineau said. "It's worked out so far."
Indeed it has. This season hasn't been the smoothest, though, at least in the early going for the Ice Flyers, who are 5-5-5 through their first 15 games.
However, that is okay with Cousineau, who understands every team faces challenges at some point.
"I just try to keep guys positive because I've been there before. You aren't on a high road all season. There are going to be ups and downs. I have to stay positive and be a leader."
In 15 games, Cousineau has scored three goals and dished out four assists. It's not the start he hoped for, but he's determined to pick up his level of play.
"I feel like I definitely have to step up more," Cousineau said. "I started out decent and have just kind of been hanging around. I definitely want to produce more and be a better leader on the ice for my teammates. It all starts with the team first. We have to work as a group to get better first."
Cousineau spent the off season working on the little things to become a better all-around player and wants to continue striving to make improvements.
He said one of the keys to turning things around for the Ice Flyers is getting better at special teams play. The Ice Flyers scored eight power-play goals in the first 15 games and allowed 14.
"Our special teams have given us a little bit of an issue, but we're working really hard on that in practice," Cousineau said. "If we get better with that, it will give us a chance to win more games."
The hockey season is long, though, with the regular season not wrapping up until early April, and Cosineau is confident Pensacola will be playing its best hockey when it matters.
"We have a lot of time, and as long as we continue to get better every day, we'll improve as a team and hopefully have a chance to win another championship."