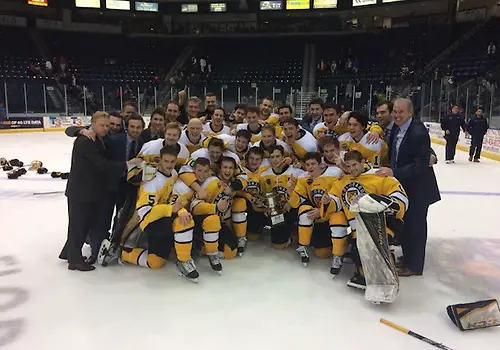 Starting the second half playing Merrimack in the Florida College Hockey Classic, there wasn't much reason to think Colorado College could have success.
The team was near the bottom of the country in power play, penalty kill and team defense, and had only won three games in the first half of the season.
Instead, the Tigers surprised everyone, defeating Merrimack 3-0 and then winning the championship in overtime, 2-1 over Cornell, winning their first in-season tournament since 2005.
"We've really been concentrating on the defensive side of the puck and guys are buying in to what we're preaching here," said CC coach Mike Haviland. "We went up against some pretty big teams, too, and I thought our guys handled those situations pretty well. I think it goes back to how our conference prepares you to play outside of your conference, and I thought we did a great job of starting to understand our identity as a team."
One reason for CC's success was the play of freshman goaltender Alex Leclerc, who made 49 saves on the weekend. It was the continuation of a trend that started at the end of the first half, where Leclerc held a potent Denver offense to three goals in each game and then followed that up with a one-goal effort in a tie with Miami, then gave up three against the RedHawks the next night.
Haviland thinks his rookie goaltender is becoming more comfortable in his role.
"I think it was a little overwhelming when he got here. Like most guys who come into college, they're out of school for a year or two, and he's from Montreal, he's a French-speaking young man, and I think coming in and Jacob (Nehama) being injured, he was kind of thrown into it. He's starting to settle in and he's got an extremely high work ethic, and he's a very dedicated young man trying to get better and better in his craft."
The special teams play also showed some life in the tournament, as the at times moribund power play got two goals against Merrimack, and the PK only gave up one goal against Cornell.
"It's a huge part of it, the special teams, and it's something we work at every day," said Haviland. "When you're on the power play and you struggle at it, you have to simplify it. It's not the backdoor plays that you need to do; we need to get pucks to the net and get second and third chances and outwork teams. I think some of our issues have been that we take a deep breath and think it's going to be easy, and that's the message that we've been saying going into the Florida trip, is let's simplify it and just outwork teams on the power play and have that mentality, because it's going to be crucial for us in the second half in our conference to win those special teams' wars."
For CC, the road doesn't get any easier, as the team starts a tough January stretch that sees them play some of the league's top teams, starting with a trip this weekend to Duluth, Minn., to take on the No. 1-ranked Bulldogs.
"We are hoping the confidence of playing two complete 60-minute games, which we did, ups the confidence level and belief that we can go in there and win hockey games," said Haviland. "Obviously, we have a ton of respect for them and they are the top-ranked team in the country, but we have to worry about ourselves and our identity."
Western Michigan wins at the Joe
State tournaments can be an emotional experience, particularly for Michigan players playing in the Great Lakes Invitational at the Joe Louis Arena in Detroit, a venue that will be torn down later in 2017.
Western Michigan, which has five players on the roster from Michigan, won the last GLI that will be held at the historic Joe, capturing the championship in OT over Michigan Tech.
"I think we have so many Michigan players in our lineup who grew up watching the GLI," said Broncos coach Andy Murray. "In fact, Matheson Iacopelli, I read in one story he said one of the reasons he came to Western is he watched us win the GLI a few years ago. I think it was real special, and obviously being the last tournament in the Joe, we talked a great deal about it, but I have to say the major thing for us is every game in college hockey is important, whether it's a tournament or nonconference, you have to win your next game, so we talked about this being a two-game tournament and we had to be ready to play two games, and whether our second game was at 3 o'clock in the afternoon, we would prefer it be at 7, but it would be the next game on our schedule and we had to take care of business."
One of the stories of the tournament was the play of freshman goaltender Ben Blacker, who only gave up one goal in the two games while making 52 saves and posting a .981 save percentage. Blacker has yet to lose game this season, which begs the question why Murray hasn't played him more.
"I don't think most people know the story behind Ben Blacker," said Murray. "We've actually played all three of our goalies because of injuries and so on. Ben Blacker came to our training camp and earned the right to start our first two games, which he did against Ferris State, and he won both and then we found out he had mono, so he was basically out of action for seven weeks. The first weekend he could play again was against North Dakota. We were not necessarily going to put him in there, and instead wait until after Christmas and Quinnipiac, but we decided after the first game that we needed him for the second North Dakota game. He's yet to lose this year."
Western's potent power play was again a key part of its success, striking four times against Michigan State in the semifinals; the PP is eighth in the country, scoring at a 23.64 percent clip.
"I just read an article today about Scotty Bowman, and I'm big believer in Scotty Bowman, a sharp hockey mind who I had the good fortune to coach against him, and Scotty was saying the key to hockey in today's game is your power play and goaltending," said Murray. "People might say it's special teams, penalty kill, but the bottom line is if you have goaltending five-on-five, then you have it on your PK and your PK is going to be good.
"We know we have a lot of hockey to play, but when those numbers are good you have a chance to be successful. Our goals-against needs to continue to come down; it was down in the tournament and in the range we like to see it. Obviously there is a reason that Denver and Duluth are one and two in our league; all you have to do is look at their goals-against and their save percentage. To me, it's power play and goaltending; who am I to disagree with Scotty Bowman?"
The Broncos are off this weekend before hosting Denver. The teams squared off in Colorado in October, with the Pioneers winning both hard-fought games, yet according to Murray, revenge isn't on his players' minds.
"We've done a good job of recognizing how important every series is. I can't say that we played that series and said wait till we get them back home. We just have too many tough games if you look at the schedule we played before Christmas and then the GLI. Every team we played in the first half that we played was rated in the top 20 with the exception of Miami, and we all know what Miami is capable of.
"The bottom line is I don't pay much attention to rankings and things like that because I came from a league before I coached here where the only thing that matters is where you are at the end of the year, and I think it's the same in college hockey. We're pleased with it, but we still have a lot of work in front of us."
NCHC Players of the Week
Offensive Player of the Week – Austin Ortega, Omaha: Ortega, who now leads the NCHC in points with 27, stayed hot offensively, racking up four points and leading his team to an important home sweep of Lake Superior State. Ortega also tied an NCAA career record with his 23rd career game-winning goal in Friday's 4-1 win. On Saturday, he tallied three points on a goal and two assists while helping Omaha rally for a 5-3 win. He finished the weekend with a plus-4 rating.
Defensive Player of the Week – Ian Brady, Omaha: Brady helped limit Lake Superior to four goals in a weekend series that Omaha swept, and also contributed offensively with four assists, including three in Saturday's come-from-behind 5-3 win in which he set up the game-winning goal. He anchored a penalty kill that went 7-for-8 on the weekend and finished the weekend plus-3.
Rookie of the Week – Ben Blacker, Western Michigan: Blacker's play was a key to Western Michigan capturing the Great Lakes Invitational at Joe Louis Arena in Detroit. On Thursday in the semifinal against Michigan State, he made 29 saves in a 4-1 win, helping the Broncos go 8-for-9 on the penalty kill. In Friday's 1-0 overtime win in the championship he made 23 saves in earning his first collegiate shutout. He compiled a .981 save percentage and .45 goals-against average in the tournament and was named to the GLI All-Tournament Team.
Goaltender of the Week – Alex Leclerc, Colorado College: Leclerc's play helped his team capture the Florida College Hockey Classic. In Thursday's 3-0 win over Merrimack, he made 26 saves while earning his first collegiate shutout. In the championship Friday, he made 23 saves while only giving up a single goal, which came on the power play, in a 2-1 overtime win. He made 49 saves on the weekend and finished with a 0.50 goals-against average and .980 save percentage, and was named tournament MVP.