There are different levels of dominating your opponents.
You can win handily.
You can win handily while sweeping them.
And then you can win handily, sweep them, and shut them out in the process.
That's precisely what Notre Dame did to Alaska in a New Year's Eve-New Year's Day twin whitewashing.
And what's got to make Hockey East contenders feel a bit queasy is that the Irish have now recorded shutouts in three of their last four games. (The other was a 3-2 win over Boston College, giving the Eagles their first league loss.) The Irish are now statistically the league's second-best defensive team, just a hair behind Boston University. And if you're old enough to recall Jeff Jackson's teams at Lake Superior State winning national championships, you'll know that's playoff hockey.
"A big part of it, obviously, is Cal Petersen in goal," Jackson said. "But I think our defense is also really coming around. We have four underclassmen defensemen playing every night. Our only veterans back there are the two juniors, Jordon Gross and Luke Ripley. The other four guys are all freshmen and sophomores.
"Early in the season, we saw some hiccups back there. They're really talented young players, but there were mistakes being made. We were giving up two-on-ohs. We were giving up a lot of two-on-ones in transition.
"We've cleaned that up a bit and those young guys are starting to come into their own. We're getting more consistency out of our defensive pairs."
That youth runs up and down the lineup. The Irish roster includes only a single senior, Ben Ostlie, a defense-minded forward.
"That's happening because of the NHL," Jackson said. "We'd have some pretty good players in this class as seniors, but they're playing pro hockey.
"That's one of the biggest challenges nowadays as a coach. It's hard to have a senior class anymore. We were very fortunate last year to have a real good senior class, but it's very rare for that to happen anymore."
As a result, juniors like the aforementioned Petersen, Gross and Ripley, along with forwards Anders Bjork, Jake Evans and Connor Hurley have had to rise to the fore. And they have.
"They've had to," Jackson said. "They're our veterans."
And it will be up to those top juniors and the boatload of underclassmen to see if Notre Dame can go out with a bang in its last year as a Hockey East member.
"I don't think about it," Jackson says. "I don't think our team thinks about it. As far as everyone involved with our programs knows, we're still a member of Hockey East.
"No matter what year it is in Hockey East, we want a chance to win a conference championship or a playoff championship. I don't think it matters any more this year than it did last year or the year before.
"We always want to be a great representative of the program and try to get into the NCAA tournament and win a championship along the way. That would be awesome."
Providence coming on strong
No, the Friars didn't sweep or shut out their opponent this weekend the way that Notre Dame did. But they may have had an even bigger weekend. Providence took on second-ranked Denver (12-3-3) and earned three-out-of-four points.
Yes, that's the same Providence team that is 1-4-2 in Hockey East (for you glass-half-empty fans) and the same Providence team that is now 8-6-4 overall (for the glass-half-full crowd).
"With a young team, we were a little inconsistent in the first half," coach Nate Leaman said. "I like our team. I've said it all along: we like our group.
"[But] with our first eight games coming back from our break, seven of them are against teams that are in the top 15. So this is the time that our team has to really make a push.
"It started with Denver, a very good team, a very well coached team. And our team has really played well against the top teams we've played. We played well against BU, St. Lawrence and Clarkson. So I think our guys have a lot of confidence going against teams that are supposed top teams."
While it is surprising to see Providence at 1-4-2 in the league–especially since it won the national championship two years ago and tied Boston College for first in Hockey East last year–one must remember how senior-dominated last year's team was. Eight seniors played major roles on that squad, and junior goaltender Nick Ellis from that team also moved on.
"We're playing a lot of 97's," Leaman says, referring to the birth year of his 19-year-old players. "There have been games that we've gone into this year where we're playing teams that have a lot of 92's and 93's. But, that's the way it goes in college hockey.
"We knew there'd be a learning curve with the guys. I think they're starting to figure it out a little bit, but we still think there is a lot of growth left with the team.
"Our big thing right now is that when we score three goals, we're 8-1-1. For us right now, it's finding ways to be more consistently getting that three-goal marker."
Sophomore goaltender Hayden Hawkey, who earned only two decisions last season, has played every minute this year and is part of the recent resurgence.
"It was an adjustment period for him at the beginning," Leaman said. "That probably led to some of the inconsistency within our team.
"But our last five-to-seven games, he's been above a .920 save percentage. That gives our team a chance to win every night. I give Coach [Kris] Mayotte a lot of credit because he's done a good job helping him get to this point. Hayden has worked his tail off. I give him a lot of credit.
"He's our horse. He's our guy that we'll ride in net. I still think he's continuing to improve."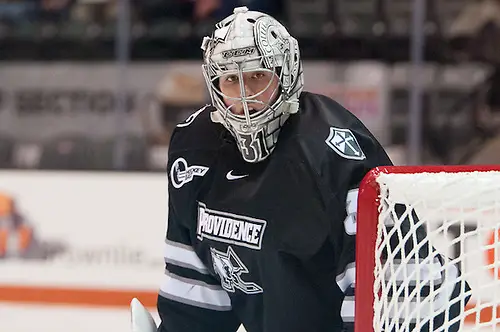 Of course, even with the Friars' five-game undefeated streak, they're still 1-4-2 in Hockey East. Four of those recent five have been nonconference contests. There's a deep hole in the standings to crawl out of.
"I don't think you can focus on the standings," Leaman says. "We're going to focus on playing one game at a time. We focused on the Denver series and now we're focused on the BC game [on Saturday]. That's all we do. With a young team, I think that's all we can ask."
The Friars need look no further than what Northeastern did last year after an even worse first half, and can also get comfort in seeing that they rank 22nd in the Pairwise. Not yet on the bubble, but in striking range, especially with a host of top 15 teams on the docket.
"There's a lot of hockey left to be played," Leaman said. "A lot within the Pairwise; a lot within Hockey East. We're looking forward to it."
Next up is Boston College at Frozen Fenway on Saturday, a foe almost as formidable as Denver was last weekend. The Eagles sit atop Hockey East with an 8-1-1 league mark.
"BC had a great first half," Leaman said. "We played a good game with them in their building. Unfortunately for us, the Fenway game is our home game. But the way we're approaching it is: it's a game. We're just worried about what's on the ice.
"It will be an event for the alumni, for the fans and for our athletic department. But for us as a team and the players and the coaches, we're approaching it as, 'it's a game,' and the game is on the ice.
"We have to make sure that we're bringing our A game because it is our home game and it's a game that has important implications for us to get going in the second half."
Happy 2017!
I hope you all had a wonderful holiday season and wish you all a terrific 2017!