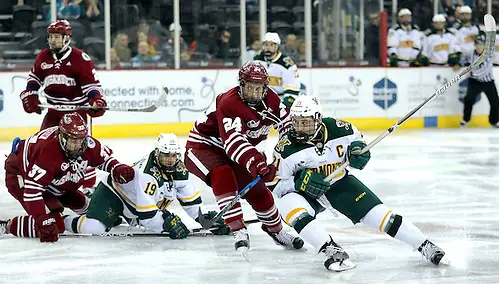 ECAC Hockey schools Rensselaer, Clarkson, Yale and Union and Hockey East's Providence, Maine, Boston University and Connecticut are slated to compete in the next two iterations of the annual Northern Irish Connections Friendship Four Tournament to be held in Belfast, Northern Ireland.
The announcement was made Friday from Boston's historic Fenway Park. The 2017 and 2018 versions of the tournament will be held over the respective American Thanksgiving weekends.
RPI, Clarkson, Providence, and Maine will travel to Northern Ireland to first play against their conference rival in a league contest on Nov. 24 for the right to compete for the 2017 Belpot Trophy the next night. Yale, Union, BU and UConn will venture overseas during the same weekend in 2018 to battle for the Belpot under the same format on Nov. 23-24, 2018.
"The Friendship Four tournament has been a phenomenal event for ECAC Hockey and its member institutions," said ECAC Hockey commissioner Steve Hagwell in a statement. "All aspects of the tournament during the first two years have been first class, and created life-long memories. I know the teams participating in the 2017 and 2018 tournaments are eager to visit the great city of Belfast and to experience everything the Friendship Four has to offer."
"Having been part of the first two Friendship Four events, I am thrilled with this news and what it means to the athletes and coaches who will be the primary beneficiaries," added Hockey East commissioner Joe Bertagna. "Our hosts have done a tremendous job launching this event and the schools who have played to date have delivered the best of NCAA ice hockey to the people of Belfast."
The squads will square off at The SSE Arena, home of the Belfast Giants, a professional team that competes within the Elite Ice Hockey League. The arena has hosted the Friendship Four Tournament since 2015, when the inaugural tournament provided a four-game set that featured Brown and Colgate from ECAC Hockey and Massachusetts-Lowell and Northeastern from Hockey East.
Additionally, the teams will take part in cultural experiences, including visiting with youth groups and exploring the deep history of Northern Ireland.
Last year's iteration of the tournament was an international success, seen on television across North America and Europe, and attended by over 20,000 spectators. The 2015 event, part of Boston and Belfast's sister cities project, marked the first time that NCAA hockey was played outside of North America.