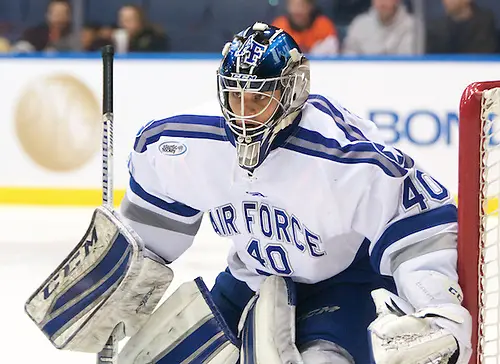 Before the season started, Air Force coach Frank Serratore told me that this year's team may be the deepest he's had in his 20 years behind the Falcons' bench.
It looks like he was right. Despite a rash of injuries, Air Force swept Mercyhurst last weekend to move into first place in Atlantic Hockey, holding a one-point lead over Robert Morris with a pair of games in hand.
The Falcons have now won six games in a row, all in conference play.
"We've had our trials and tribulations getting here," said Serratore. "We've had good weekends and not-so-good weekends getting here.
"I think the greatest pride I have during this streak is that these six games were some of the toughest games we've had to win."
Tough because of the number of injuries to key players. Air Force is missing top defenseman and captain Johnny Hrabovsky, junior defenseman Jonathan Kopacka, and forward Ben Kucera, who led the team in scoring last season.
"We're down from 10 to six defensemen," said Serratore. "But guys have really stepped up."
Also dinged up a bit is goaltender Shane Starrett, who missed his last start, Saturday's 4-2 win at Mercyhurst. Billy Christopoulos picked up his first win of the season in net.
"(Starrett) wasn't a hundred percent (for Saturday), " said Serratore. "We were looking to get Billy into a game, so it worked out.
"Mercyhurst has some skill. Christopoulos made some saves that probably should have ended up in the back of the net. He probably wanted their second one back, but more than made up for it."
Air Force struggled at times in both games in Erie, coming out flat in Friday's game and then having to battle back from a goal down in the third period on Saturday.
"We mentally were not ready on Friday," said Serratore. "We had to weather their storm in the first period, and then they didn't weather our storm in the second. Starrett kept us in the game until we got our legs under us."
Saturday's win marked the third time in the Falcons' six-game winning streak where they had to come from behind in the last 20 minutes.
"All down by a goal in the third period or to start the third period," said Serratore. "It's a mindset right now. We're playing with a good defensive foundation and strong goaltending. Our penalty kill is fourth in the country. That puts us in a position to win every game."
The Falcons have spent the last two weekends on the road, and return home to face Canisius.
"Our next three series, we're going up against good teams coached by some guys who could be coach of the year," said Serratore. "'Smitty' (Canisius coach Dave Smith) is getting far more out of that young team than it looks on paper. (Robert Morris coach) Derek Schooley, look at how many guys they graduated and look how they're doing.
"Army, they were expect to be good and they are good but that can be a challenge too, and Brian Riley has them in a great position."
For Serratore, the reigning coach of the year in Atlantic Hockey, it's about keeping up the momentum and keeping the winning streak going.
"We need to get it while the getting's good," he said. "There's going to be a night where you deserve to win and you don't because of a bounce of the puck. This league is so tight that every night you have to be on your toes."
One out of three ain't bad…or at least better
Canisius tied and lost to No. 16 St. Lawrence last weekend, leaving just one nonconference game left for Atlantic Hockey teams this this season, until the NCAA tournament anyway. Mercyhurst travels to Bowling Green on Feb. 11.
Win or lose in that game, the league will record its second-best non-conference record in over ten seasons, and mark just the third time in league history that the AHC won at least a third of its non-league games.
The league's 17-39-12 (.338) record to date is a marked improvement over last season's 15-49-3 (.246), which was an improvement on 2014-15's 13-52-2 (.217). You get the idea.
Things are improving, but is it enough to get an Atlantic Hockey team an at-large berth in the NCAA tournament? A strong showing in nonconference games boost a team's (and league's) chances.
The only time that it happened was in 2013, when Niagara finished 9th in the pairwise, aided in part by a .365 inter-conference record for the league. It may be more accurate to say "not damaged" more than "aided", since it was still well below .500. But it's not a coincidence that the league's best showing ever out of conference was the year Niagara broke though.
Right now, Air Force sits just off the bubble at No. 17, while Robert Morris is 21st.
Losing a friend
Last week, college hockey lost a great friend and supporter when Wayne Smith passed away. Wayne was a devoted husband and father. He loved his family, and he also loved college hockey. While in the IT department at the University of Maine in the early 90's, Wayne had the vision to see the emerging internet as a place where college hockey fans could exchange information about their teams. At the time, it was difficult to even get scores and standings on a timely basis.
In 1990, Smith established the HOCKEY-L listserv, an electronic mailing list for college hockey. A couple of years later, HOCKEY3 debuted, covering Division III and again hosted by Smith and the University of Maine. Wayne administered both lists for decades.
These emailing lists allowed fans and even some coaches and referees to exchange facts and opinions, and foster friendships that still exist today. The HOCKEY-L folks began gathering at each Frozen Four, and still do, over 20 years later. I always looked forward to seeing Wayne there.
Wayne's work connecting people helped grow the sport and led to the formation of USCHO and other media sites. Several USCHO staff were members of HOCKEY-L and hockey3, including yours truly.
I know for a fact that I would not have had the privilege to write about and broadcast college hockey for the last 25 years if not for Wayne Smith. HOCKEY-L and hockey3 helped turn a fan into a writer and helped me to reach a greater audience and eventually the the chance to work for USCHO.
Wayne will be missed.
Weekly awards
From the home office in Winthrop, Mass.:
Player of the Week
Daniel Leavens, Robert Morris: The senior had a goal and three assist to help the Colonials to a home sweep of American International. He's scored at least a point in his last five games.
Defensive Player of the Week
Brett Orr, Bentley Orr, a rookie defenseman, picked a great time and place to score his first collegiate goal: Frozen Fenway in a win over Army. He added three assists the following evening to help the Falcons earn a tie with the Black Knights and take three points in the series.
Goalie of the Week
Paul Berrafato, Holy Cross: The junior goaltender stopped 41 of 43 shots in a sweep of Niagara. He had 18 saves in a 3-1 win on Friday and another 23 in a 2-1 victory on Saturday. Berrafato improved to 9-8-3 on the season and has allowed a total of two goals in his last three starts.
Rookie of the Week
Joel Kocur, AIC: Kocur had three points in three games last week, including his first collegiate goal in a 3-0 win over crosstown rival Massachusetts.