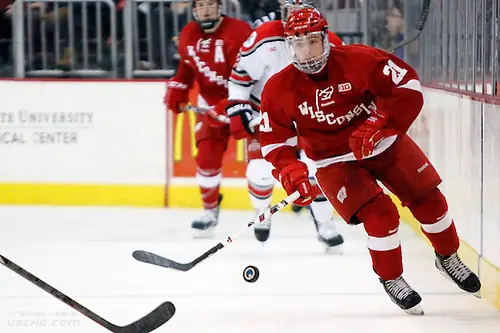 A series between Ohio State and Wisconsin highlights the Big Ten's schedule this weekend.
Nevermind that it's the only conference series that is going on, because the intrigue would still be there if there was some competition in that regard.
The Badgers sit third in the Big Ten with 12 points and the Buckeyes are one point behind. Both have an opportunity to make up ground on Minnesota and Penn State, who both play nonconference opponents this weekend.
The Buckeyes and Badgers played Penn State and Minnesota respectively last weekend, and both came out with a lot to feel good about.
Ohio State tied Penn State 3-3 on Friday night, won the shootout for the extra conference point and score three third-period goals on Saturday en route to a 6-3 win.
"Especially the first period on Friday, we were on our heels at the start and Christian (Frey) kind of held us in the game," Ohio State coach Steve Rohlik said. "I thought we played a lot better as a whole on Saturday. Every time Penn State steps on the ice, they're going to get a lot of chances, as far as shots on the net."
The tie on Friday night was OSU's sixth of the season. In the past players have been vocal about being displeased with not being able to get a win, but this one was different considering the Buckeyes erased a one-goal deficit three times during the game.
"At the end of the day, you're playing the No. 1 team in the country at their barn where they haven't been beat all year and they played very well," Rohlik said. "We were on our heels a bit, our goalie made some great saves and was playing well. To come away with two points was huge for us, and a momentum builder for the next day."
After losing in overtime on Friday, Wisconsin busted out some offense to gain the split with rival Minnesota on Saturday. The Badgers trailed 2-1 after one period on Saturday, but Cameron Hughes, Tim Davidson and Corbin McGuire scored in the second period and Trent Frederic added one early in the third to put the Badgers in the driver's seat.
This weekend's series has a caveat because, while Thursday's game will be played a Value City Arena, Saturday's will be played at the self-proclaimed World's Most Famous Arena — Madison Square Garden.
"I think it's exciting. It's exciting for a lot of fans that are going to be able to go out there," Wisconsin head coach Tony Granato said of playing in New York. "I've heard a lot of them are going to both of the games, but obviously the one in New York City, a lot of our alumni that are out on the East Coast are going to be there."
Saturday's game is part of the second Big Ten Super Saturday, which features a doubleheader of basketball and hockey at MSG. Michigan defeated Penn State in the inaugural event last year and Minnesota and Michigan State are scheduled to play next season. Attendance for last year's event was 13,479.
"For our team, having the chance to play a collegiate game and go to an NHL facility like that will be very special for our group," Granato said.
Venue aside, Granato said this weekend is another opportunity for the Badgers.
"It gives us another challenge to face a top-10 team on the road," he said. "They're a team that, obviously, if we're going to do well this year we're going to have to play well against them and have some success against them."
Granato said that Wisconsin needed to lose the mindset of giving too much respect to its opponent and change their attitude from "how do we stop them?" to "how do they stop us?" He said that they showed too much respect to the Gophers on Friday night and it led to a slow start.
If you believe Rohlik, the Buckeyes are very much focused on how they will stop the Badgers.
"To me, I put the (Badgers) in the top-two of our league (in the preseason) for a reason," he said. "I think they're very talented up front. They've got as good of forwards group as anybody, and obviously they're playing very good hockey."
Ohio State played last weekend without two of its top scorers, Nick Schilkey and Tanner Laczynski, and it could be possibly in for more of the same this weekend. Rohlik declined to say much about the injury report, except that things were "still going in the wrong direction." The Buckeyes did, however, welcome Dakota Joshua and Matthew Weis back from injury last weekend.
Like they did against the Nittany Lions, the Buckeyes will more than likely lean on goaltender Christian Frey. The senior goaltender has started the past eight games and led Ohio State to a 4-2-2 record. He made 97 saves over the two games last weekend.
"I think he's just in a groove right now," Rohlik said of Frey. "For whatever reason, when you look at his history with us, his second halves have been very good."
Gophers look to erase North Star College Cup demons
The North Star College Cup was created when Minnesota's five NCAA Division I hockey teams, which had previously all been in the WCHA, ended up in three different conferences after the realignment that followed the 2012-13 season.
In terms of in-state success, things were fine and dandy for the Gophers during the first season post realignment. They went 7-1-1 against their now-nonconference foes and won the inaugural North Star College Cup by defeating St. Cloud State 4-1 in the Friday game, tying Minnesota-Duluth 4-4 in the championship game and defeating the Bulldogs in a shootout. The inaugural year was the only year a shootout was used to determine a champion. The rule was changed to continuous overtime, but the previous two years have been settled in regulation.
The next season the Gophers fortunes, both against nonconference opponents and at the tournament, changed. Minnesota went 2-0 against Bemidji State, but was a combined 2-6 against Minnesota-Duluth, St. Cloud State and Minnesota State, which included a loss to the Mavericks and Bulldogs at the NSCC.
Last year Minnesota went 1-7 against the in-state teams, with its only win coming at Mankato in November. The Gophers lost to Bemidji State and Minnesota State at the tournament in St. Paul.
This year Bemidji State will play St. Cloud State in the first game on Friday, followed by the Gophers and Minnesota-Duluth. The winners and losers from each game will face off on Saturday.
Minnesota is 1-3 against in-state teams this season.
Three Stars of the Week
First Star — Ohio State sophomore forward Mason Jobst: Jobst tied for the conference lead with four points last weekend. He scored a game-tying goal twice during Friday night's 3-3 tie with Penn State and added another goal and an assist on Saturday. This is his second career Big Ten weekly award.
Second Star — Michigan State junior goaltender Ed Minney: Minney stopped 24 Michigan shots on Friday night for his first career shutout in the Spartans' 3-0 victory. This is his first career Big Ten weekly award.
Third Star — Ohio State senior goaltender Christian Frey: Frey made 97 saves over the weekend and led the Buckeyes to a tie and a victory. This is his ninth career Big Ten weekly award.
B1G in the Poll
Penn State dropped from the top spot, but still some nice conference representation in the top-10. The Nittany Lions are No. 4, Minnesota is No. 6 and Ohio State is No. 8 in this week's USCHO.com Division I Men's Poll. Wisconsin received two votes in the poll.
My ballot
1. Minnesota-Duluth
2. Boston University
3. Penn State
4. Denver
5. Union
6. Minnesota
7. Massachusetts-Lowell
8. Harvard
9. Boston College
10. Ohio State
11. North Dakota
12. Vermont
13. Western Michigan
14. Notre Dame
15. Cornell
16. St. Lawrence
17. Quinnipiac
18. Bemidji State
19. Omaha
20. Providence
This Week's Matchups
Wisconsin at Ohio State (Thursday at Value City Arena, Saturday at Madison Square Garden)
Minnesota vs. Minnesota-Duluth and St. Cloud State or Bemidji State (Friday and Saturday, Xcel Energy Center)
Princeton at Penn State (Saturday, Wells Fargo Center)