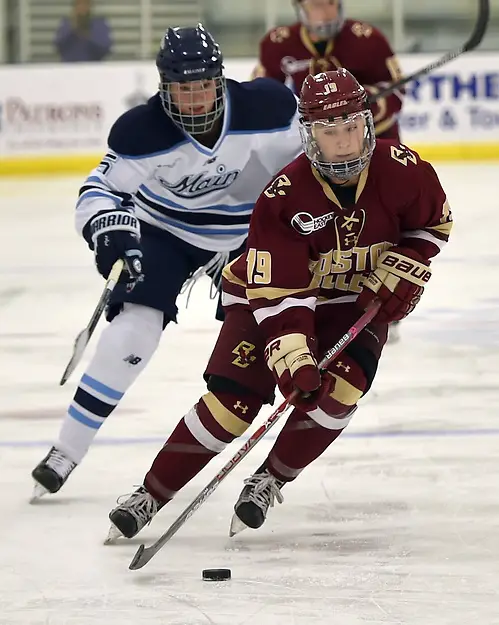 How does a team that was undefeated until the national championship game and graduated some of the best players to ever play the game return the following season and find a way to not dwell on what happened before?
By all accounts, it's been a successful season for the Boston College Eagles. They're ranked sixth in the country and are well-positioned to make the NCAA tournament. They're in first place in Hockey East with an eight-point lead and are the favorites to win both the regular season and tournament titles. Junior goaltender Katie Burt is sixth in the country with a .930 save percentage and a 1.55 goals-against average. Freshmen Delaney Belinskas and Caitrin Lonergan are both top-five rookie scorers. The Eagles boast the best penalty kill and the second-best power play in the country. The are averaging two full goals more on offense then they allow on defense.
And yet, short of winning a national championship, for many, anything Boston College does this season will pale in comparison to what the Eagles accomplished last year. However, coach Katie King Crowley is trying to help her team see the clear delineation between the seasons. She wants the Eagles to be motivated and determined after coming so close last season, but she also needs them to learn the lessons from that season and those players and let it lie in the past.
"Last year was last year. We have a completely different team. We went from a team that had a considerable amount of veterans to now with a young team that has three seniors. We've tried to use the positives from last year and roll this into this year."
It's been an adjustment for the whole team. When BC lost to Maine in mid-October, it was the first time the juniors on the team had lost a Hockey East game in their career. When they lost to Minnesota-Duluth in the opening weekend of the season, Crowley and her staff had to help their team deal with a lot of disappointment — the players simply weren't used to losses. Crowley laughed recounting the story, knowing that it seems like quite a ridiculous problem to have, but the Eagles have been learning to adjust their expectations. It's OK to have a loss on their record and it's OK to learn through those losses.
"It makes every single team better when you know that you can't go into a game and not play your best," said Crowley. "I think that's what our team has learned through the process this year. I'm happy with the way our team has evolved through this year. I'm happy with how we've handled adversity through our season this year and how different people have stepped up in games when we've needed them to."
The changing expectations have extended to on-ice roles. It's not just that Boston College graduated a Patty Kazmaier winner. Or that they lost six seniors. They lost three players that are highly likely to play for Team USA in Pyeongchang in 2018. They weren't just leaders or the team's top-scorers; they were some of the best players in the world.
The women on the Boston College roster this season had become used to playing auxiliary roles to those players. Their job was to set up those players. Now, suddenly, their positions have changed and they've had to adjust. It's not an easy transition, but Crowley is incredibly proud of how well her players have stepped into new roles and embraced them.
Megan Keller and Makenna Newkirk were already producing for the Eagles, but now have stepped into the spotlight and are handling the pressure of being the ones the team needs and expects to score. Last season, Andie Anastos had 14 goals and 23 assists. Kristyn Capizzano had nine goals and 21 assists. With seven regular season games left, Anastos has 12 goals and 17 assists and Capizzano has 12 goals and 7 assists.
It's no surprise that Anastos, Keller and Capizzano are the team's captains. They are vocal leaders on the ice and in the locker room, but they're also leading by example. It says a lot about the current Eagles that they've been able to shift so much about their dynamic and experience and still find themselves on top of Hockey East.
"It's hard to change your role within the team dynamic. They've done a great job. That's what we need to have happen for our team to be successful," said Crowley. "(I'm happy with) how we've handled adversity through our season this year and how different people have stepped up in games when we've needed them to."
Despite the adversity of the season, the Eagles have grown and improved. With just three seniors, they are a young team, making the maturity and development this season that much more notable. It's impossible to know what the upcoming weeks hold. Crowley said she knows her players have a Frozen Four and national championship in the back of their minds, but she also wants them to know that those things don't define them.
"Our team has been fortunate to be in some great spots in our program history. We just enjoy it every day and really try to win for Boston College, win for ourselves and win for each other."