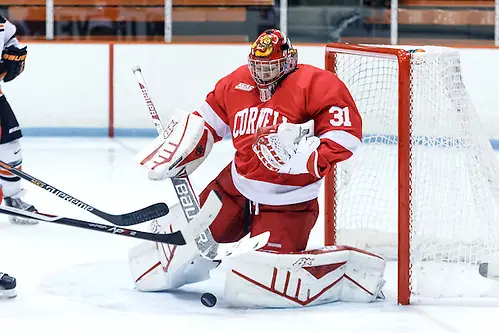 Candace: Something interesting happened in my view over the weekend. Some of the top conference teams, such as Wisconsin, Boston College, and Robert Morris, were all challenged by tough opponents, yet found a way to escape relatively unscathed, with Robert Morris the only one of those three to have any sort of blemish with a 3-3 tie on Saturday against Mercyhurst after needing OT to beat the Lakers Friday. Boston College needed overtime to win Friday, and Wisconsin could only win by a goal in each game against North Dakota, something that, to be honest, was a little surprising.
There are no bad wins certainly, and in some ways wins like those are ones that can help a team build confidence and avoid panicking as the games get closer and closer in the postseason. Staying calm is one of the key attributes of a champion, in my opinion.
What did you think of the results posted by Wisconsin, Boston College, and Robert Morris, and what those wins show about the teams as the postseason gets closer?
Nicole: It's not that I don't think any of those results are surprising in the grand scheme of things, but I think I've gotten a little inured to it all. Arlan likes to remind us that things really aren't actually all that more chaotic, even if they feel like they are, but sometimes it's really difficult to believe it.
This is the first time I feel like when I look to rank teams, I'm not really sure how to approach it. I'm not ranking most of the teams based on how good they are, but instead I'm comparing their bumps and bruises and deciding whose are more or less egregious. A fan asked on Twitter if I thought Minnesota's shootout loss to Ohio State would affect their ranking and I had to tell her that I didn't see how it could, since each of the teams below them had also lost or tied a game. It's certainly difficult to get perspective on the season at this point, but I feel like it should be rare that I'm ranking teams based on how relatively bad their ties or losses are. Especially at this point, it feels a little odd not to be talking about who wants it more and instead trying to figure out who is least likely to stumble along the way.
I like that there are no easy paths to the postseason and I like that we're seeing disruptions from teams all up and down the standings. I think those are good things for the sport and they've made watching games this year so enjoyable, even if they've made picking them an exercise in frustration. This might be the new normal, but it's still new enough that it still feels a bit stiff and awkward.
In the case of Vermont and BC, the Catamounts have somewhat quietly been slaying the other giants in Hockey East. BC has the misfortune of not meeting Vermont at all until now and the Catamounts' confidence is soaring. It likely would have been a totally different game had these teams met in October or November. It's a bit of a perfect storm of timing where BC has a different roster than they did and Vermont is on a steep upward trajectory.
What North Dakota brought that the Badgers haven't seen much of this season was physicality. There were 29 combined penalties in the two games and there could have been more on both sides. Things were definitely chippy and the constant special teams really kept either squad from ever finding a rhythm. The Badgers rely on their speed so much and they weren't able to use that as much this past weekend, so they had to find other ways to win the battles and score goals.
While I think the tight games in Madison might make others raise their eyebrows and question the Badgers, they probably had the exact opposite effect on the players. High-scoring shutouts are nice and they look impressive on the schedule, but being able to gut out those two wins this weekend really shows more about the team and gives them a boost of confidence heading into the final few weeks of the season. It's difficult to know how you match up and where you're at when you're not really tested.
Maybe Robert Morris and Mercyhurst shouldn't be surprising at all. It's always a bit difficult to get a read on CHA teams, but the Colonials won a pair of games 2-1 back in October and the Lakers have been showing signs of finding their footing. Robert Morris also hasn't been challenged a lot and has won a decent number of lopsided games, but they have the second-lowest strength of schedule in the country (only RIT is lower). That they rallied and stuck in the games this weekend is a good sign for them going forward.
Syracuse is sniffing at the Colonials' heels, so their ability to fight for a win and a tie this weekend should really boost their confidence and give them a boost for the final few weeks.
A team that surprised me a bit this weekend was Colgate. I'd sort of written them off as having ridden an easy early schedule to success, but they beat St. Lawrence with a gritty, battling win and then lost by just a single goal to Clarkson. At this point they are five points behind Quinnipiac and Princeton with a game in hand. Can they make a move to get home ice for the ECAC tournament?
Candace: Theoretically yes. The next three weekends are very friendly schedule-wise, with Colgate traveling to the Harvard/Dartmouth travel pair, hosting the Rensselaer/Union travel pair, then heading to the Brown/Yale travel pair. Those are all games the Raiders can and likely should win. However, even if Colgate wins its game in hand and pulls to within three points, they have an issue, as both Quinnipiac and Princeton also play Brown, Rensselaer, Union, and Yale. They also have one game against each other, and then face the Clarkson/St. Lawrence travel pair on the road. Say that game between Princeton and Quinnipiac is a tie and Colgate pulls to within two points of whichever of Princeton and Quinnipiac is in fourth place after those two teams play each other.
The issue facing the Raiders then is that they can't finish tied with either team and claim home ice, because both Princeton and Quinnipiac own the head-to-head over Colgate. So the Raiders would need to get three of four points against Clarkson and St. Lawrence on the last weekend of the season and hope Clarkson and St. Lawrence sweep Quinnipiac and Princeton. Somehow, I don't see it all happening. Colgate would be better off trying to get momentum so that when they go on the road against likely Cornell, Princeton, or Quinnipiac in the first round of the ECAC playoffs, the Raiders can have better results against those teams than the last time they faced them, all losses. Colgate also has to be concerned with holding off Rensselaer for sixth place and avoiding having to likely head to St. Lawrence. Rensselaer likely won't be able to move into sixth place, but based on the results in the ECAC this past weekend, I'm not taking anything for granted.
While Colgate beating St. Lawrence was surprising, I think I was more stunned that Cornell beat Clarkson. The Golden Knights have looked solid all year, and while I knew Cornell was improved, the Big Red had also lost to Rensselaer and Providence, and to my mind hadn't played Wisconsin as tough as Clarkson did. Hanna Bunton leads the Big Red in scoring, but even she isn't above that seemingly magic point a game average, just under it at .904. Kristin O'Neill provides good secondary scoring, averaging nearly as much as Bunton, but after those two the scoring falls off to half a point a game or less. On the plus side for Cornell, Paula Voorheis is having a career season in her senior year, averaging a a 1.59 goals-against and a .946 save percentage. much better than any previous year. Her previous two seasons as a starter saw a goals-against of over 2.30 and save percentages of .917 and .915.
Yet as good as Voorheis has been playing, she didn't get the start against Clarkson; it went to sophomore Marlene Boissonnault, whose numbers aren't as gaudy as Voorheis', with a .921 save percentage and 1.65 goals-against. Boissonnault played very well against Clarkson, stopping 29 shots in the 2-1 win. Because St. Lawrence lost also, Clarkson stayed two points up on the Saints in the race for the regular season conference title, made better by owning the head-to-head against St. Lawrence. What did you take away from Cornell's win/Clarkson's loss? Can the Big Red possibly win the ECAC tournament and return to the big dance? They are currently seventh in the PairWise, which means they could even advance as an at-large team if they continue to play well.
Nicole: I had high hopes for Cornell before the season started and it does seem like they are picking up steam to peak at the right time. They are incredibly talented on special teams — no other ECAC team is in the top 10 on both power play and penalty kill — and the closer we get to the end, the more physical the games get, so that could be the extra edge they need.
Should they continue to show this second-half growth, I'd have to imagine the Big Red have a decent case for an at-large bid. With the top spots populated by teams from the WCHA and ECAC, it's always difficult to predict how the committee will look at how those teams compared to one another. They certainly surprised folks with Princeton last season, so I think that leaves all of us a little shy in trying to understand how things are going to be determined.
Most concerning for Clarkson in that loss should probably be that they were only able to score a single goal, and that not until late in the game. The Golden Knights have the second-highest team offense in the country, averaging 3.69 goals a game. They're going to face some stingy defenses not only in the rest of the regular season but into the NCAA tournament. They need to be able to count on that scoring to get them through some close games.
You mentioned the common opponent in Wisconsin — for me, Clarkson was able to do a better job against Wisconsin's depth. Despite the recent push on the offensive side of the puck, the Golden Knights are a pretty defensive-minded squad and it felt like they were better prepared to weather the multiple dangerous lines that the Badgers roll. That being said, I thought Cornell was better at disrupting the Badgers and pushing them off their rhythm in the offensive zone, but they gave up too many second chances and that's how Wisconsin beat them in the second game.
I'm not sure that tells us too much about either team, but it is rare to get to see those three teams all play one another, so we'll take the comparisons where we can find them.
It might be a bit too much "coach speak," but I do find myself wondering which ECAC team is going to step up and take control. That's not to imply that any of these teams aren't competing, but it does feel like the conference is a bit up for grabs for whatever squad can find that next level and step up — in some ways, it's very much there for the taking.
We talked about it for a bit at the beginning, but what are your thoughts on how the CHA is going to play out? Robert Morris has pretty much been in the driver's seat, but Syracuse is being pesky and hanging around. Do the Colonials have what it takes to go the distance? Can the Orange or another team pull an upset in the conference tournament?
Candace: Robert Morris has to be looked at as a slight favorite, simply because the Colonials have more offensive firepower with Brittany Howard and Jaycee Gebhard up front both averaging more than a point a game. Couple that with a goalie in Jessica Dodds who a respectable .922 save percentage and I think the Colonials have more ways to win. Syracuse still doesn't have a player averaging over a point a game, so the Orange need better defense, and the play of Abbey Miller in net is helping; she has a better goals-against than Dodd and a save percentage that is very close.
Even if the two are tied after this weekend, I'd slightly favor Robert Morris to win the regular-season crown because Syracuse has one more series with Mercyhurst, while Robert Morris closes with RIT, Penn State, and Lindenwood, though the Lions did beat Robert Morris a few weeks ago, so anything can happen.
The regular season doesn't really matter too much, except in the sense that Robert Morris is still the only team in the CHA that has an overall winning record, and because the Colonials only have two losses, they are currently eighth in the PairWise. If they win out their schedule and then were to lose to the Orange in the CHA tournament final, it's possible that the CHA could send two teams to the NCAA tournament.
Arlan and I talked a little about some conference races below the top. I think Hockey East is perhaps the most interesting in that regard right now. New Hampshire has the final home ice spot, and has a two-point lead on Vermont and a three-point lead on Providence. Vermont had seemed to be rolling, but running into BC hurt that a bit. I don't know that Providence can get home ice, because the Friars close their season with a two-game set against BC, but I guess in the volatile world of college hockey you never know. What is your opinion of Hockey East? There's also the question of whether Boston University can pass Northeastern to take second.
Nicole: I think Boston University has the more favorable schedule to close out the season, giving them the upper hand in taking second place. Northeastern will actually finish the regular season at BU, while the Terriers have one more game after that — against Maine. Other than the Beanpot, the Huskies have games against New Hampshire, Providence, BC, and BU left. The Terriers get Merrimack, a home-and-home with New Hampshire, and the aforementioned games with Northeastern and Maine.
That being said, Boston University has won one of its last six games, a 5-2 victory over Providence last weekend. They've had four ties, and while that single point is better than none, they aren't doing themselves any favors in the standings. The loss came at Connecticut, arguably the easiest game out of that stretch.
Northeastern just can't seem to find any consistency. I've not been able to pin down exactly what it is that they're missing or what is clicking in wins that isn't firing well during the losses. They earned their program's first NCAA berth last season and while that's unlikely again this year, a second-place Hockey East finish would be a good step in keeping the momentum.
That final home-ice spot certainly feels like it's a bit up for grabs, but if Providence is unlikely to take it because of that final game against BC, that might discount Vermont, as well, which visits Chestnut Hill the weekend before that. Vermont and New Hampshire have a two-game set up in Burlington in two weeks and the results there may go a long way in figuring out the postseason seeding.
If we're looking ahead to possible conference tournament seeding, the WCHA is also an interesting study. Up top, just a point separates Minnesota and Minnesota-Duluth and right now that's the difference between hosting Bemidji State or St. Cloud State. But Ohio State, St. Cloud and Bemidji have one point separating the three of them. If I'm a two or three seed, I don't want to host Ohio State, but I wouldn't be thrilled about getting St. Cloud, either. How that bottom half shakes out could cause some interesting playoff chaos. Who do you see as the most likely to pull an upset in that first round?
Candace: On the WCHA, that's tough to call, but right now I'd say St. Cloud State has the hardest schedule remaining versus top four teams. St. Cloud has series against Minnesota and Minnesota-Duluth left, while Ohio State has series with North Dakota and Minnesota-Duluth left and Bemidji has series against North Dakota and Wisconsin left. Further, after this weekend, when St. Cloud plays Minnesota and Ohio State faces Minnesota-Duluth, Ohio State hosts St. Cloud, which will pit Suave against Janine Alder, a matchup of two absolutely top-notch goalies. Two scoreless ties in that series honestly wouldn't surprise me.
I think a lot might depend on how this weekend goes when Bemidji State has a home-and-home with North Dakota. If the Beavers get points, I think they have to be a favorite to finish fifth. After the Wisconsin series, Bemidji State travels to St. Cloud and then closes with a home series against Minnesota State. That series between St. Cloud and Bemidji will also be interesting, because while the Huskies have Alder, Bemidji counters with Brittni Mowat, who is nearly statistically even with Alder in save percentage and has a better goals-against.
It will probably come down to offense, something Arlan and I have observed often over the last few years. St. Cloud has the worst offense of the three, ranking 31st with a 1.73 goals-per-game average. St. Cloud also has the worst power play in the country, a unit that only scores 5.63 percent of the time. For that reason, I think St. Cloud, while it has shown improvement, is likely to finish seventh.
Who has the second-worst power play in the country? Ohio State, whose power play scores only 8.22 percent of the time. To counter that, Ohio State has the third-best penalty kill in the country, likely because of Sauve, a unit which kills its opponents' power plays 91.2 percent of the time.
Ohio State and Bemidji have identical team offenses, scoring 1.88 goals per game. Bemidji's penalty kill is also nearly as good as Ohio State's, ranking sixth and killing 90.3 percent of its opponents' power plays. However, Bemidji does have a decent power play, ranking 21st and clicking 14.29 percent of the time.
To me, fifth place versus sixth comes down to how Ohio State and Bemidji State do against North Dakota, and then how they do against St. Cloud State. I'd give a very narrow edge to Bemidji because of special teams' success, but it is by no means a sure thing.
This coming Tuesday will see the first round of the annual Beanpot. As someone who went to school in Massachusetts, that tournament is always near and dear to my heart. I can remember people watching it every year. The first round pits BC against BU, and Northeastern against Harvard. While the latter game seems like a foregone conclusion given how bad Harvard has been, Beanpots can produce surprises. Who do you see emerging to play for the championship? Is that tournament even on your radar much?
Nicole: The Beanpot is on my radar insomuch as all the Boston folks will be talking about it for two weeks so I don't know how much I can escape it, but it wasn't something I was familiar with before the past few years. It's definitely something that's way more important to Boston folks than anyone else. I like to tease East Coast fans, but even I can admit it's a cool tradition. I only wish fans showed up in droves for the women like they do the men.
I'm kind of feeling Harvard to pull off an upset here. That has nothing to do with Northeastern's talent and everything to do with the fact that I think Harvard needs to find something worthwhile to salvage out of this season. We've mentioned in past columns that they have kids who've played at the international level. The talent should be there. If Katey Stone's kids can't get themselves up for a Beanpot, there's more going on there than we know. Maybe I'm putting too much significance on a single game, but I remember being in seasons going as poorly as theirs is. Sometimes a team needs a single common goal and something to rally around. I can see them using this tournament as a touchstone for turning things around.
I'd be pretty surprised if BC doesn't walk away with the Beanpot, but as you said, the tournament seems to produce surprises. I expect we'll see BC and Northeastern in the final, but will be pulling for the Crimson.
We talked about how we see the conferences shaking out, so let's look a bit further. Who are your eight NCAA tournament teams, and who do you see ending up nine and ten as the first teams out?
Candace: I think Wisconsin and Clarkson are locks. I also think St. Lawrence and Minnesota-Duluth are almost locks. That leaves four teams. I'll pick Minnesota as one, because I just can't see the Gophers not making the tournament entirely, and I'll go with Boston College as well. For the CHA, I'll pick Robert Morris, just because they have been the most consistent team in that conference. That leaves one left. I'll pick Cornell, because the Big Red have been playing well and aside from the last weekend of the regular season I think they are likely to win all their games. I see them finishing third in the ECAC and hosting either Colgate, Princeton, or Quinnipiac in the first round. I think it's likely the Raiders, and in a two-of-three series the Big Red advance to the semis. Those wins should keep their PairWise high enough to get in.
The caveat would be if North Dakota could get hot enough to win the WCHA tournament (very unlikely), or if Boston University, Northeastern, or Vermont were to win the Hockey East tournament (more likely). BC has had trouble in particular with BU this year, going 1-1-1 so far. I think they 1-1 tie a couple of weeks ago may have been in part because of the previous game, where the Eagles carried a 3-0 lead into the third period and gave up five goals. I think BC is the favorite to win the Hockey East tournament, but I probably wouldn't put money in it.
As for the two teams who are out, I think it will be Quinnipiac and Princeton finishing 9-10 in the PairWise, or even 8-9 and getting knocked out because of the CHA autobid.
Do you see it differently than me?
Nicole: One change I think I could see is switching Colgate in for Princeton there at the end, which is rather inconsequential to the conversation, but the Tigers have a killer end of the season and I don't think they'll come out of that unscathed. They're virtually tied in the PairWise right now and I think Colgate ekes out a better position when push comes to shove.
I think you're right about the Hockey East tournament being the one most likely to have an upset, but one other thing I wonder about is what would happen if Minnesota had an early exit from the WCHA tourney. Would that be enough to see Cornell, Quinnipiac, Princeton, or Colgate jump up?
Of course, I'm woefully behind you in our weekly picks contest, so I'd imagine anything I predict doesn't hold a lot of weight. Folks would be much better off listening to you.