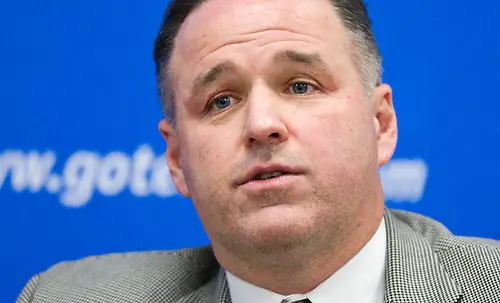 Merrimack announced Thursday a multi-year contract extension for head coach Mark Dennehy.
The 2009-10 and 2010-11 All-New England Coach of the Year, Dennehy is in the midst of his 12th season behind the bench of the Warriors.
"Mark has done an excellent job in developing and elevating the profile of the men's ice hockey program over the last 12 years," said Merrimack director of athletics Jeremy Gibson in a statement. "He brings to Merrimack a distinct vision for success and strives to attract and develop outstanding student-athletes and coaches."
"I would like to thank President [Dr. Christopher E.] Hopey and director of athletics Jeremy Gibson for their faith in me, and I look forward to working with them to bring this college to new heights on the ice, in the classroom and within the community," added Dennehy.
Merrimack recently passed the 10-win threshold after posting a regular-season sweep of then-No. 1 Boston University, securing the first season series sweep of BU in school history and the program's third and fourth wins against a top-ranked team and first in nearly 20 years.
In 2015-16, Dennehy's leadership of a young Warrior squad produced the highest finish in the league standings in three years. Merrimack started the season 6-1-3 and hosted a playoff series at Lawler Rink for just the third time ever, as the Warriors defeated New Hampshire to advance to the Hockey East quarterfinals for the second straight season.
Off the ice, the Merrimack Men's Hockey program continues to shine. The program posted a perfect Academic Progress Rate (APR) score for the third straight year and earned an NCAA Public Recognition Award for ranking among the top-10 percent nationwide in APR for the third straight year.
Additionally, a league-high 19 Warriors earned Hockey East All-Academic honors in 2015-16, marking the third straight year and fifth time in the last eight season that the program paced Hockey East in All-Academic accolades. Merrimack has also had a Top Scholar-Athlete in each of the last three years and had five student-athletes earn that distinction in 2015-16.
Dennehy became the seventh head coach in program history on June 30, 2005. He came from Massachusetts (2000-05) and also spent time at Princeton (1994-99) and Fairfield (1999-00).