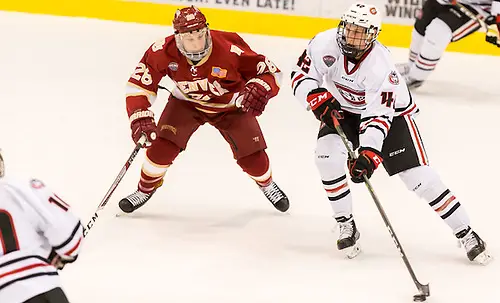 Good work can always get better.
That appears to be the mantra at the NCHC conference office in Colorado Springs, Colo., almost four full seasons into the league's playing existence.
That the NCHC is experiencing another strong season compared to other conferences around the country is nothing new. If anything, it's expected any more.
Two seasons after six NCHC teams qualified for the 2015 NCAA tournament, the league is currently eyeing for this year's event at least four entries with Minnesota Duluth, Denver, Western Michigan and North Dakota all sitting in the firmer half of the PairWise Rankings' top 16.
There could be more coming, too: St. Cloud State sits at 16th, while Omaha (19th) and Miami (23rd) aren't yet out of the running.
That largely boils down to what the NCHC's eight teams have been able to do against non-league foes.
"From a competitive standpoint, the conference has shown once again that we're certainly one of the strongest if not the strongest in the country," NCHC commissioner Josh Fenton told USCHO.com during a phone interview Tuesday. "That success, as we measure ourselves against other conferences across the country, is in nonconference competition.
"We've won, with I believe all non-conference games completed at this point in the entire country, at a .663 winning percentage, which is the highest winning percentage that we've had in non-conference play since we've started. That speaks to the point of the opportunity of maximizing the number of teams in the national tournament.
"Conference competition, you're only .500 – somebody wins, somebody loses, there might be a tie – and so the way in which we as an entire conference can gain strength is through non-conference results, and full credit (goes) to all eight member institutions for winning at that combined winning percentage, which has four or maybe five, maybe an outside chance of six (NCHC) teams in the NCAA tournament," Fenton continued. "I do believe that competitiveness overall is cyclical and certainly ebbs and flows a little bit, but we'll certainly take and try to do what we can with the success we've had in the past few years, including this current year."
Outside of on-ice results, plenty else has happened across the NCHC's footprint in recent months. The conference redesigned its website last summer and enhanced production standards for its digital video network.
Ongoing improvements don't end there, though.
"I think we're always focused on a few key things," Fenton said. "First and foremost is experiences for our student-athletes at the eight member institutions, whether that be during the regular season, associating with officiating, regular season operations or exposure and promotion of their programs throughout the regular season. That's very important, and certainly the conference tournament (finals) weekend at the Frozen Faceoff at the Target Center in downtown Minneapolis, we want that to be an excellent experience for the participant, so that's been and always will be a focus.
"Secondly, and frankly somewhat equally, is the experience for our fans. How do our fans engage with the conference and our eight member schools through the course of the year? There are a lot of things related to the participants and the fans, but we try to keep those two groups at the top of the list. I think we've continued to make good strides in each of those areas over the past year."
Potential NCHC expansion was a hot topic of conversation last year until, in August, the league denied membership to Arizona State and Minnesota State. This week, Fenton touched on the decision to stay where the conference is.
"We went through a long, arduous process, a good process, during the summer to look introspectively at ourselves with some consideration of outside inquiries, if I can call it that, and came to the conclusion that our focus at the end of the summer – and will continue to be into the future – is on strengthening the eight member institutions," Fenton said.
"I can tell you from that time to us talking (Tuesday), we've had very little to no conversation regarding the topic of expansion."
With the league's eight current teams entering the regular season's home stretch, the conference playoffs are appearing larger on the horizon. This year's NCHC finals weekend, dubbed the Frozen Faceoff, takes place March 17-18 in Minneapolis.
Campus sites host first-round best-of-three series March 10-12 before Minneapolis hosts semifinal games, a third-place game and the NCHC playoff final.
The conference wants to make the Frozen Faceoff a destination event each season, and organized fan festivals, fan skates on the Target Center ice and a NCHC awards program help in that regard. However, variables remain that can never be fully locked in here in the second week of February.
"We're in a mode right now where we're focusing on promotion and the sales aspects for that event and certainly just the overall operations of that event, not so dissimilar to what other conferences are doing," Fenton said of this year's Frozen Faceoff weekend. "Our ticket sales continue to remain very similar to where we've been in years past.
"I think the challenge with college hockey is that, the way in which playoffs are structured, you're not always sure who may be there in that championship weekend, so a lot of the buy-in or a lot of the interest may not happen until late, and I don't think we're any different than any other conference in that regard. We are challenging ourselves to try and create an event experience that somewhat insulates ourselves from the teams that are participating.
"I think we've grown and made strides in that regard," Fenton continued, "and I think we hear from fans that it's a great event experience and that they want to circle that weekend on their calendar regardless of who's there, but we also need to be understanding and realize that, can we get rid of the influence related to teams being there or not being there? Probably not fully, and so a lot of what comes to be at that weekend unfortunately may not be known until we get closer to that weekend, but we're certainly working hard and we encourage fans to take advantage of opportunities because we think it's going to be a great event regardless of the four teams that are there."
As for the NCHC's general health, knowing where the conference has already come from and projecting where it's going, Fenton is reasonably happy with the optics. He knows, however, that improvements are there to be made.
"We're in a good spot," Fenton said. "Three and a half years, almost four years into it, we still have lots of growing to do.
"We still can sell more tickets at the Frozen Faceoff, we can still provide fans a better experience during the regular season and we won't stop until we've accomplished all of that and then some, but generally we've been very pleased and happy with the success that's been had to date."
Players of the week
Offensive player of the week: Colt Conrad, Western Michigan. The sophomore forward's four-point showing last weekend helped WMU to a win and a tie against non-conference foe Arizona State. He finished the two-game set with three goals on seven shots on net.
Defensive player of the week: Neal Pionk, Minnesota Duluth. The sophomore Bulldogs defenseman posted three points during UMD's win and a tie against visiting Omaha. Pionk blocked seven UNO shots in the series, including five during Duluth's 5-0 shutout victory Saturday.
Rookie of the week: Wade Allison, Western Michigan. Allison equaled Conrad's four-point output against ASU. A freshman forward, Allison is currently on a four-game point streak, recording one goal and five assists in that span.
Goaltender of the week: Hunter Miska, Minnesota Duluth. Duluth's freshman goalie was excellent last weekend, conceding only two goals against a UNO team featuring the NCHC's top power play unit. Miska held the Mavericks scoreless for the series' final 83:18.