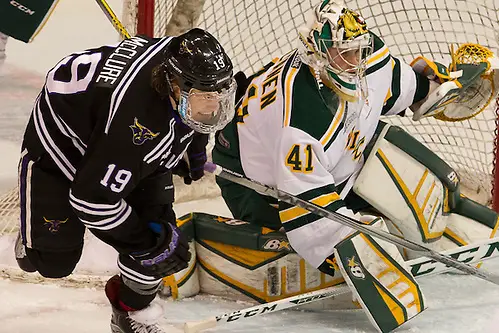 Each week during the season, we look at the big events and big games around Division I men's college hockey in Tuesday Morning Quarterback.
Jim: Paula, I know it's pretty typical to start by talking about the poll and I'm sure we'll get to that very soon. But before we get to that, I wanted to begin with what has been an individual and team performance of late that has flown under the radar a bit.
I'm talking about Northern Michigan goaltender Atte Tolvanen and his team which on Saturday posted their fifth consecutive shutout, tying an NCAA record. Tolvanen has not allowed a since Jan. 20, a span of 335:39. Over that stretch, he has made 207 consecutive saves, including a career-high of 48 last Saturday night against Alaska Anchorage to extend the streak.
Right now, Tolvanen needs less then 40 more minutes of shutout hockey to break the all-time mark of 375:01 second set by Lake Superior State's Blaine Lacher back in 1994.
We've seen some impressive goaltending performances over the last 15 years or so as goals against numbers have shrunk in that same time period. But might this be one for the ages?
Paula: His performance is unbelievable, especially since he's not been sharing time in net with anyone since his streak began. It's not just that he has posted five straight shutout performances, but that he's done so in five consecutive games for Northern Michigan.
To answer your question, yes, I think that this might be one for the ages. Tolvanen was so under my radar that I didn't even know how he good he is until this streak. He had really solid stats last season as a freshman, with a .929 save percentage in 25 games. Part of it, of course, is that he's playing for a team that hasn't seen a lot of success in recent seasons. Last year, he was 6-10-6 with a goals-against average of 2.46; this year, he's 10-17-4 with a .923 save percentage and 2.40 GAA through 31 games.
Looking at his numbers for this season, it's amazing to see that half his wins, too, have come in these last five games. I don't know what his GAA was before this streak and I am not as familiar as I used to be with the Northern Michigan team, but the Wildcat defense is 19th nationally right now – certainly bolstered by these last five games – so something has happened recently to lead to Tolvanen's success, and the only thing I can think of is that he himself has gotten hot.
We both know what a hot goaltender can do for a team about to enter the playoffs. And while I mean no disrespect to Minnesota State, Northern Michigan's next opponent, I'd love to see Tolvanen set a new NCAA record.
Jim: Certainly, to say that people will be keeping an eye on that Northern Michigan game on Friday is certainly. And upcoming opponents need to keep an eye on this team in general which is getting hot at the right time.
The Wildcats aren't the only team catching fire right now. While they are unbeaten in nine (7-0-2), Providence has nine straight victories to move from 1-6-2 in Hockey East to 10-6-2 and are in position to possibly win the regular-season title. And Canisius has a 12-game unbeaten streak going right now (9-0-3) and, though not getting recognition in the polls, is giving Air Force a battle for the Atlantic Hockey regular-season title. In fact, the Ice Griffs are currently in first place by a point, though the Falcons have a game in hand.
I feel like this time of year, it's difficult to get on a streak due in part to every team battling for points. To come out of each weekend with two wins, particularly in leagues where you typically play the same opponent both nights, is incredibly tough. Am I overplaying these streaks or does the timing make these streaks even more impressive in your eyes?
Paula: I don't think you're overplaying them. In the case of Northern Michigan, for example, the Wildcats have four regular-season games remaining and are tied for sixth place in the WCHA with Lake Superior State and are a point behind Ferris State. All three of those teams want to finish as high as possible for playoff position, and if NMU heads into the playoffs on that streak, they could have a momentum advantage.
That's the key, isn't it, the ability to sustain a streak like that? Look at Penn State's five-game slump broken by snapping Wisconsin's five-game win streak. You and I speculated earlier about Penn State's ability to sustain their incredible opening pace, and we had an answer recently. Because of the nature of the Big Ten, though, there's still a month of regular-season play remaining. Should anyone in that league get red hot, that could mean a lot heading into the single weekend of B1G tournament play.
Canisius is another team riding a really hot goaltender, senior Charles Williams. After languishing with Ferris State for four seasons, Williams has the top save percentage in the country (.943) and the seventh-best goals-against average (1.92). The Golden Griffins are a point ahead of Air Force in the standings, but Air Force has a single game in hand.
Streaks are funny things. If they stop at an inopportune time, they can deflate a team.
Jim: I guess that is the other side to a streak: when does it stop and, this late in the season, what impact that has on a team. It's never fun for a streak to end in, say, a league semifinal or in an NCAA regional game.
We've touched on league races a bit, well at least the two-team battle for first place in Atlantic Hockey. But three other league will come to a close after two more weekends. The WCHA title is sewed up by Bemidji State's absolute dominance. But in Hockey East, what seemed like it could become a two-team race between Boston College and Boston University changed significantly when both teams lost on Friday. Now six teams are in the middle of a race where most of them face one another over the final two weeks of play.
In the ECAC, it's equally as tight with the top four teams separated by two points and Quinnipiac lurking (though struggling a bit) six points out of first.
With so much time left, is to too early to look at the Big Ten race? And what are your thoughts on the NCHC?
Paula: As someone who covers the Big Ten, I wish I could say with certainty that one of the top three teams – Minnesota, Wisconsin, Penn State – has the single best chance of taking the regular-season title. It's not merely the number of games remaining that makes it difficult to predict; there is a serious lack of consistent play among every single team in B1G hockey. It's almost as though each is having a rebuilding year, but each for different reasons. And I say that knowing that there are a couple of teams aren't rebuilding at all.
If I were forced to choose, I'd say Minnesota has the best shot simply because the Gophers have been less inconsistent than the other teams. How's that for a ringing endorsement?
Given that there are six regular-season games remaining for both Denver and Minnesota-Duluth and they don't meet each other in that span, it's impossible to make that call, too. Each team also has two remaining home games, four on the road. Should be an exciting end to that conference's season.
There's something completely unrelated to the poll that I'd like to mention, too, Jimmy, and that's the passing of Detroit Red Wings owner Mike Ilitch. Ilitch's commitment to hockey went way beyond the NHL. Ilitch began Little Ceasars amateur youth hockey in 1968, a program that has seen over 200 alumni play Division I hockey. Additionally, Ilitch's commitment to college hockey itself is well known. There aren't too many NHL arenas that hoist a Division I banner and leave it in the rafters for a season, as Joe Louis Arena does for the Great Lakes Invitational champs. His legacy is greater than most people realize and he will be missed.
Ilitch's connection to college hockey reminds me of how important it is to have that kind of advocacy of NCAA hockey from professional organizations. It's Beanpot time, so I know you know what I mean.
You've Got Mail
Paula mentioned last week some of the NCAA tournament's regional attendance issues. That, coupled with the current potential for a Frozen Four where all competing teams are from the same region or conference (see 2005) seems to warrant a reevaluation of the NCAA's policy of dispersing teams, often intentionally outside of their respective regions, in the first and second rounds. Your thoughts? – Dan M., Minneapolis, Minn.
Jim: I think that there are tweaks that can be made to the NCAA tournament, most notably to how the regional structure. I'd love to see the NCAA look into two eight-team regionals that play a Thursday-Saturday/Friday-Sunday format like men's basketball. And I'd also be open to more discussion about hosting regionals at the site of the highest seed.
But to go as far as to make Eastern teams play Eastern teams and Western teams play only Western teams in the opening rounds so that you have a diverse Frozen Four doesn't make sense. I think the "national" portion of the national tournament should never be lost. And more importantly, I don't think it's fair to cannibalize a very strong conference by forcing teams to face one another in the first two rounds.
If we end up with four participants at the Frozen Four hailing from the same conference, I have no problem with it. That just proves how strong that conference is and these teams should receive congratulations.
Paula: I can't agree more about any artificial attempts to balance out teams by conference or geography. I know that the NCAA wants to attract as wide an audience as possible for the Frozen Four – both at the event and on television – but I don't have any problem with a Frozen Four that features three or all of its field from a single conference. I don't think that this would be a common occurrence given the current parity in college hockey and the potential for upsets in a one-and-done format.
I also think that two eight-game regionals is something to explore. Anything has to be better than the current situation of regional attendance haves and have nots.