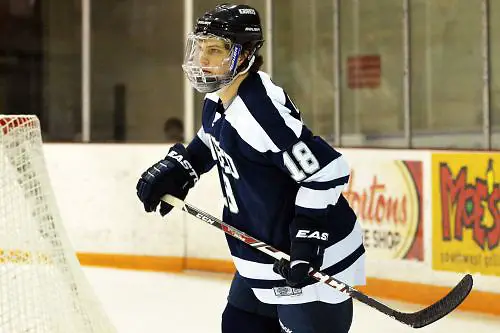 The SUNYAC on Thursday announced its annual individual awards and All-Conference Teams.
For the second consecutive year, Geneseo's Stephen Collins is the recipient of the Herb Hammond Player of the Year award. The senior forward currently leads the 10th-ranked Knights with 48 points in 26 games with 19 goals and a team-high 29 assists, which also ranks him second in the nation and first in the SUNYAC.
Oswego's Stephen Johnson is the Defensive Player of the Year. The senior defenseman racked up 30 points for the Lakers, with a combined 23 assists, which currently is a conference high for defensemen and sits him at 14th in the nation of all Division III skaters. Additionally, Johnson is third in points and assists for the Lakers, who are ranked second in Division III.
Mike DeLaVergne of Buffalo State has been awarded the 2017 SUNYAC Goaltender of the Year. The senior goaltender recorded a 16-6-1 regular-season performance, with an overall .931 save percentage and a 1.92 GAA.
Geneseo's Conlan Keenan has been selected Rookie of the Year after tallying a combined 21 goals and 12 assists in 25 games for a total 33 points during the 2016-2017 regular-season campaign.
2016-17 First Team All-SUNYAC
| Player's Name | Position | Class | School |
| --- | --- | --- | --- |
| Stephen Collins | F | Sr. | Geneseo |
| Shawn Hulshof | F | Sr. | Oswego |
| Kenny Neil | F | Sr. | Oswego |
| Stephen Johnson | D | Sr. | Oswego |
| Ayrton Valente | D | Jr. | Plattsburgh |
| Mike DeLaVergne | G | Sr. | Buffalo State |
2016-17 Second Team All-SUNYAC
| Player's Name | Position | Class | School |
| --- | --- | --- | --- |
| Conlan Keenan | F | Fr. | Geneseo |
| Jordan Carvalho | F | Sr. | Morrisville |
| Joseph Santino | F | Sr. | Morrisville |
| Brody Power | D | Jr. | Buffalo State |
| Derek Stahl | D | Sr. | Geneseo |
| Matt Zawadzki | G | Sr. | Oswego |
2016-17 Third Team All-SUNYAC
| Player's Name | Position | Class | School |
| --- | --- | --- | --- |
| Tim Kielich | F | So. | Brockport |
| Darren McCormick | F | Jr. | Cortland |
| Samuel Wilbur | F | Jr. | Fredonia |
| Cole Stallard | F | So. | Plattsburgh |
| Chris Raguseo | D | Sr. | Oswego |
| Philip Middleton | D | Fr. | Plattsburgh |
| Eric Bogart | G | So. | Fredonia |