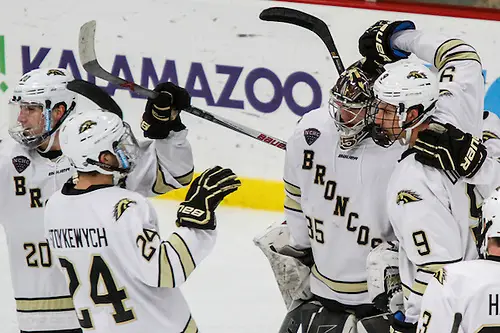 Say this for Western Michigan head coach Andy Murray: He doesn't like to get ahead of himself, and he works to make sure his players don't either.
These are undoubtedly heady days for the Broncos' hockey program.
Western is 4-1-1 in its last six games and is fresh off its first-ever series sweep of North Dakota last weekend in Kalamazoo, Mich.
A WMU team that won eight games last season could triple that figure this time with a strong postseason run. Ahead of a visit to Colorado College later this week, the Broncos stand at 18-8-4 with four regular-season games left.
A home series against second-ranked Minnesota-Duluth (19-5-6) remains after the trip to Colorado Springs, but the Bulldogs aren't on Murray's mind just yet. To hear him say it, even Saturday's game against CC isn't.
"Our goal is to play our best game on Friday night this week and then you'll never ever play your best-ever game," Murray said at his press conference this week. "We'll always be looking for that, so we're pressing every night to better than we were the night before, and we're going to need our very best on Friday.
"We've played some solid hockey this season, but if you ask our players what have we accomplished yet, they will tell you, 'Nothing.' We've got to go out and establish our game in Colorado on Friday night, and we've got to go in there with the idea to have the puck a lot and to play as well as we can play because anything less than that, we won't come out of there with a win."
Not everything went Western's way last weekend in a home sweep against UND. Two goals late in the third period Friday gave WMU a 4-2 win before the Broncos won again Saturday 3-2 despite being outshot that night 46-19.
The Broncos will be glad for the wins that boosted them to No. 5 in the PairWise Rankings, but Murray downplayed any kind of boost that the wins over the Fighting Hawks might've given to his own team.
For him, he quickly moved on to this week's series.
"I'm not a big one on the word 'confidence' because I think when you play good, you feel good and when you play bad, you feel bad, and what's confidence?" Murray said. "If that's all we needed, then I'd give it to them before every game, but it's got to be earned.
"I think the bottom line is we played a real good North Dakota team. They played real physical and hard against us. I love those types of games, where it's north-south. We have them all the time against North Dakota.
"The fans are entertained, and what we have to do is stick to the process and do the things we do well, have all of our forward units going and have a group of defensemen playing back there who can defend and move the puck," he continued. "I enjoyed the wins, but about 45 minutes after the (Saturday) game, we started thinking about Colorado and watching tape on them."
This weekend's series at CC (7-20-3) will provide Western with a challenge it hasn't faced yet this season. Colorado Springs' World Arena features an Olympic-sized ice sheet, 200 feet by 100 feet, something the Broncos haven't played a game on since they went 0-2 in the first round of last season's NCHC tournament at St. Cloud State.
In addressing playing on the big ice, Murray channeled his inner Gene Hackman.
"The big thing for me is not let it affect you mentally," Murray said. "The distance between the (faceoff) dots is the same in any rink, and we can use the…you young people here probably don't remember the movie 'Hoosiers,' but we can do the same thing and we can measure from the gym back in Hickory to the gym at the U in Indiana there, and it was the same from the floor to the rim. Well, what we'd measure here (is) from the dots at Lawson (Ice Arena in Kalamazoo) and then we'll measure between the dots out at CC, because it's the same, so the extra room is on the outside.
"As long as you defend and you make sure that you play inside the dots, it's the same as playing here. Conversely, if you don't bring the puck in between the dots, you're never going to score there because there's going to be a lake to the outside, so you're going to have penetrate the dots offensively, and you're going to have to make sure you defend between the dots defensively.
"To not allow it to get into your head," he concluded, "play the game that you need to play and do the things you always do, and it will be enough, when you put the effort with the execution there, you'll find a way to be successful."
Blais tipping Blankenburg down stretch
Omaha hasn't played itself out of contention for a NCAA tournament spot, but more breaks need to start falling the Mavericks' way if they're going to land there.
UNO (15-12-5) stands at 19th in the PairWise, behind four teams tied for 15th and 17th place, respectively. Help from the teams above it would be welcomed, but Omaha also has to hold up its own end of the bargain, and that continues this weekend with a trip to No. 16 North Dakota (15-13-3).
The Mavericks have had their fair share of success on the road against UND, going 4-5-1 all-time to date in Grand Forks. UNO has struggled more commonly at home (4-9) against the Hawks, including two blowout losses earlier this season at Baxter Arena.
Omaha head coach Dean Blais, currently in his eighth season with the Mavericks, has yet to win a series against his former team. He knows that, later this week, he will be visiting a Hawks squad looking to redeem itself after two losses last week at WMU.
"I don't know if it's going to help us to have a mad team up there a seven-hour bus ride from here," Blais said this week at his press conference, "but certainly we've had some success up there, and it'll be a good series, unlike the games here in January when we got beat 9-1 and 7-3."
UNO split its last series in Grand Forks, winning 4-3 in overtime on Jan. 15 of last year before falling 5-1 the following night. Alex Blankenburg, the Mavericks goaltender who played in both games and picked up the win in the series opener, is likely to start again Friday at Ralph Engelstad Arena.
A 33-save performance from Blankenburg gave UNO a 6-3 win at WMU on Feb. 11 and snapped a recent five-game losing streak.
"I don't know if we're playing as well this year at this time as last year," Blais said. "Part of it is goaltending, and we talked about this just a short while ago, but one of the goaltenders has to step up and be the guy, and I think we kind of named Evan (Weninger) as being the guy and then Alex Blankenburg steps in on Saturday and played great and we ended up winning 6-3, and he's probably going to get the go on Friday night up in Grand Forks.
"He's earned it, he's been here for two years and has gone through all the drills and the wars of stopping 100 shots a day (in practice)."
Blankenburg's work ethic, Blais suggested, has been contagious.
"What makes it special is the guys just kind of rally around him," Blais said. "I mean, they like all the goaltenders, I think they play hard for all of our goaltenders, but I think Alex is one of those guys where he's a great student, obviously a 4.0 (GPA) last year, and first one on the ice and usually the last to leave. He'll play the rebound game whether he'll be starting on Saturday or playing on Friday.
"It shows that he wants to do everything he can and anything he can to help the team, so when he gets the chance, the guys are always ready to maybe I guess play a little bit harder for Alex, is what I'm seeing right now."
UNO was idle last weekend ahead of the trip to Grand Forks. The Mavericks will close regular season play next week with a home set against NCHC-leading Denver (22-6-4).
Players of the week
Offensive player of the week: Troy Terry, Denver. The sophomore DU forward scored three goals in a pair of 5-2 wins last weekend against Miami. Two of those goals came on power-play chances.
Defensive player of the week: Will Butcher, Denver. The Pioneers' senior rock at the blue line also was a force at the other end of the ice last weekend, collecting four points in the wins over MU. Butcher finished the weekend with a goal, three assists and as many blocked shots.
Rookie of the week: Hunter Miska, Minnesota Duluth. The freshman goaltender's great form so far this season showed no signs of slowing last weekend as UMD picked up five points at Colorado College. Miska stopped 54 of the 57 CC shots he faced and currently posts a .927 save percentage and 1.93 goals-against average, both good for second in the NCHC.
Goaltender of the week: Ben Blacker, Western Michigan. Blacker, a freshman, played a key part in WMU's home sweep over UND. He stopped 76 shots on the weekend and was voted the first star of the night in Western's 3-2 win Saturday as he made a career-high 44 saves.