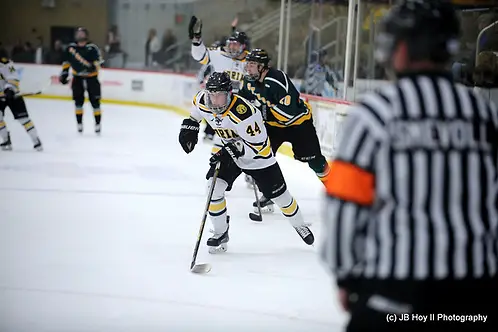 Adrian's hockey team hasn't played a game since the first Saturday in March. The Bulldogs had a bye in the opening round of the NCAA tournament.
Coach Adam Krug isn't thrilled about it. His team last played March 3 when it lost 4-3 to St. Norbert in the NCHA title game.
"I'm not a fan of it at all, Krug said. "Whether we won or lost our conference championship game, we want to be able to keep playing."
Fortunately, the wait ends Saturday when the Bulldogs head out on the road to battle reigning national champion Wisconsin-Stevens Point.
The Bulldogs are making their fifth-consecutive appearance to the national tourney, their third under Krug, who is a former standout at Adrian. Krug said that his team has done what it can to make the best of the extended time off.
"We've tried to manipulate the week to where it feels like a game week, and this week is like starting a new game week," Krug said. "We did things to make sure the guys are working hard. We have tried to emulate game situations, which isn't easy, but we will be ready for Saturday."
If there is anything that is good for the Bulldogs it's that they aren't unfamiliar with the Pointers. The two teams played three times this year, with Adrian going 1-1-1 against Wis.-Stevens Point.
"There won't be any abnormal challenges, especially with how well we know them," Krug said. "We have played six times in the last two years. There are no secrets. We didn't even exchange game film this week. At this point, it's about the coaching staff making sure players are put in the right position to be successful."
This will be the second consecutive year the Bulldogs have played the Pointers in the tourney. A year ago, Adrian was knocked out 5-2 in the quarterfinal round. Adrian is seeking its first final four appearance since 2015.
Depth has been instrumental to the Bulldogs' success. Cory Dunn, Kyle Brothers and Trevor Boyd lead the way, tallying more than 30 points apiece. Dunn has scored eight goals and dished out 26 assists, while Brothers has come through with eight goals and 25 assists. Boyd has racked up 16 goals and 16 assists.
Ten other players have tallied 10 or more points.
"We have had different guys step up at different times," Krug said. "If you look at our depth, we have a bunch of guys in the 20s and high teens in points. Our depth has been phenomenal."
By Adrian standards, it has been a bit of a down year. This is the first time in the 10-year history of the program that the Bulldogs haven't won at least 20 games. They are 19-6-2 heading into the tourney.
"We had some NCAA suspensions and didn't get a couple of the big wins against big-time opponents; we also went 0-3 against our biggest conference rival (St. Norbert)," Krug said. "With that being said, I think our best players are getting back to being our best players."
Expectations are always high at Adrian and the Bulldogs are hoping this is the year they rise to the top of the college hockey mountain by winning their first national championship.
"We have a big target on our back and we are going to get an opponent's best effort night in and night out," Krug said. "You can't let the highs get too high and you have to minimize the damage when things aren't going your way. At the end of the day, it's about coming to the rink and getting better every time out."