A pair of teams from Hockey East will play out East this weekend with a chance to play for a national title in two weeks' time in Chicago.
Hockey East champion UMass Lowell joins conference mate and at-large bid Notre Dame, in addition to at-large bids Minnesota and Cornell in Manchester, N.H., at the SNHU Arena.
Here's the schedule for the Northeast Regional, followed by a look at the four teams:
• UMass Lowell vs. Cornell, noon EDT Saturday, ESPN3
• Minnesota vs. Notre Dame, 3:30 p.m. EDT Saturday, ESPNU
• Regional championship, 3:30 p.m. EDT Sunday, ESPNU
Minnesota Golden Gophers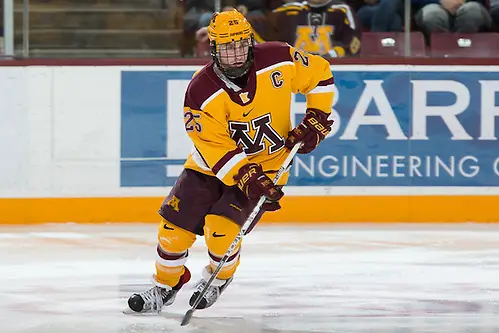 Team page | Statistics | Roster | Schedule/results | History
Coach: Don Lucia, 17th season at Minnesota, 29th overall
Record: 23-11-3 (14-5-1 B1G, first)
How they go in: At-large bid
Regional seed: First
Last NCAA appearance: 2015
Best NCAA finish: Champions, 1974, 1976, 1979, 2002, 2003
Why they'll get to the Frozen Four: Minnesota has experience at key positions. Seniors Justin Kloos, Vinni Lettieri and Taylor Cammarata all played in the Gophers' loss to Union in the 2014 NCAA championship game.
Why they won't get the Frozen Four: Eric Schierhorn has been hit or miss this season in goal and the Gophers can't afford him having a bad game in the tournament.
After missing out on the NCAA tournament last season, Minnesota left no doubt about whether its season would continue beyond the conference tournament this season.
The Gophers will be part of the tournament for a NCAA-record 37th time. The Gophers also became the first team in NCAA history to win six consecutive regular-season conference championships this season.
"We have the highest of expectations," senior captain Justin Kloos said of getting back into the NCAA tournament. "So I don't know if we're trying to prove anything to anyone other than ourselves. We've been through a lot and we just want to play our best hockey at the end of the year."
Tyler Sheehy, this year's Big Ten player of the year, led the Gophers with 53 points (20 goals, 33 assists). Kloos and fellow senior Vinni Lettieri both scored 18 goals this season.
Goaltender Eric Schierhorn posted a 23-11-3 record with a 2.60 GAA and a .908 save percentage.
Minnesota lost its first game at the Big Ten tournament in double overtime to Penn State, but had an NCAA tournament berth in the bag going into the game.
"It was tough to lose in double overtime on Friday, but the blessing is that we knew we were in the tournament," Minnesota coach Don Lucia said. "The extra day off was probably good for us. We've talked about how we haven't had an off week the whole second half and some guys talked about they felt their legs a little bit on Friday."
Along with the extra bit of rest, Lucia said he liked the way Minnesota played in the 4-3 loss.
"When I watched the video, I thought that as the game progressed, our play improved," Lucia said of the loss to Penn State.
Minnesota will play Notre Dame in its first NCAA tournament game this season, a team that the Gophers have history with in more ways than one. They didn't play their future conference rival this year, but did the four previous seasons. Lucia played at Notre Dame from 1977 to 1981 and his son Mario skated for the Irish from 2012 to 2016.
"It's a very good regional, and a great matchup for us to start with against Notre Dame," Lucia said. "We know them, and they know us. We're excited to get back into the tournament and compete for a national championship."
The Gophers nabbed the final No. 1 seed in this year's tournament, but that doesn't mean the road to Chicago is easy. Minnesota may have the more national championships and Frozen Four appearances compared to the other teams in the region, but the fact that its last title was 14 years ago is evidence of how hard it has become to win four consecutive games at the end of the season.
"What's the old adage this time of year? Survive and advance," Lucia said. "It doesn't matter how you do it. You've got to find a way to try and win the game the first day and move forward and prep for whoever you play in Game 2."
— Drew Claussen
UMass Lowell River Hawks
Team page | Statistics | Roster | Schedule/results | History
Coach: Norm Bazin, sixth season at UMass Lowell, ninth overall
Record: 26-10-3 (14-7-1 Hockey East, tied-first)
How they got in: Hockey East playoff champions
Regional seed: Second
Last NCAA tournament appearance: 2016
Best NCAA finish: Third place, 2013
Why they'll get to the Frozen Four: This is a deep team both offensively and defensively that can score with four lines and attack aggressively from the point. It also has a potent power play that changes games. This may be Lowell's deepest scoring team of all time.
Why they won't get to the Frozen Four: There still is a little bit of inexperience that at times can change momentum in games. When Lowell is successful it is aggressive but if it falls into a shell, it's not a good formula. Tyler Wall is the all-time wins leader among rookie goaltenders at Lowell but you still have to worry about inexperience from a natural freshman.
Just seven years ago, UMass Lowell was one of college hockey's afterthoughts.
But six seasons, five NCAA tournament appearance, two regular-season titles, five consecutive Hockey East tournament game appearances and three Lamoriello Trophies has changed that thinking a bit.
Certainly the culture of the program, the engagement of the fan base and the ability to seek and find top talent exists.
That, though, makes the logical next step a national title.
In 2013, the team was close. A 3-2 overtime loss to eventual champion Yale in the national semifinal is the closest this school, currently celebrating its 50th year of hockey, has come.
Before there is a national title, though, returning to the Frozen Four is the eminent goal.
If the River Hawks return, they'll take the same Yellow Brick Road that paves its way through nearby Manchester, N.H. That was the region that Lowell dominated in 2013 and that is the path to Chicago again this year.
But coach Norm Bazin, in his sixth season with the program, is a realist who knows it won't be easy.
"Every team that's in the NCAA's is a great team," Bazin said. "We're pleased to be able to bring a lot of our fans to Manchester. That's a big bonus for us.
"We'll have a lot of homework to do. But after we do our due diligence, we know we're going to have to bring our 'A' game to have any opportunity at success."
That 'A' game has shone through the later part of this season. Aside from a four-game skid at the end of January, the River Hawks won 18 of 19 games, including a 5-1 win over Notre Dame in the Hockey East semifinals and a 4-3 edge-of-your-seat victory over Boston College in the title game.
Similar to 2013, this year's Lowell team has succeeded through depth. While the top line of Joe Gambardella, C.J. Smith and John Edwardh have been the offensive catalyst at times, all four lines have proven scoring talent, particularly the all-freshman line of Colin O'Neill, Ryan Lohin and Kenny Hausinger.
When asked what has made the difference, not just this year but in Bazin's six seasons on Lowell's campus, the Hockey East Coach of the Year points to belief.
"Our whole school is ecstatic," said Bazin. "We've done it with great kids and these kids believe. Before you succeed you have to believe. I really think believes they can do it."
"Doing it" this weekend would mean a trip to Chicago. And there, Lowell can certain take its next giant leap to college hockey greatness.
— Jim Connelly
Cornell Big Red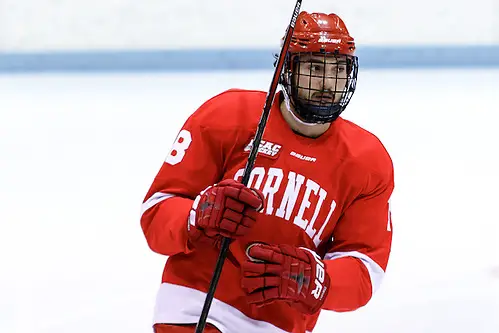 Team page | Statistics | Roster | Schedule/results | History
Coach: Mike Schafer, 22nd year at Cornell and overall
Record: 21-8-5 (13-4-5 ECAC Hockey, third)
How they got in: At-large bid
Regional seed: Third
Last NCAA tournament appearance: 2012
Best NCAA finish: Champion, 1967, 1970
Why they'll get to the Frozen Four: This is one of the most balanced Big Red teams in recent years; Cornell is solid in all aspects of the game.
Why they won't get to the Frozen Four: Despite being a better skating team than in years past, Cornell can still have trouble against teams with speed, as it did in the ECAC title game against Harvard.
In addition to making its first NCAA tournament appearance since 2012, Cornell is also ready to showcase a new style of play it didn't feature the last time it was on the national stage.
In this past, the Big Red has been typecast as a lumbering, defense-first team. Senior goalie Mitch Gillam and a steady defensive group lend creditably to the latter characterization, but the Big Red have adapted to the changes in college hockey by adding more speed to its lineup.
Cornell's freshman class features several smaller players who can skate, including defenseman Yanni Kaldis.
"The physicality is gone out of the game," Big Red coach Mike Schafer said earlier this season. "Everything is gone out of the game. You can't get into anybody anymore, so you have to be quicker and you have to be faster. We want to still play the same kind of hockey; I just think that speed will help us."
It did last Friday, as Cornell beat Union 4-1 and quieted the Dutchmen's explosive trio of Mike Vecchione, Spencer Foo and Sebastian Vidmar.
Cornell was able to do that thanks in part do that thanks in part to a variety of multi-talented players in its lineup.
Senior forward Jake Weidner was named ECAC Hockey's top defensive forward and is an excellent faceoff man. Sophomore Mitch Vanderlaan led the Big Red with 15 goals and also plays an important role on the penalty kill, while senior defenseman Patrick McCarron has matched his career total of 25 points this season.
With Gillam (.921 save percentage) solid in net, and an increased emphasis on speed throughout its lineup, the Big Red could make a push for its first Frozen Four berth since 2003.
"Look at Yale, they've been a great defensive team," Schafer said earlier this year when talking about one of ECAC Hockey's top national contenders in recent seasons prior to slumping this year. "They've always been a team that's got great skating speed and they stay above you. It's teams like that have had success on the national level and that's where Cornell belongs. We want to get back to that level and to do that, we've got to switch up. We're in transition. We've got some guys who are good sized, but we've got to make a transition and make sure that an ingredient in our recruiting is speed."
— Nate Owen
Notre Dame Fighting Irish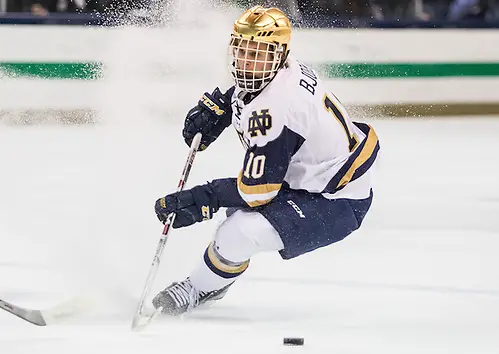 Team page | Statistics | Roster | Schedule/results | History
Coach: Jeff Jackson, 12th season at Notre Dame, 18th overall
Record: 21-11-5 (12-6-4 Hockey East, fourth)
How they got in: At-large bid
Regional seed: Fourth
Last NCAA tournament appearance: 2016
Best NCAA finish: Runner-up, 2008
Why they'll get to the Frozen Four: The Irish system favors playing as front-runners, so if they can grab the leads and establish their forecheck, they can be very difficult to beat. Similarly, goaltender Cal Petersen has been known to steal a few games.
Why they won't get to the Frozen Four: The Irish can get pushed off their game at times by teams that can play fast and physical. Also, this Notre Dame team hasn't fared well outside of the confines of the Compton Family Arena, so they need to prove they can succeed away from home.
Notre Dame coach Jeff Jackson knows going into the NCAA tournament that he has the horses to compete and win. Even if that didn't show last weekend in the Hockey East tournament.
Jackson's bunch were pretty hot coming into the TD Garden, having swept Providence the weekend prior and came within a game of winning the Hockey East regular-season title outright (they instead finished fourth).
But he's also aware that the effort Notre Dame put forth against UMass Lowell, a potential opponent in the regional final for the Irish if they can get past top-seeded Minnesota on Saturday, things have to improve.
"It boils down to our game with the puck," said Jackson. "That's where we got in trouble with UMass Lowell.
"Our forwards if they do a good job with the puck, minimize the mistakes that put our defense and goaltender in a difficult position."
What the Irish will focus on this week are the positive from a strong second half of the season and what the team did right to have success.
"At this point in the season, it doesn't matter who you play," said Jackson. "It's more about you or your game.
"The last six weeks has been a grind for us. We've had to play some very tough teams. We weren't happy with the way things finished out in Boston, but we had a really good second half, especially the last six weeks."
That said, its opponent in Saturday's opener, Minnesota, is one that is familiar from the recent past – Notre Dame has played Minnesota each of the last four seasons – and will become more familiar moving forward when Notre Dame joins the Big Ten next season.
"But we've seen Minnesota each of the last four years," said Jackson. "We know the quality of team that they are and the things they bring to the table.
"I think they're very skilled and they play with pace. They've got a lot of weapons. They're not a one- or two-line team."
— Jim Connelly