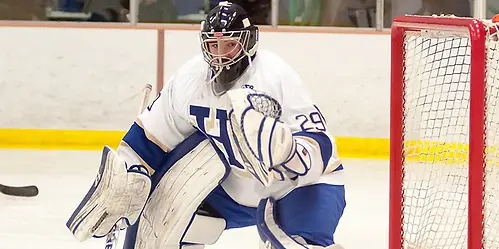 Hamilton junior goaltender Evan Buitenhuis has been chosen as the 2017 winner of the Sid Watson Award, symbolic of the best NCAA Division III men's hockey player.
Buitenhuis went 17-5-4 this year with a 1.78 GAA and a .941 save percentage.
"Evan has a tremendous passion and work ethic for the game," said Hamilton coach Rob Haberbusch in a news release. "He is literally the first person on the ice for practice and the last to leave. His accomplishments are a result of his constant drive to improve. Evan is equally as tremendous a person and teammate. He is selfless, humble and brings a positive attitude to the rink each day. He keeps constant watch over the morale of the team and especially his fellow goaltenders."
Buitenhuis finished the NESCAC regular season first in both GAA and save percentage.
After an injury-riddled freshman year, Buitenhuis was named First Team All-Conference as a sophomore and First Team All-Conference and conference Player of the Year in 2016-17.
"Evan has been a major factor in Hamilton's improvement during the last three seasons," added Haberbusch. "As a team, we moved from a sixth-place finish in the NESCAC during Evan's freshman year to fourth in his sophomore year, to first this current season, his junior year. This season was just the second time that Hamilton won the NESCAC regular-season title and the first time that Hamilton reached the NESCAC playoff championship game. This season also marks the first time that Hamilton has qualified for the NCAA tournament in our 99-year history of varsity hockey."
The award is named in honor of former Bowdoin coach Sid Watson, a three-time winner of the Edward Jeremiah Award as Division III Coach of the Year. Watson won 326 games at Bowdoin in a career that spanned from 1959 to 1983.
The runner-up for the 2017 Sid Watson Award, for the second year in a row, was Geneseo senior forward Stephen Collins.