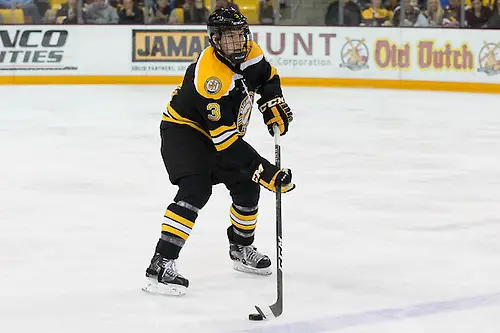 Michigan Tech junior defenseman Matt Roy signed a two-year, entry-level contract with the Los Angeles Kings on Monday, giving up his senior season with the Huskies.
Roy appeared in 42 games in 2016-17, leading the team with 21 assists and 29 penalties. He was also third in points with 26 after also scoring five goals.
Roy was named to the All-WCHA First Team after putting up 16 points in league games and helping lead the defensive corps that allowed only 2.11 goals per game. He was tied for 11th in the WCHA with eight points (three goals, five assists) on the power play. Roy was on both the coaches' and the media's Preseason All-WCHA Teams after being an All-WCHA Second Team selection in 2015-16.
Originally a seventh-round pick (194th overall) of the Kings at the 2015 NHL Draft, Roy appeared in 115 games over his three season with the Huskies, recording 55 points on 12 goals and 43 assists. He set a career-highs this season in points (26) and assists (21) and had the assist on a game-winning goal six times, including Shane Hanna's double-overtime goal in the WCHA championship game that secured Tech's bid to the NCAA tournament for the second time in three seasons.