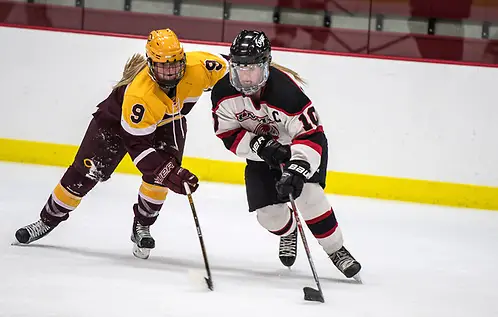 At this writing, at least 37 current, former or future college hockey players have used Twitter to announce that they had been contacted by USA Hockey (USAH) to compete as part of a replacement team in the Women's World Championships (WWC), which begin March 31, and they had turned them down. In addition, four more players who were a part of the last U-18 squad used Twitter to voice support, but had not explicitly said they had turned down USAH.
On March 15, the women on the U.S. roster who were to compete at the upcoming WWC simultaneously tweeted a statement saying that they would be boycotting the tournament. The women cited discrepancies in compensation, support, marketing and more as reasons why they were at odds with USAH and seeking better treatment. Once the senior team announced their intentions, it became clear that the entire USA player pool was on board with the boycott, as many members of the U-18 and U-22 squads shared similar sentiments and used the words 'Stand Tall Together' to voice their support.
Since the original statements from the players, there have been several back-and-forth and meetings, but the two sides continue to be at an impasse. With the tournament just five days away, USAH has been scrambling to try to find alternate players to take the ice under the USA flag, but it does not appear that has been successful. Players on Sunday Tweeted about a possible resolution coming at a meeting on today.
Meghan Duggan, captain of Team USA and a former Wisconsin Badger, reportedly called all 100 members of the USAH player pool to explain the situation, answer questions and assure that all the players were unified in their stand against USAH. It does not appear that any player in that pool has any plans to dress for USAH in the tournament next week.
From the U-18 team that won gold at their World Championships, Cayla Barnes, Alex Gulstene, Mak Langei, Maureen Murphy and Natalie Snodgrass have all posted a tweet with the words 'Today I will do what others won't so tomorrow I can do what others can't. I said no to USAH & will not play in the 2017WC #BeBoldForChange.' In addition, Natalie Buchbinder, Natalie Heising, Catie Skaja and Taylor Wente have all used Twitter to express support without explicitly using the above words. Several members of the U-18 team have locked Twitter accounts or do not use the social network. But based on the statements from Duggan and the rest of the player pool, it is assumed that none of those player will be playing for Team USA next week.
In addition, at least 32 current and former NCAA players have posted tweets with the same phrase 'Today I will do what others won't so tomorrow I can do what others can't. I said no to USAH & will not play in the 2017WC #BeBoldForChange .' Eleven players that competed in last week's Frozen Four have expressed that they will not take part: Boston College's Caitrin Lonergan, Minnesota's Dani Cameranesi, Cara Piazza, Sydney Baldwin, Taylor Williamson and Patti Marshall and Wisconsin's Annie Pankowski, Jenny Ryan, Sophia Shaver, Presley Norby and Mikaela Gardner.
USAH also reached out to D-III players, including USCHO player of the year and D-III scoring champ Dani Sibley of Wisconsin-River Falls; Sibley also tweeted the same phrase in response.
Piazza told The Ice Garden that she'd received phone calls from Duggan as well as senior team player Monique Lamoureux as well as an email from USAH. She replied to USAH that she wasn't interested and publicly tweeted that she'd turned them down, and in a story on ESPN-W she and her teammate Carly Moran both expressed their support of the national team.
"At this point, if I said I was interested it would be something so selfish of me. I know at the end of the day I'm part of USA Hockey and this boycott is going to make it better for every girl playing hockey in the future," she told The Ice Garden.
Piazza's teammate, Lee Stecklein, is part of the senior team roster that was named to compete at the WWC. She has been receiving a lot of information from her Gopher teammates most heavily involved in the boycott, but said she knows the purpose is much bigger than just the players whose faces are front and center.
"I know the boycott is their faces, but it's more than just their team. For the most part, the communication comes from what I hear from Lee or other point players that are on the national team. I've only gotten one very brief email from USA Hockey."
Pankowski, who was part of Team USA's pre-Sochi camp as a teenager and has been a member of the past two world championship squads, but was left of this year's roster, told the AP that she received an email from USAH. It was not an invitation, but rather an inquiry into her availability.
"I responded to that email and I said I'm not willing," Pankowski said.