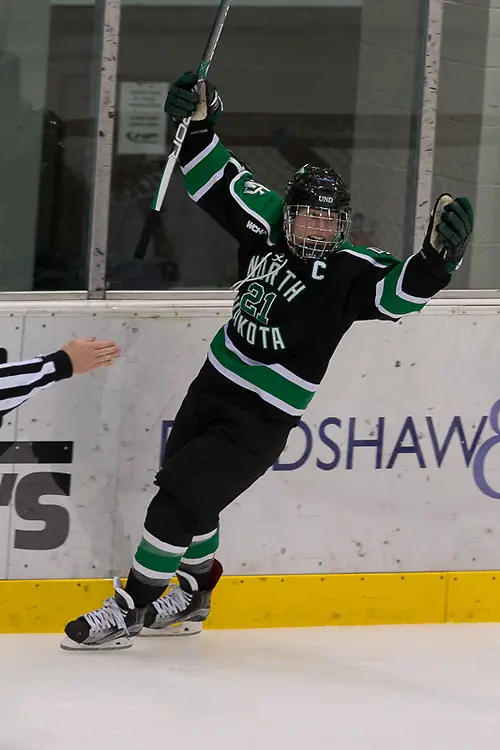 After weeks of speculation, the University of North Dakota announced today that it is cutting the women's hockey program as part of an effort to meet new budget restrictions, which was widely reported to be a $1.3 million shortfall. Also cut were men's and women's swimming and diving.
According to multiple reports, North Dakota did not tell the players in advance before the news started to leak, and North Dakota had a potential recruit visiting the school the day of the announcement. University of North Dakota Athletic Director Brian Faison requested a meeting with the women's team at 2:45 CDT, at which time he informed the players of the decision. According to a formal statement, UND will honor all athletic scholarships for the discontinued sports "at their present equivalencies for returning student-athletes. Specific details have been provided to the student-athletes regarding their future aid."
The official statement from North Dakota says the decision is effective at the end of the current academic year.
In its statement, UND wrote that part of this is driven by the need to raise additional money for scholarships to meet the minimum levels in the Summit League, to which many UND sports are moving.
"UND expects that the current changes will enable it to meet those additional scholarship expenses without having to make further cuts next year. UND's athletics department expects to reinvest any additional savings back into its women's and men's teams, with a primary focus on gender equity, internal equity, and championship competitiveness."
Eight current and former North Dakota players were on Olympic rosters at the 2014 Winter Olympics in Sochi, playing for the U.S., Finland, and Germany.
North Dakota compiled a 16-16-6- overall record in the most recent season, bowing out to Wisconsin in the Final Face-Off semifinals, 2-1.
The WCHA has been reduced to seven teams for next year. The league responded to North Dakota's announcement with a formal statement from Women's League Commissioner Katie Million.
" Today's developments are excruciatingly sad for the University of North Dakota, the WCHA and the sport of women's hockey. While we understand the significant, state-mandated budget cuts faced by the entire University and respect the decision-making process of the UND administration, there is no denying the impact of losing a program that has produced Olympians, advanced to NCAA tournaments and is a perennial fixture in the national rankings. Our collective hearts ache for North Dakota's current and incoming student-athletes, for the school's alumnae and fans, for head coach Brian Idalski and his entire staff, and all involved with the program.
"The WCHA is the premier conference in women's college hockey, and we are dedicated to ensuring it remains so – both now and well into the future. The WCHA League Office, along with our member institutions, will immediately begin the process of evaluating appropriate actions needed to remedy impacts of this decision on the 2017-18 season, while also exploring our long-term options."