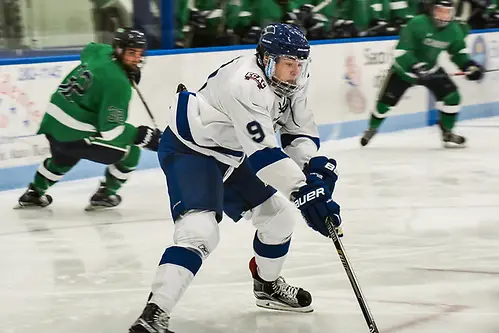 Ryan Bloom expected to make an impact as a freshman this season at the University of New England.
Never mind that he was only a rookie.
The 2017 USCO.com rookie of the year just never thought things would go as well as they did.
"This season definitely exceeded my expectations a little bit," Bloom said. "I didn't think I would have as much success as I did. I'm more than happy that I did. It was a phenomenal season."
Bloom was a force from the get-go, scoring the first goal of the Nor'easters' first game of the season, a game that ended in a 3-3 tie against Endicott.
He went on to score 20 goals, tying him for the most on the team. He also dished out 23 assists and finished third on the team in points.
Playing on the same line as All-Americans Brady Fleurent and Trevor Fleurent put him in a position to thrive in the manner that he did this season for a University of New England team that finished with a 15-10-2 record.
"Playing with the Fleurent brothers helped elevate my game and made me realize what it takes to be a consistent player night in and night out," Bloom said.
Bloom might have only been a freshman, but his transition to the line was seamless.
"Ryan just fit in with the Fleurent brothers beautifully," University of New England coach Kevin Swallow said. "He has that goal scorer's mentality and playing with those guys who are so creative with the puck gave him great opportunities. The results are obvious."
Bloom teamed up with the Fleurent brothers to form the B-F-F line and truly, the linemates are close friends. Originally, Dylan Bengston was slated to be on the line this season.
"Moving Ryan in there gave us a chance to create two scoring lines and some better balance in our lineup," Swallow said. "I think it was Trevor who noticed Ryan and thought he would be a good fit with he and his brother on a line. They work very hard to be as good as they are and off the ice they have actually been BFF's."
Bloom, part of a line Swallow considers the best in the country in NCAA Division III hockey, said learning to balance his time played a pivotal role in his success as well.
"I had to learn to juggle my class schedule and hockey and learn about time management as a whole," Bloom said. "College hockey is a little faster than junior hockey. I felt like I adjusted well. I went in with the mindset to keep having fun and keep working hard. It worked out well for me."
He said learning how to be consistent was an adjustment he had to make as well.
"It's important to be consistent night in and night out," Bloom said. "I learned about the intense energy you need to play with to be successful at college hockey."
With the off season now here, Bloom's focus is on making sure he builds off what he accomplished as a freshman.
"I want to get stronger and faster and also improve my skating," Bloom said. "I'm also working on my 'D' zone play and becoming a more well-rounded two-way player."
As for this season, he's honored to be considered  one of the top rookies in the country.
"There are a lot of great players throughout the nation. It's a huge honor to even be considered for the award."